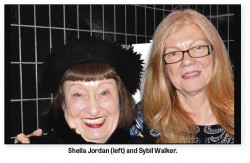 On November 8, my vote goes to Dave Young, for two reasons. First, that Tuesday evening will be the night that the legendary Canadian bassist/composer celebrates the release of his new recording This Way Up. Second, the release takes place at Jazz Bistro, which has another reason to celebrate: namely the fact that Sybil Walker, who for 15 years ran the Top o' the Senator jazz club (1990-2005) and has been the general manager of Jazz Bistro since its doors opened in 2013, has been announced as this year's recipient of the Ken Page Memorial Trust Lifetime Achievement Award
Anne Page, founder of the KPMT elaborates: "Sybil's versatile career in the restaurant and hospitality business has spanned several decades during which she has become a devoted and respected member of Toronto's jazz community. Sharing her creative expertise and extensive knowledge of the music, she has donned the roles of program director, general manager and presenter of both Canadian and international artists at the city's top jazz clubs, festivals and restaurants. As one of our unsung heroes, Sybil is a most worthy recipient of this award."
Among the hundreds of artists Walker presented in the heyday of the Top o' the Senator were Bill Evans, Joe Pass, Dexter Gordon, Shirley Horn, Blossom Dearie, Betty Carter, Jimmy Smith, Lou Donaldson, Ray Brown, Terence Blanchard, Christian McBride, Russell Malone and a budding Diana Krall, whose career she greatly aided. Yet to those in the Toronto jazz community, Walker is known not just as the booker of international talent, but as a loyal supporter of the jazz scene. For decades she has been an advocate for live music, ensuring that musicians get paid fairly and that audiences listen. To illustrate just how much she means to Toronto musicians, I asked two of her favourites for some words.
"Huge congratulations to Sybil Walker on this award," said multi-instrumentalist Don Thompson. "She has been a major force in Toronto's jazz scene for many years. A lot of great music happened because of her hard work and dedication, and the rest of us owe her a huge thank you." Bassist Neil Swainson had the following to add: "So many musicians rely – whether they know or acknowledge it or not – on a very few equally dedicated individuals, for an outlet for their talents. Without these few, there would be no flourishing jazz scene in this city. Sybil Walker has for the last 20 years, given as much to this music as we have."
Sybil Walker's award will be presented at The Old Mill Dining Room at the Ken Page Memorial Trust Fundraising Gala on November 17. The gala will feature an all-star team of musicians – jazzmen, if you will, since no women were selected – billed as the finest masters on the international jazz party circuit. They are Terry Clarke, drums; Alastair Kay, trombone; Jon-Erik Kellso, cornet; John MacLeod, trumpet; John MacMurchy, clarinet and saxophones; Mike Murley, tenor saxophone; Ken Peplowski, clarinet; Russ Phillips, trombone; Reg Schwager, guitar; Neil Swainson, bass; Rossano Sportiello, piano; Don Thompson, vibes/piano; and Warren Vaché, cornet.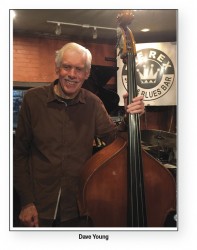 Now back to Dave Young (who I had the privilege of interviewing, on the fly, a couple of weeks back at The Rex). To see him live is to witness a soulful player, as well as an incredibly efficient technician. Those fingers. Gigantic yet graceful, with a swinging way of walking quartet notes that will knock you out.
As bandleader, Young's arrangements are clear and accessible, and as a trustworthy captain he navigates the ship effortlessly. Also on board that night were some of this country's very best: Kevin Turcotte on trumpet, Perry White on saxes, Terry Clarke on drums and Gary Williamson on piano. As Young says, "You're only as good as the musicians you play with."
Young was born in Winnipeg in 1940 and showed musical promise early on. Before long a young, ambitious Young started out playing the violin, switching to the guitar for five years in his teens. "There were a lot of very good guitar players in Winnipeg, including, of course, Lenny Breau. Then, I didn't exactly give up the guitar but I took up the bass. Actually I was playing guitar in a dance band when the leader said, if you want to keep this gig, I'm firing the bassist, so come back with a bass. The bandleader was an old buddy of mine named Vic Davies, in the late 50s, probably 1956 or 1957. So I went out and bought a bass and came in the next week with a bass! (laughs)."
Young famously toured with Oscar Peterson for a few good decades, and also enjoyed symphonic work as principal double bassist for the Edmonton and Winnipeg Symphony Orchestras and the Hamilton Philharmonic.
As a master of both classical and jazz music, he observes that they are entirely different artistic experiences:
"Playing either one of those disciplines is pretty demanding, so when you're playing one you kind of have to divorce yourself from the other. Especially when you're playing in the classical setting. The phrasing and the sound is quite different, and obviously there's no amplification. You get there and you have to read!"
Young decided to leave the Winnipeg Symphony Orchestra for the irresistible offer of touring with Oscar Peterson.
"I met Oscar in Banff in 1974, it was the very first Banff summer school program for jazz. This was organized by Phil Nimmons and he invited us both; that's how we met. When I got the offer to work with him I said, 'Who's in the band?' The lady said, 'There's you and Oscar. It's a duo for six months.' My first engagement was four weeks in Japan, 1975, and it was my first time there. I remember that it was relentless. We seldom had a day off. We were always on trains going here and there."
Summarizing his new recording: "The music is in the hard bop, East Coast jazz tradition, with a few standards. As for the originals, I'm inspired by the writing of Cedar Walton, one of my favourite pianists, as well as by the great Joe Henderson. Also by a guy named Marcus Belgrave, who just left us recently. He was a trumpet player from Detroit. And Freddie Hubbard has always figured big in terms of composition. I play a lot of tunes by these guys and they inspire my own writing."
At 76, Young remains one of the shining diamonds of the local scene. A decade ago he was inducted as an Officer into the Order of Canada, tonight he is playing The Rex Hotel on a Wednesday evening, probably for 100 bucks and change. There are fewer gigs than there used to be, and more competition. So, what has kept him motivated to continue creating all these years?
"You keep motivated by hoping that you'll play better tomorrow or next week. That's the whole carrot that's dangling in front of you. I can play better, improvise better, get a better sound, that's what keeps me going."
Here's to timeless music; to endless commitment and invaluable dedication; to jazz heroes and heroines alike.
Ori Dagan is a Toronto-based jazz musician, writer and educator who can be reached at oridagan.com.