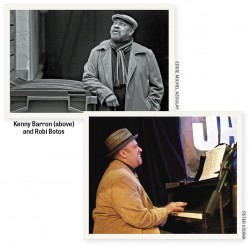 "Kenny Barron has been one of my favourite pianists for 25 years," says Mervon Mehta of the Royal Conservatory, recalling that it was pianist Danilo Perez who turned him on to the piano genius. "Danilo said to me that when he first arrived from Panama to New York he used to go and sit and watch the left hand of Kenny – how his fingers and his mind work, how he would play individual chords, melodies and percussion on the piano. So I listened more and more and realized that Kenny has a facility at the keyboard that very few have. He can play any style of piano from the past 50 years and he continues to sound relevant. On his new record he doesn't sound like a 70-year-old guy playing like he did in the 60s – he's playing for today."
As part of the Art of the Trio series presented by the Royal Conservatory and curated by Mehta, Barron's October 29 date at Koerner Hall is a double bill with gifted keyboardist Robi Botos. Born to a musical Roma family in Nyíregyháza, Hungary, in 1978, Botos is the winner of several international honours including the 2004 Montreux Jazz Piano Competition, the 2012 Festival international de jazz de Montréal TD Grand Jazz Award and the 2016 JUNO for Best Jazz Album of the Year for Movin' Forward. Among other influences, Botos certainly echoes the school of Oscar Peterson, not only recalling OP's dazzling technique but also his showmanship, treating each solo as an opportunity to knock it out of the park.
The Robi Botos Trio varies slightly from night to night. On October 29, he will be joined by two of the brightest lights in Canadian jazz: Mike Downes on bass and Larnell Lewis on drums. Says Botos: "The three of us have been playing together for a long time on and off in a lot of different musical situations. Working with Mike and Larnell is very easy. They're both amazing listeners and willing to serve the music. This way it's easy to keep things fresh and in the moment. We also recently recorded some of my original compositions. I'm really not into a lot of rehearsing because the best moments are always the unrehearsed ones. We do enough to make sure the compositions sound good and leave lots of room for improvising. That's how jazz should be played I believe."
Says Mehta: "I knew the only possible choice to co-bill with Kenny Barron would be Robi because they have a mutual admiration. I saw them interact at the Oscar Peterson 90th birthday celebration concert last year. I asked Robi then and he almost said no because Kenny Barron is such a huge hero for him, but thankfully he did say yes."
With a gentleness of spirit that comes in handy for his brand of musical sensitivity, Barron is one of the jazz world's living legends, winning just about every award possible – except perhaps a Grammy, for which he has been nominated nine times. While in his teens, he started out with Dizzy Gillespie in 1962 and worked with Freddie Hubbard, Stanley Turrentine, Milt Jackson, Buddy Rich and Yusef Lateef before recording his first LP as leader in 1974. Since then Barron has released over 40 albums, an astonishing discography if you think about the ratio between years and releases. I asked him what some of his favourite jazz trio recordings are, and why:
"Ahmad Jamal, live at the Pershing Lounge. [At the Pershing: But Not for Me]. It sounds so tight and the way he uses space. He uses the other members of the band to finish his phrases sometimes. You think he's going to play it and he doesn't. It's a unique approach and it always sounds very together. Then there is Tommy Flanagan. There are so many. One of them is an album called Overseas with Wilbur Little and Elvin Jones. It is the epitome of taste but for me, everything Tommy does is like that. That's what I call the real smooth jazz."
With regards to the trio that Toronto audiences will hear at Koerner on October 29, Barron reflects on his sidemen:
"I met (bassist) Kiyoshi Kitagawa when he first moved to New York from Osaka, Japan. He played around town with a lot of fine musicians like Winard Parker and Jon Faddis. He has been a part of my bands for almost 20 years now. I've known Johnathan Blake since he was seven or eight years old – his father is the wonderful violinist John Blake and we used to play together, so I watched Johnathan grow up. His first instrument was violin and he later switched to drums. He studied at William Paterson University in New Jersey right outside of NYC so I was able to hear him frequently.
"The three of us started working solidly as a trio about ten years ago, touring around the world and the US. It seemed time to make a recording of our time together so we went into the studio and came out with 20 songs in two days! That's how Book of Intuition came about…Working as this trio doesn't require hours of thought or rehearsal. I usually say here's a song and let's see what we can do with it and they do. I don't tell them what to do – they respond and we go with it. They bring in music and make suggestions too. They push me."
The "Art of the Trio" concert on October 29 is sold out but the series continues – November 19: Stefano Bollani Trio & Roberto Occhipinti Trio; December 10: Joey DeFrancesco Trio & Jensen/Restivo/Vivian Trio; April 1: Jason Moran and the Bandwagon & Alexander Brown Trio; May 13: Christian McBride Trio & James Gelfand Trio.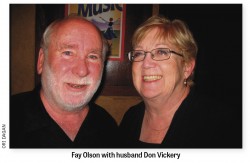 Fay's Home (Smith): That being said, the notion of the jazz trio being an art is explored very frequently at the intimate Home Smith Bar at the Old Mill, thanks to the booking of Fay Olson and the loyalty of the owners to live jazz programming. I last wrote about Olson in October 2009 and since then she has not missed a week of booking local jazz talent at the Old Mill and elsewhere. Says Olson:
"Then-owner of the Old Mill Inn, Michael Kalmar, first gave me the mandate to enhance jazz programming at the Home Smith Bar toward his vision of it becoming a 'first class jazz room' at the beginning of 2009. The first thing I did was add Thursday nights to the schedule and book trombonist Russ Little with a trio for a 'Jazz Thursdays' residency that ran that whole year. I'd actually been on the books at the Old Mill Inn as a marketing PR consultant for a couple of years before that, helping promote shows Michael had scheduled into the Dining Room."
A much-prized occasion each year in the Home Smith Bar is New Year's Eve, which once again this year will be hosted by June Garber and her trio.
"She's uber-talented, but I think the ideal NYE experience should be so much more than a great performance, and June delivers in spades. She has the kind of warmth and personality that make everyone in the room feel as though they're attending a blowout house party. One of the staff said when June hosted last year that she treats everyone as though they're her personal dinner guests."
If you check out the Jazz Listings section you will see how difficult it would be for Olson to recommend just three shows to WholeNote readers…nevertheless, I asked her to try her best, to which she replied:
"When I'm booking the Home Smith Bar, my mission is to present a monthly lineup that ensures no matter which first Tuesday, Thursday, Friday or Saturday someone chooses to be there, they'll be assured of enjoying jazz performance of the highest calibre, whether delivered by the best established artists or some of the most talented emerging artists on the Toronto jazz scene.
"Soooo, my three recommendations are by no means intended to place anyone higher on the October roster than anyone else booked, but here you go:
"On Thursday, October 13, the great drummer (and head of the Drum Department at Humber College) Mark Kelso presents his stellar Trio (pianist Brian Dickinson, bassist Mike Downes) but with a twist people don't usually expect from Mark. His outstanding singing talents will also be on display. I first heard Mark sing a jazz arrangement of The Rainbow Connection with Brigham Phillips' band a few years ago and was knocked out. I kept pushing him to make singing a bigger part of his act for the Home Smith Bar, so he finally did, and he's great!!
"On Friday, October 14, the superb singer and musical theatre actress/singer Alana Bridgewater (she's wonderful on June Garber's new album, and a veteran of the Charlottetown Festival) makes her debut starring appearance at the Home Smith Bar. Alana has sung there before as the guest of an instrumental trio, but never leading her own ensemble (Scott Christian on piano, Henry Heillig on bass).
"Saturday, October 29 is a rare departure from mainstream jazz - a special blues edition of the 'Year 'Round Jazz Festival' when outstanding blues guitarist/singer Brian Blain relaunches his New Folk Blues recording lampooning life in the music industry (in collaboration with saxophonist Alison Young, Michelle Josef on drums, bassist George Koller and an 'element of blues-tinged electronica' by Joel Blain."
One important thing to note, which distinguishes the Home Smith Bar from other rooms, is that there are no reservations taken. Seats are assigned on a first-come, first-serve basis, which appears to be working quite well! Glasses raised to audiences who respect, listen to and support trios everywhere.
Ori Dagan is a Toronto-based jazz musician, writer and educator who can be reached at oridagan.com.