JAZZ.FM91 producer, host and Jazz Safari bwana, these days Jaymz Bee is one of the Toronto jazz scene's most fervent supporters. His popular Jazz Safaris involve guiding groups of the not-for-profit radio station's donors through five venues across town with the help of a magic bus. I asked Bee why he believes the clubs continue to struggle and his response illustrates what sets him apart: an infectious funness, a loyalty to the live music scene and above all a positive attitude:
"Actually my feeling is that we are on a bit of an upswing right now. The Jazz Bistro took about a year to get up to speed but now it's truly a hot spot. The Rex and Gate 403 book so many bands a week it's crazy, and places like Hugh's Room and Lula Lounge are booking more jazz than they used to. I'm a big fan of the wee clubs in town as well – La Revolucion, Habits Gastropub, The Emmet Ray and Blackbird are places I like to talk up lately, but there are so many on Dundas, Ossington...I think Torontonians need to go out more and hit more live venues! It's too cold out, it's too hot out – doesn't cut it with me."
Of the Safaris, says Bee:
"There are few things I like more than hitting several jazz clubs in one night with a mini coach (and designated driver) to take a group of JAZZ.FM91 donors on the town. I do about 30 nights a year in Toronto (hitting four or five clubs) and spend about the same amount of time with donors in various jazz-friendly places like Havana, Panama City, New York, New Orleans, Chicago and other places.
There are not many challenges in Toronto. On any given night I have 12 to 20 venues to pick from and after eight years of Jazz Safaris I know the streets and we are almost never late; not even five minutes late! I'm so prompt, I'm almost Swiss! In other cities it can be trickier. I have to allow for extra time for traffic so we might hit a venue a bit too early, but that's better than missing the music…My parents taught me to be fun and polite and to get wallflowers on the dance floor. I'm innately inclusive...nobody is too cool or square for me...so taking a large group of people (18 to 30 per safari) is sometimes challenging but always fun."
I will return to Jaymz Bee later in this article, specifically to discuss his birthday celebrations mid-month. First though, I have some very exciting news: there's a new jazz room in town, and I urge you to all support it, even if it means going to have a single drink there or better yet, enjoy some music while drinking and eating.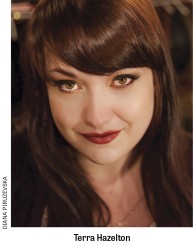 Stori Aperitivo (95 King Street East) located at King and Church, is embarking on a regular Tuesday, Wednesdsay, Thursday series over dinner. The priceless musicians come to you with no cover charge attached – a rare opportunity for all to enjoy some of this city's jazz talents! The lineup at Stori is stellar:
Tuesday nights with Terra Hazelton and Her Easy Answers starring the two-time Canadian Screen Award nominee and blues singer extraordinaire; sidemen to be confirmed but Hazelton's band tends to include Nathan Hiltz on guitar, Shawn Nykwist on tenor, Sly Juhas on drums and Jordan O'Connor on bass. Wednesdays will be made wild by longtime Reservoir Lounge staple Bradley and the Bouncers featuring Bradley Harder on vocals, Terry Wilkins on bass, Jeff Halischuk on drums, Adam Beer-Colacino on guitar and Pat Carey on the tenor. On Thursdays Stori welcomes The Vipers which features superlative vocalist Sophia Perlman in swinging company alongside Howard Moore on trumpet and vocals, Ross MacIntyre on bass, Jeff Halischuk on drums and Mitch Lewis on guitar and the occasional stellar vocal. This band kills everything from Dinah Washington to Tom Waits, and I'm willing to bet that The Vipers' take on "Diamonds on the Soles of Her Shoes" is one Paul Simon himself would treasure.
And More Good News: by the time this magazine goes to print, a second brand new venue is opening its doors: Fat City Blues at 890 College Street. I asked one of the owners, Stephen McKeon, what inspired the creation of this club:
"To fully answer this question I have to give you a bit of background on Cameron, Simon and myself, " he said. "We have been great friends for a decade, and have all worked in hospitality as long as we have known each other. Cameron and Simon worked the bar together at The Drake Hotel for eight years, while I cut my teeth at the Reservoir Lounge, then went on to manage Wrongbar for the past five years. When we started talking about opening a bar together we knew we wanted a place that focused on classic cocktails, simple food, and of course, live music. When the space came available we saw a great opportunity to marry all of those things, and Fat City Blues was born.
OD: Where does the name come from?
SM: Fat City was the nickname for Metairie, a part of New Orleans that was considered the entertainment district in the 70s and 80s.
OD: What kinds of music will you be booking?
SM: We really want to focus on supporting the local scene and will be booking everything from delta blues to dirty jazz, solo pianists to five-piece brass bands. If it swings and sings, it has a home at Fat City Blues. (Still fine-tuning a music policy as this magazine goes to print, he was able to tell me that Tyler Yarema plays every Thursday, and other acts will include Patrick Tevlin, Bradley & The Bouncers, and Robert Davis among others.)
OD: What kinds of audiences are you looking to attract to this venue?
SM: We had a gentleman sitting at the bar last night who was from South Carolina, and kept telling us how much the place reminded him of home. We've had musicians come in looking for a place to play and to support their peers. We've even had someone email us about doing a birthday party here for her husband because they were married in New Orleans. All those people found something here they could relate to, and we can relate to them. That's our audience.
OD:Tell me a bit about the menu
SM: The menu includes oysters, po'boys, crab legs, beignets...and in the summer, crawfish berl on the patio!
There is a considerable buzz about town with regards to #FatCityBlues: the BlogTo article has, as of this writing, been retweeted 84 times since March 18. Here's wishing the venue much success all year round.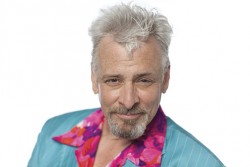 Each April Jaymz Bee celebrates his birthday in style and with beautiful music, and this year is no exception. However, for the first time, one of the concerts will take place not in a club but in a church. On Sunday April 12 at 4pm at St. Philip's Anglican Church, Jaymz Bee Birthday Vespers will be the golden voices of Genevieve "Gigi" Marentette, Carolyn Credico, June Garber and others, to the stellar accompaniment of guitarist Eric St-Laurent. I asked how he got the idea to present "the devil's music" in the house of God :
"Basically I wanted to see Bee's Angels singing in this cozy church. Father Al is a donor to JAZZ.FM91 and we've become friends over the years. I love jazz in unique settings and this place is magical! Last year I sang there with Don Francks and Tony Quarrington but this year I thought I'd play emcee and just enjoy some of the most beautiful and talented women in Toronto singing sweet songs."
Bee's B-Day weeks also includes a celebration at the Old Mill on April 9 with Alex Pangman and her Alleycats, and continues on Monday April 13 – his actual birthday – with a cabaret night at Lula Lounge.
In closing, dear reader, I hope that you consider supporting these new ventures on our club scene. As always with such endeavours, they need your support! Call ahead. Make dinner reservations. Plan a party. Drop by for a drink or two. Live music needs you to stay alive!
Ori Dagan is a Toronto-based jazz musician, writer and educator who can be reached at oridagan.com.