This article appears in The WholeNote as part of our collaboration in the Emerging Arts Critics program.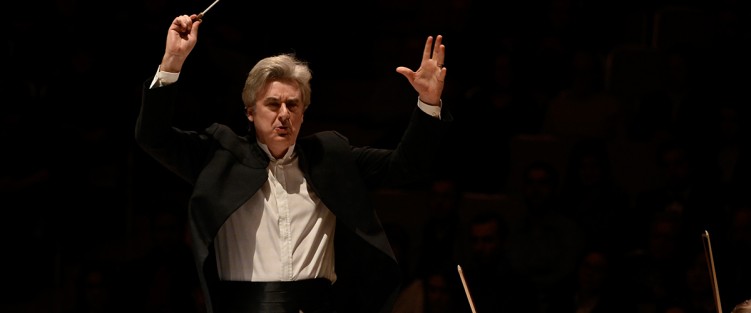 If familiarity breeds contempt, perhaps similarity can too.
At the outset, the Toronto Symphony Orchestra's evening performance on February 20 was full of promise. Comprising the North American premiere of Rued Langgaard's Prelude to Antikrist, a guest performance of Dmitri Shostakovich's Cello Concerto No.2, Op.126 by cello virtuoso Alisa Weilerstein and the typically crowd-pleasing finale of Concerto for Orchestra from Béla Bartók, it was a program designed for dramatic orchestration and exhilarating rigour. Yet there can be too much of a good thing, and it was this sentiment that became pervasive by the night's conclusion.
It isn't surprising to find similarities between the three pieces. All were composed during the early- to mid-20th century and mix tradition with modern experimentation. In an opening speech, guest conductor Thomas Dausgaard, a familiar face who previously conducted Weilerstein's performance of Shostakovich's Cello Concerto No.1 with the TSO in 2012, suggested that the three works collectively express a longing and hope for a better life and world. Bartók and Shostakovich's compositions perhaps reflect the chaos of their oppressive societies – Bartók living amidst the backdrop of World War II and Shostakovich under the USSR's strict regime – while Langaard's Prelude offers a contrasting portrait of paradise. Having the conductor introduce the program was charming, and Dausgaard's enthusiasm set a positive tone for the evening.
The Prelude to Antikrist begins with an expansive swell that softens into a serene interplay of horns and strings. Airy and light melodies contrast with invigorating crescendos, and layers of instrumentation are continually added and removed throughout to dramatic effect. Like the two pieces to follow, the Prelude features noticeable percussion: chimes evoke the bells at heaven's gate, gentle timpani cuts through otherwise-silent pauses and ringing xylophone chords all add to the celestial feel. Building to a climax of blaring horns, calmness is restored once more with gentle pizzicato at the conclusion.
Following a brief pause, Weilerstein took the stage for the highlight of the evening, Shostakovich's Cello Concerto No.2, Op.126. A brilliant technician, Weilerstein boldly plunged into the dark waters of Shostakovich's concerto. Beginning with a mournful cadenza, Weilerstein was gradually joined by the cellos, basses and violas in the largo first movement before the violins made a bursting entrance. If Langgaard's Prelude envisioned a glorious paradise, Shostakovich's piece can almost be heard as a mocking parody, as sweeping melodies build towards frantic climaxes marked by heavily detached, accented staccato.
There is a labouring heaviness to the concerto that Weilerstein brought forth with precise control of dynamics, continually building tension with fiery crescendos before pulling back. She was a force to be reckoned with, her dramatic and emotional performance filled with intense pizzicato and mournful tones.
As the concerto moves into the second and third movements (both Allegretto), French horns make their presence known at jarring outbursts before retreating as slow, legato phrasing returns. Xylophone and snare drum continually drive the piece forward, evoking the sense of time marching onwards amidst dark internal despair. Blazing horns help build the piece to a fortissimo climax before it collapses once more into a gentle, haunting exchange between cello and woodwinds to close.
Following the emotional turmoil and dark introspection offered by the Shostakovich, it would have been a welcome choice to end the evening on a brighter, or at least more peaceful, note. However, in almost a continuation of the previous piece, Bartók's Concerto for Orchestra opens with mournful legato phrasing from the cello section. Bursting trumpets give the first movement an element of fanfare, yet the dramatic outbursts are highly reminiscent of the previous work and become increasingly less jarring and impactful as the night goes on.
Lighter in tone, the second movement is characterized by lively percussion and horns before the third movement, "Elegia," darkens once again: ethereal flutes and piccolo give it a mystical tone, contrasting with thunderous horns and a strings section playing with fortissimo rigour. The fourth movement lightens slightly, with sweeping melodies and bursts of horns, before the fifth and final movement returns to staccato and glorious fanfare, the interplay of horns and strings building to an uninhibited and rousing conclusion.
Yet by the time the orchestra got there, the full dramatic effect of Bartók's finale was lost. There are noticeable stylistic similarities between all three works, particularly those of Shostakovich and Bartók, and placing the latter two side-by-side on a bill hindered the sense of drama. By the searing conclusion of the Concerto for Orchestra, there was a desensitization from nearly two hours of bold and dramatic musical material. More expansive melodies rose into furious crescendos and frantic bow strokes. More blazing horns collapsed into eerie pianissimo softness. Although Dausgaard formidably conducted the TSO orchestra to soaring climaxes, the overall sameness of the programming blunted the full impact of the evening.
The Toronto Symphony Orchestra presented "Alisa Weilerstein" on February 20 and 21, at Roy Thomson Hall, Toronto.
Erin Baldwin is a freelance writer based in Toronto. A former violist and dancer, she graduated from the University of Toronto with her Masters in English. She currently runs Truths + Edits, a literary blog that examines all things books.