This article appears in The WholeNote as part of our collaboration in the Emerging Arts Critics programme.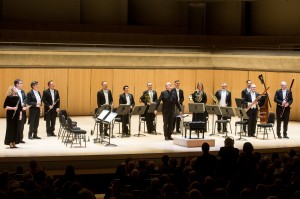 On January 10, the audience excitedly hurried to take their seats for the opening performance of the Mozart@262 Festival. An annual tradition for the Toronto Symphony Orchestra, this series of performances ran until January 21 and was co-curated by musical director Peter Oundjian and Bernard Labadie. The evening's program, titled "Majestic Mozart" and conducted by Labadie, featured two pieces – inviting the audience into the pure pulse of Mozart with Serenade No. 10 in B-flat Major, K. 370a/361 "Gran Partita," for twelve winds and a string bass, and Symphony No. 39 in E-flat Major, K. 543, with an orchestra featuring flute, clarinet, bassoon, horns, trumpets, timpani and strings.
Serenade No. 10 consists of seven movements. Historically, a serenade was meant for the open air, to be played under the balcony of a loved one to draw them out to their windowsill. This particular serenade has become a staple in the wind repertoire. In this work, Mozart writes for the basset horn for the first time in his career, only to be utilized again in his Requiem.
Labadie successfully captured the intimacy and breathiness of an open-air performance in Roy Thomson Hall. What began in the first movement and followed throughout the piece was an enthralling interplay of instruments and exploration of texture. Each instrument provided a unique voice-like quality, with the oboes rounding out the ensemble's sound while the clarinets played with delicate mastery.
The music evoked a lively back-and-forth – a question and answer between the instruments that presented itself as a symbolic sounding of relationship. Although the piece began timidly, there was a progressive nature to the music, a process of exploration peppered with suspenseful jolts of unexpected notes, even comedic moments that caught me by surprise. The orchestra highlighted Mozart's incredible control in his music: how he claimed the ears of his audiences, allowing them to lean in to the sweet simplicity of the clarinet during the fifth movement's scalar passages, only to be sent unpredictably reeling as the instruments swell.
Their playing awakened memories of my own trip to Vienna this past December, with something familiar hidden beneath Mozart's trills. The rhythm of feet skittering across stony pathways, the sonorous quality of a town square teeming with people, running hand in hand past gilded windowsills that had perhaps hosted serenades long ago.
With each reverberation I heard echoes of Mozart's whirlwind romance with his wife Constanze, the heartache when his marriage caused a rift with his father, the respect he held for colleagues, like clarinetist Anton Stadler, for whom he likely moulded this piece with intricate solos. The orchestra channelled regal warmth in both minuets, with trios repeated in Viennese dance fashion – an ode to Mozart's true home, where he was appreciated most and perhaps felt most free to express himself as an artist.
The second piece, Symphony No. 39, showed the breadth of Mozart's musical influences, and the growth of his style throughout his career. Most notable were the dotted rhythms in the introduction, first used by his father Leopold Mozart, and a nod to Haydn's Symphony No.26, which begins in the same key.
I delighted in hearing the instruments weave together multiple melodies to create complex layers of sound. Rather than the usual use of oboes, there was an unbridled use of the clarinet – a new instrument in Mozart's time. The clarinet solo, emerging in the central trio of the third movement and played by Joaquin Valdepeñas, treated the audience to a brief moment of simplicity. Notes floated by effortlessly, in contrast to the captivating descending scales that followed, played by the violins with great fervour. Finally, the repetition of the thematic tune culminated in standout performances by the strings in the final movement. As Labadie conducted the symphony's last moments, I became overwhelmed with the feeling of desperation, of chasing and being chased in the unique pattern of the music's twists and turns.
Suddenly, I was back in Vienna, experiencing my first attempt to hear this symphony played. Memories of my family and I caught on a never-ending journey, winding the various Plätze of Mozart's Vienna in search of a concert venue we never did find. While sitting in Roy Thomson Hall and listening to the Toronto Symphony Orchestra delve into Mozart's music, I had a realization. Both in Vienna, and in Toronto, the true charm of Mozart was all around me.
When the symphony came to a close, the orchestra allowed a few final notes to escape, Mozart's omission of coda serving as a way of completing the composition while leaving it simultaneously unfinished – a story to be continued in his next two works.
Although history often regards Mozart as a godlike being, an untouchable genius shrouded in mystery, I now view his symphonies as a product of the places and people that formed him, captured forever in the notes of his music. If played correctly, as it was by the TSO, his music has a unique ability to transport its audiences. Mozart is a marvel, not purely for his musical talent, but for what that music reveals about the person underneath.
For an hour and fifty minutes, Labadie and the TSO delighted in a balancing act of his music, of daring to experiment but remaining loyal to its classical roots, teetering on the fine line between complexity and simplicity. With this performance, the Toronto Symphony Orchestra took its audience below the surface, enough for us to marvel in the majesty of Mozart but still leaving us, even after 262 years, craving more.
The Toronto Symphony Orchestra presented "Majestic Mozart" on January 10 and January 13, 2018 as part of the Mozart@262 festival at Roy Thomson Hall, Toronto.
Josette Halpert is both a supporter and active participant in the arts. With a screenwriting degree and a multitude of awards under her belt for both acting and writing, she continues to work towards her lifelong goal: being a driving force in the entertainment industry.