This article appears in The WholeNote as part of our collaboration in the Emerging Arts Critics programme.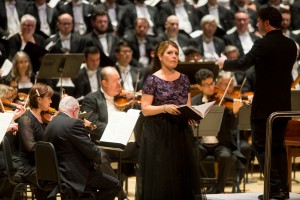 Growing up as the son of a minister, I learned early on that a religious story like Handel's Messiah can be told to a faithful audience without emotion or presence from its narrators. With those sacred texts – the proclamation of the coming of Jesus Christ, or the passion of the Christ – the weight is in the words, not in the nuances of how the stories are being told. But for the non-religious, Messiah is an epic story of prophecy, miracles, condemnation and resurrection – and that story requires passion, presence and conviction to be experienced memorably. As an increasingly non-religious society, I believe that these requirements will become increasingly influential in the performance of oratorio.
Following GRAMMY Award nominations for last year's recording, this year's Toronto Symphony Orchestra (TSO) Messiah, running December 18 to 23, was brimming with fresh colours and presence, led by story-shaper Matthew Halls conducting the TSO, the Toronto Mendelssohn Choir and four exceptional Canadian soloists (soprano Karina Gauvin, mezzo-soprano Krisztina Szabó, tenor Frédéric Antoun and baritone Joshua Hopkins). An annual tradition for many, Roy Thomson Hall was packed with a vast and loyal audience, many of whom would appreciate any performance of the work simply due to its status as a cultural devotional activity. But if we focus on the future of Messiah and the future audiences of the work – then Messiah requires refreshing.
Luckily, a few of the key players in the TSO's Messiah understood this. From the top of the piece, guest conductor Matthew Halls established an energetic introduction with the overture, declaring his intention to present a refreshing take on the work and offering noticeably stark contrasts in tempo and colour. This unpredictable pacing continued throughout the night, with some tempos nearly startling, like the entrance before the baritone's "For Behold." Halls' unusually agile tempo here – despite its rushed opening measures – flattered Hopkins' flexible voice.
New pacing and new colours are exciting alone, but to refresh Messiah also requires presence from its other storytellers – the soloists. Tenor Frédéric Antoun entered with a soothing, calm disposition for his opening aria, "Comfort ye," his radiant composure evident before he even opened his mouth to sing. The accompagnato built into a well-supported "Ev'ry valley," with brave ornamentation. Antoun's voice is well suited to the repertoire; his preference for soft consonants enhanced the lush characteristics of the music.
Not as calming, but equally as refreshing, mezzo-soprano Krisztina Szabó brought fierce presence to her music. Szabó vocalized the text with as much passion as one would with an operatic role, her interpretation rooted in feeling, depth and understanding. Because of her expert command over her instrument, Szabó demonstrated a genuine commitment to the text, inviting listeners to empathize with her burning intensity.
The Toronto Mendelssohn Choir echoed some of these colourful moments, paying careful attention to Halls' conducting. Responding to Szabó's "O thou that tellest good tidings to Zion," Halls manipulated the choir through sweeping dynamic shifts and energetic crescendos, the sweet, unified choral sound providing an interesting contrast to Szabó's dramatic vocals.
Baritone Joshua Hopkins also understood the need to be present with the material. Displaying marvellous animation in Part Three's "The trumpet shall sound," Hopkins soared through the coloratura so quickly that it nearly adopted the qualities of a Rossini aria. Hopkins was about as dramatic acting as they come. Before his first entrance, "Thus saith the Lord," in true baritone fashion, Hopkins purposefully waited until every single person in the hall was quiet and attentive before rising to begin, introducing us to his exquisitely balanced instrument.
A well-balanced instrument will always be a focus of devoted Messiah attendees, and for them, soprano Karina Gauvin delivered an ideal baroque performance. Gauvin was technically sound, vocalizing with well-executed ornaments and a near-flawless navigation through her registers. Her performance was polished and focused, lips quivering from her energetic vibrato – but she stood out from the others in terms of presence.
The devoted Messiah audience will cherish her portrayal. It's hard to match the dexterity of her voice in the coloratura sections of "Rejoice greatly." But for the viewer that this review focuses on, the viewer that struggles to connect with this religious, classical mammoth – for this viewer, Gauvin may have come off as a stereotype of the inaccessible, unrelatable opera diva. This viewer would favour Szabó, whose performance may not have been as polished, but who was there, committed to telling a story in the moment.
This is not to say that technique doesn't matter. Without a solid foundation, it would be impossible to navigate the grandiose singing required for this piece. But to inspire a new generation, Messiah needs something more. A safe Messiah will not endure. The TSO is on the right track, presenting a Messiah packed with ethos and colour. Fill the work with talented singers who are passionate about sharing a story, and add a conductor who isn't afraid to expand on the expected – and suddenly Messiah becomes an experience that creates memories. That becomes a Messiah that will survive.
The Toronto Symphony Orchestra presented Handel's Messiah from December 18 to 23, 2017 at Roy Thomson Hall, Toronto.
Taylor Long is fairly new to Toronto. Born and raised in Halifax, NS, Taylor studied classical voice at Dalhousie University and writes for BroadwayWorld Toronto and Opera Canada.