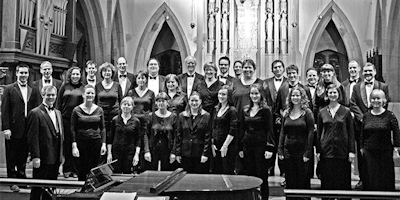 Tallis Choir. Peter Mahon is front left.
The name Peter Mahon will be familiar to many concert-goers in Toronto, especially if, as I do, you have a love of both choral music and early music. The affable Mahon has had a dual musical career: as a conductor over the last two decades he has worked with St. James Cathedral, Tafelmusik, the Hart House Singers, and Grace Church on-the-Hill, as well as being the founder and director of the William Byrd Singers. As a countertenor, over an even longer time, he has appeared with Tafelmusik, Toronto Consort, Aradia Ensemble, Montreal Chamber Music Festival, Pax Christi Chorale, Arbor Oak Concerts, The Bach-Elgar Choir, The Tallis Choir, The Toronto Chamber Choir and The St. James Cathedral Choral Society... .
Search the name Mahon in our listings these days, though, and instead of "Peter" you're increasingly likely to run across his children Teresa, Natalie, Christopher, Andrew, and Rachel. Musicians all. I suggest to him that, to the casual observer, it might seem that he and his children are trying to turn Toronto's early music choral scene into a family affair. He laughs.­­"I guess we have worked with a fair number of groups ..."
Most recently, Peter and baritone son, Andrew, sang shoulder to shoulder in the Toronto Masque Theatre's production of Henry Purcell's King Arthur. This month, Peter will be singing in Tafelmusik's presentation of Haydn's Creation (May 29, 31), and conducting the Tallis Choir in a program of Renaissance choral music by Palestrina (May 9). Mahon is excited at the prospect of a new musical experience. "­Tallis Choir will be singing the famous Missa Papae Marcelli by Palestrina. Oddly, for a choir that specializes in early music, it will be the first time that we have performed it."
I ask if being a countertenor led Peter to early music. ­"The sound of the countertenor is certainly associated with early music and it is a sound that I was accustomed to hearing from a very early age. Even before I joined the men and boys choir at St. Thomas' Huron Street, my parents had played recordings of Alfred Deller for me and, of course, I heard them singing in the choirs at St. Mary Magdalene with Healey Willan every Sunday. I got a steady diet of Renaissance polyphony and Gregorian chant." (We reminisce and laugh about being the entire alto section at St. Thomas on Huron.)
­­"I really enjoy rehearsals with my choirs. There is a great sense of working towards a common goal, but having a good time while we are doing it. I am enormously grateful to the singers who allow me to stand in front of them and allow me to tell them what to do for hours at a time. Knowing that, I feel a great responsibility to make sure that they're not wasting their time. ... As for early music, it is a form of expression to which I have been exposed even before I could talk. I cannot imagine it not being a part of my life. Singing it has always been a fulfilling experience. Conducting a group is an extension of that experience and just takes it to another level."­­
Mahon has been influenced by many gifted musicians - Healey Willan, Walter MacNutt, Giles Bryant, Derek Holman, Ivars Taurins, Bernard Labadie, David Fallis, and Christopher Jackson, to name a few.­­"They all have the ability to inspire those who work for them and make the job of music-making an absolutely enjoyable and thrilling experience. If there is anything that separates them from the other fine musicians that I have worked with, it is their attention to the importance of the text. If you don't convey the sense of the text you are singing, you might as well be reading a shopping list."­­
In brief
Monteverdi's Coronation of Poppea continues (May 1, 2), tracing the story of Poppea's ascent from Nero's mistress to Empress of Rome. A superb international cast of singers awaits you in this Opera Atelier production. www.operaatelier.com
The Musicians in Ordinary perform Music of the Courtesans of 15th and 16th Century Italy (May 2). According to reports, Italian courtesans were known to write poetry and philosophy, often acting as muses for poets and composers, singing their songs, accompanying themselves, and entertaining everyone within hearing distance. Soprano Hallie Fishel and lutenist John Edwards bring this musical story to you. www.musiciansinordinary.ca
Tafelmusik's performance of The Creation (May 29, 31), is part of the "World Creation Project" when choirs and orchestras all around the world will perform this work in honour of the 200th anniversary of Haydn's death. Tafelmusik also reprises their Juno Award performance of Bach's Brandenburg Concertos (May 9, 10, 12-15) which brought them international acclaim. Website: www.tafelmusik.org
Bach's Cantata BWV 150 is performed as part of Toronto Chamber Choir's innovative Joan and Geoffrey Riggs Bach Cantata Series. Conductor Mark Vuorinen offers insight, analysis, background, as well as a full performance with orchestra and soloists. Website: www.torontochamberchoir.ca
What better way to celebrate Mothers' Day than with Folia, and Baroque music about mothers (May 11), from the ideal, the Virgin Mary, to one of history's least successful mothers, Medea. The music, by Biber, Merula, Caldara, Turini and more, features Laura Pudwell, mezzo-soprano; Linda Melsted and Patricia Ahern, baroque violins; Laura Jones, viola da gamba; Borys Medicky, harpsichord; Lucas Harris, lutes, and the Toronto Continuo Collective.
The Toronto Continuo Collective (lutes, theorbos, triple harp, harpsichord, and viola da gamba) performs music from 17th-century Rome in their own concert (May 25, 26), including a staged performance of Luigi Rossi's cantata Noi siam tre donzellette. Website: www.continuo.ca
One of Canada's finest choral ensembles, The Exultate Chamber Singers, closes the season with a celebration of the 350th anniversary of the birth of Henry Purcell, one of England's most prolific and renowned composers (May 22). Website: www.exultate.net
A special fundraising concert for the Nota Bene Period Orchestra includes some of their all-time favourites by Bach, Telemann, Handel, Purcell, and others - Telemann's La Bizarre, excerpts from Purcell's Fairy Queen and Marais' Alcione (May 16). Website: www.nbpo.net