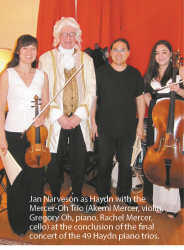 Haydn was a composer known for surprises but it's likely that even he would have been amazed to find a complete cycle of his 68 string quartets being undertaken in Waterloo over the next three and a half years. Anyone familiar with the breadth and enterprising programming of the Kitchener-Waterloo Chamber Music Society (KWCMS), however, won't be so surprised.
If someone were to quiz you on the three leading concert presenters in the greater Toronto region, the TSO and RCM's Koerner Hall, would come to mind immediately. Yet the KWCMS, with more than 70 concerts this season is barely behind The Royal Conservatory's 80+ and the TSO's 109. It's incredible really, that one dedicated couple's love affair with music would rival the accomplishments of two such prestigious institutions. At The WholeNote we've been well aware of the bountifulness of the KWCMS programming since their concerts have been filling our listings pages (and the 85-seat Music Room in Jan and Jean Narveson's home) for as long as we've been in existence.
Over the years the cumulative volume of talented performers who made their way to the Narvesons is astonishing enough, but it is the KWCMS' penchant for programming complete cycle concerts that really made one sit up and take notice. Over the years, they've presented all the Bartók, Beethoven, Shostakovitch and even the second Viennese School quartets, three cycles of the Beethoven piano sonatas, four of the Beethoven sonatas for violin and piano, three of the Beethoven cello and piano sonatas, the complete Ravel piano works and all 49 of the Haydn piano trios.