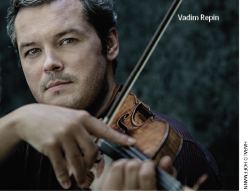 Russian-born Vadim Repin may just be the best violinist you've never heard of. Unless you happened to catch his TSO appearance in 2007 playing Prokofiev's Violin Concerto No.2 with guest conductor Thomas Dausgaard, his only exposure here has been through recordings (most recently with Deutsche Grammophon) and YouTube clips. The clips span almost 30 years of an acclaimed career that took international flight after he won the prestigious Queen Elisabeth Competition in Brussels in 1989 when he was only 17.
In a recent telephone conversation the warm and gracious violinist described how he felt at that time: "The competition itself was really tough, very difficult psychologically and [physically]. It goes forever [one month]. For the next four years it put me in the spotlight of the music world but then there was a new winner, so forget about it. You have to do other things to get noticed and get the spotlight."
This virtuoso, for whom technique is always a means to a musical end, never an end in itself, began violin lessons at five by "pure chance." His mother, who had been encouraging her son to play with musical toys since he was three, took him to school intending to sign him up for accordion studies. Only violin places were available so he took up the violin. By age seven, chance took him under its wing again; his teacher advised studying with Zakhar Bron (who later taught Maxim Vengerov and Daniel Hope), a relationship which would continue for 13 years.