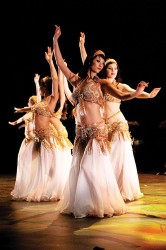 This month starts auspiciously with the Arabesque Dance Company & Orchestra's world premiere of its NOOR (Light), running March 3 - 6 at Harbourfront's Fleck Dance Theatre. This ambitious production promises to be among the grandest world performance events this season with an international ensemble of 17 dancers and 14 musicians, including three vocalists. Linking traditional art forms from Egypt, Lebanon, Syria and Spain, NOOR evokes the rich influence of Arab art in medieval Andalusia as expressed through spiritual poetry, regional music and dance. The company directors Yasmina Ramzy and Bassam Bishara collaborated with the noted violinist and exponent of the ancient Muwashshahaat poetic tradition Fathi Aljarah, with Canada's premiere flamenco guitar master Roger Scannura and dancer Valeria Scannura of Ritmo Flamenco. The result is a juxtaposition of the more languid belly dancing tradition with the fiery brilliance of flamenco.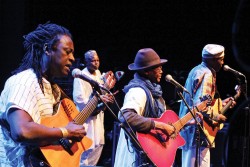 West African music lovers are in for a treat on March 6. The Royal Conservatory of Music in partnership with Small World Music present Acoustic Africa, a concert featuring three headliners: Habib Koité, Oliver Mtukudzi, and Afel Bocoum, legends in their native Mali and Zimbabwe. We can expect an infectious blend of pop, South African mbaqanga, jit and traditional kateke drumming. I'm willing to bet that more than a few patrons will get up out of their Koerner Hall seats to dance along.
Melodies of Armenia on March 10 is part of the free World Music Series held noon at the Four Seasons Centre for the Performing Arts. The concert by the Levon Ichkhanian Quartet shines the spotlight on the playing of Mark Korven's soulful duduk, an apricot wood shawm with ancient roots in Armenian culture. Levon Ichkhanian on plucked strings, bassist Victor Bateman and Wilson Laurencin on percussion join the duduk in presenting the oft melancholy music of Armenia.
The Kodo Drummers of Japan marks its 30th anniversary this year bringing its show to the Sony Centre For The Performing Arts on March 11. I saw them years ago and their interpretations dazzled the audience with feats of astounding percussive speed, dexterity, and muscular endurance.
The Musideum is a unique and fun downtown Toronto music retail store cum museum, filled to the ceiling with musical instruments from around the world. Its Friday 7pm series continues March 11 with the FreePlay Duo in which Suba Sankaran and Dylan Bell (of Autorickshaw fame) sing a capella songs accompanied only by a digital looping station.  On March 25 local world music diva Maryem Hassan Tollar performs with musicians Ian De Souza and Chris Church.
Hindustani classical music will take the stage on March 17 at the Toronto Centre for the Arts. Presented by Small World Music, the concert presents the leading younger generation sitarist Nilandri Kumar (whose father was the prominent sitarist Pandit Kartick Kumar) with the celebrated tabla maestro Zakir Hussain.  Zakir received a firm musical foundation from his father the honoured late tabla virtuoso Allah Rakha, though many would say Zakir with his brilliant technique and crowd-pleasing musicianship has outstripped his guru's international fame through his expeditions across once-forbidding musical boundaries.
Readers may be surprised to see the name of Toronto's ViaSalzburg Chamber Orchestra in this column. They owe this distinction to the special guests for their Glenn Gould Studio concert on March 24 and 25: Canada's pioneer Evergreen Club Contemporary Gamelan. (Full disclosure: I have been composing for and performing with Evergreen since its inception in 1983). The programme will include the epic Beethoven String Quartet Op. 131, Montreal composer Michael Oesterle's piece for gamelan degung and string quartet, and Evergreen Club's performance of "Ibu Trish" (1989), its signature work by American composer Lou Harrison for gamelan.
Kicking off its New World Series on March 25, the Music Gallery and Batuki Music Society present ETHIO T.O.  This concert, described as "Ethiopian and Eritrean pentatonic jazz-funk" features two bands. Ethio Fidel is led by the local first-call Ethiopian bandleader saxophonist, Girma Wolde Michael. The group Canaille on the other hand is directed by the multi-instrumentalist Jeremy Strachan, who is strongly influenced by Ethiopian horn arrangements and tonality. Toronto has the second largest population of people from Ethiopia and Eritrea in North America. Kudos to The Music Gallery which has thought to bring the music of Ethiopia's "Golden Age" of the '60s and '70s to its venue just north of Queen St.
The next day on March 26 the Echo Women's Choir and Mariposa In The Schools present David and Goliath: An Earth Hour Evening of Song and Story at the historic Church of the Holy Trinity, benefitting both of these charitable organizations that bring music to diverse communities. This spirited evening of international songs and stories will feature artists such as Ken Whiteley, the 80-voice Echo Women's Choir, David Anderson, Njacko Backo, Jowi Taylor and the Cuban Percussion Ensemble.
Brampton's spiffy Rose Theatre is stepping up to challenge T.O.'s hold on touring world musicians on March 31. Debashish Bhattacharya, among the pre-eminent Hindustani slide guitarists today, will appear accompanied by Shubhasis Bhattacharya on tabla. The duo will bring the classical raag and taal based music of northern India to Flowertown.
Finally, this is the time of year for new beginnings. Nowruz marks the Iranian New Year, celebrated on the vernal equinox by Iranians all over the world. The youthful Sarv Ensemble presents two concerts on April 1 and 2 called Eidaneh: A Celebration of Persian New Year and Arrival of Spring. They perform Iranian classical and folk music at the Beit Zatoun House on 612 Markham St. in downtown Toronto. Just one year old, this new venue is a large open gallery that aims to serve as a platform for social justice and human rights events. "When we share the art and culture of another then there is no room for injustice or hatred." A noble vision indeed. ν
Andrew Timar is a Toronto musician and music writer. He can be reached at worldmusic@thewholenote.com.