June appears to be another month chock-ablock with performances of both seasoned world music headliners and fresh experimenters.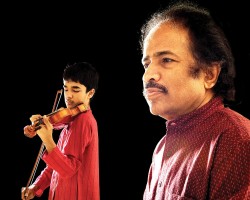 On June 3 the Carnatic violin virtuoso L. Subramaniam performs with his son Ambi Subramaniam at the Isabel Bader Theatre. No stranger to international audiences, L. Subramaniam comes from a leading south Indian violin playing family. In his long and well-recorded career he has garnered glowing testimonials from Indian and Western notables. Fellow fiddler Yehudi Menuhin once pronounced, "I find nothing more inspiring than the music making of my colleague Subramaniam." Dubbed "The Paganini of Indian Classical music," L. Subramaniam draws his musical language from both Karnatak and Western classical sources in his concerts and in his over 150 recordings and feature film soundtracks. Several percussionists and a morsing (mouth harp) player will accompany the Subramaniams' brilliant flights of melody.
At the other end of the spectrum of world music, the experimental quartet Global Cities Ensemble performs at the Music Gallery on June 5. This recently formed Toronto quartet's intercultural experimental mission infuses hip-hop with West Asian & South East Asian instruments and music, thereby exploring a new world music language. Four respected musicians on the Toronto music scene, each from a different musical background, comprise the GCE collective. Members include the award-winning Toronto rapper and songwriter Abdominal; the leading experimental turntablist and electronics musician Professor Fingers; the Toronto virtuoso of the tar (long-necked Persian lute) Araz Salek, and yours truly on suling (Indonesian bamboo ring flute) and kacapi (Sundanese zither). With such a mix, expect an adventurous exploration of a new global sonic landscape.
Luminato 2011 is billed as "Toronto's 10 day festival of arts and creativity." This year it boasts a veritable world music festival featuring a large number of impressive world music acts at its new downtown festival hub at David Pecaut Square, and elsewhere.
Commissioned by Luminato, Sampradaya Dance Creations premieres its production TAJ on Friday, June 10 at the Harbourfront Centre's Fleck Dance Theatre. Under the artistic direction of the award-winning company choreographer and dancer Lata Pada, this 90-minute dance drama has a music score by Praveen Rao. Bollywood stars Kabir Bedi and Lisa Ray headline the production that chronicles the human drama behind the Taj Mahal, the Indian architectural wonder. This is among the most ambitious productions of the Mississauga based Sampradaya Dance Creations which boasts a 20 year history marked with innovative dance creations, many featuring music commissions as an essential performance element.
The Luminato world music series launches at the David Pecaut Square on the evening of June 11 with the Italian group Bandabardò. Formed in 1993, this Florentine folk revival band is renowned both for its live performances and for its popular albums. Bandabardò is joined by the singer/songwriter Peppe Voltarell whose Calabrian roots lends authority to his signature blend of rock with the folk music of Southern Italy. Toronto's Dominic Mancuso, the winner of the 2010 Juno for World Music Album opens the evening. Mancuso who has been called the "premier Sicilian griot of these times" sings an emotionally fuelled blend of Italian folk, influenced by blues, soul, and jazz.
On Sunday June 12 at 2pm Homayun Sakhi, widely considered the finest Afghani rubâb player of his generation performs at Luminato. The remarkable Alim Qasimov Ensemble from Azerbaijan who follows Sakhi has been acclaimed by the Guardian as "one of the most thrilling, unashamedly emotional performers on the planet." Alim Qasimov is the world's leading exponent of mugham, a sophisticated Azerbaijani performing art form combining music with classical poetry. Musician friends who play Arabic and Persian music have already made plans to attend this extraordinary double bill concert.
That same evening (June 12) the renowned Kronos Quartet headlines an evening of string music – with an idiosyncratic world music twist. The Grammy-winning American Kronos has been active for decades developing a unique repertoire mixing classical string quartet works and global musical languages in one adventurous combination after another. The resulting thousands of concerts and dozens of albums are an eloquent testament to the success of their approach, attempting no less than a redefinition of the string quartet's role in music today. Their guest is Toronto's Annex Quartet. They will jointly perform a typically eclectic all-contemporary programme including Terry Riley's Sunrise of the Planetary Dream Collector, David Balakrishnan's Skylife, Franghiz Ali-Zadeh's Mugam Sayagi, and Osvaldo Golijov's Se Me Hizo Facil.
Toronto's Sultans of String perform at Luminato with Yemen Blues on June 14. The local group garnered a 2010 Juno nomination for their infectious dance music mixing French Manouche Gypsy Jazz, Spanish Flamenco, Middle Eastern Folk, and throwing in Cuban Rhythms for good measure. Yemen Blues (USA/Israel) on the other hand draws on founder Ravid Kahalani's roots to define his original compositions. His nine-member group blends Yemenite songs with blues, jazz, and funk in a dance friendly fusion of complex grooves.
June 16 brings an evening of contemporary bhangra to Luminato. Bhangra is the popular dance music genre originally from rural Punjab. The Vancouver group Delhi 2 Dublin includes Celtic fiddle players, two bhangra percussionists and a female Bollywood-style vocalist, presenting them in an exhilarating mash-up of Punjabi bhangra, Celtic, dub reggae, and electronica. Bhangra superstar Malkit Singh and his band Golden Star follow. They have toured the world and won international acclaim for such hits as "Jind Mahi" from the Bend It Like Beckham film soundtrack.
Contemporary Arabic music is showcased at Luminato with a special focus on artists from Egypt on June 18. Toronto's Minor Empire ensemble opens the afternoon with a mix of traditional Middle Eastern and Western music. The guitarist and composer Ozan Boz leads Michael Occhipinti, Chris Gartner, Debashis Sinha and other sought-after Canadian musicians. Headliner Natacha Atlas is one of the leading female voices in contemporary Arabic culture. This Anglo-Egyptian singer has collaborated with divas such as Sarah Brightman and Sinead O'Connor in music that fuses electronic beats with Arabic music. I saw Atlas perform years ago at Harbourfront and her powerful singing that afternoon still resonates in some sonic recess of my mind. The Qanun (a zither-like instrument) master George Sawa and his ensemble continues the Arabic festival at 8:00pm. Sawa has spread his expertise from medieval to modern Arabic music to several generations of Toronto musicians and has performed around the world. The Egyptian singer Hakim follows on stage. Called the "Lion of Egypt" by fans, Hakim is a star of the electronica-influenced sha'abi, a popular urban music genre rooted in traditional Egyptian folk music capturing "the tumultuous essence of life on the street."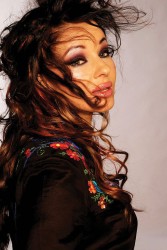 June 19 marks the closing day Luminato festival concert. At 2pm Toronto's Tasa performs original compositions as well as arrangements of songs from the Indian diaspora. Founded in 1999 by tabla player and composer Ravi Naimpally, Tasa is one of our town's leading world music ensembles, winning an Urban Music Award for Best World Music Album for their debut release "Bhakti." The Indo-British musician, producer and composer Nitin Sawhney is the festival's closing act. His critically acclaimed music combines Asian and other world influences with elements of jazz and electronica. Sawhney has just released the album "Last Days of Meaning," an unusual theatrical project with deep themes: reflection on the past, shared memory, empathy and ultimately hope.
Saturday June 25 the group Wenge Musica Maison Mere directed by Werrason plays at the Ukrainian Cultural Centre. At the beginning of the 1980s, the Congolese singer and musician Werrason was an essential member of the innovative band "Wenge Musica 4X4 Tout Terrain d'Intervention Rapide," touring throughout Europe, Africa, and North America. Werrason's 1999 album "Solola Bien" was accorded the Golden Record in France. The following year he performed in Paris in front of 17,000 fans and in years since has released a number of world music albums. Be prepared to dance deep into the night: the show is advertised to last from 9pm to 2am.
In closing, a word about music performances at the Toronto Public Libraries. With 99 branches, the Toronto Public Library is the world's busiest urban public library system. 18 million visitors borrow more than 32 million items each year. While the branches have long been information and education hubs for citizens of all ages, recently it seems that performing arts events including music have been rising to the top of the stacks. During the month of May a spate of performances celebrated Asian Heritage Month with eight Asian Homelands Festival programs around town. On June 8 at 2:00pm at the Elizabeth Beeton Auditorium, Toronto Reference Library, the Native Canadian Centre of Toronto presents Native Songs and Dance: The Importance of First Nations Culture, a programme of singing, dancing and drumming to be followed by discussion. Free programs celebrating Portuguese and Newfoundland musical connections are scheduled at 2pm at the Northern District Public Library at 40 Orchard View Blvd. On June 2 John Christopher and John Showman play Newfoundland, Latin and bluegrass music on guitar and violin. Mark and Ken Sparling perform on banjo and guitar on June 16. Finally, local Portuguese guitar masters Nuno Cristo and Alvaro Oyarce play the music of their homeland on June 23.
Andrew Timar is a Toronto musician and music writer. He can be reached at worldmusic@thewholenote.com.