During the month of May, Toronto's Latin music mecca, Lula Lounge on Dundas St. W., is the destination for world music aficionados. This year its ambitious festival LULAWORLD 2011: The New Canadian Songbook, runs from May 12 to May 22 and encompasses 15 concerts. While Lula's focus does not abandon its Latin American musical roots, programmers make a case for showcasing the diversity all around us. Judging from the line-up, what they call "The New Canadian Songbook" is sung in Spanish, Portuguese, Yiddish, French as well as English. The festival highlights the contribution of Canada's newcomer musicians, whose compositions, performances, and recordings constantly serve to refresh and redefine the Canadian musical landscape, enriching our cultural fabric by incorporating traditions from across the globe. And isn't that what world music should be about?
The concert series kicks off May 12 with the celebrated Latin jazz vocalist Amanda Martinez, joined by her guest, the Colombian-born Grammy nominated guitarist/singer-songwriter Fernando Osorio. With her 2009 release Amor reaching #1 on iTunes, recent performances at the FIFA World Cup in South Africa and at New York's prestigious Blue Note, Canada's Martinez is riding high.
The festival continues later that evening with the Columbian group Bomba Estéreo, no doubt living up to their explosive moniker with an eminently danceable sound that often expands into trippy electronica territory. Bomba Estéreo was formed in 2005 by Simon Mejia, building on an already active underground electronic dance music scene in Bogotá, Colombia. The group expanded its sound and enhanced its live show by recruiting the fierce singer Liliana Saumet. Bomba Estéreo plays an explosive fusion of electronic dub and hip-hop styles which commentators have likened to M.I.A. and Santigold, but underscored with Colombian dance rhythms of cumbia and champeta. Afro-Colombian rhythms and the folk music of the coastal city Santa Marta, where the group leader Saumet grew up are especially important to Bomba Estéreo's music.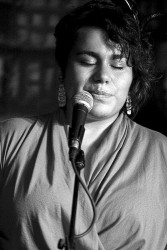 Singer Patricia Cano was raised in Sudbury, Ontario, but is of Peruvian heritage. She headlines LULAWORLD on May 13. Moving early in life into the international spotlight, this young singer worked and studied in Paris and Brazil. In 2009, Cano recorded her debut album, showcasing traditional South American folk songs, including samba and Afro-Peruvian forms driven by jazz grooves and the soulful sound of the blues. Blessed with a mellifluous and oft intense voice, the album has a strong Brazilian lilt thanks to Brazilian guitarist Carlos Bernardo and percussionist/producer Luisito Orbegoso. Cano is emerging as one of Canada's leading vocal talents.
In the second set on May 13, one of Canada's leading salsa bands releases its third album Looking from the Top. Caché's signature vibraphone-inflected sound that the group has been developing for nearly a decade features the irresistible vocals of frontman Juan Carlos Cardenas. Under the leadership of percussionist Wilson Acevedo and bassist Richard Morales, vibraphonist Randy Stirtzinger and conguero Daniel Stone contribute compositions that have become standards for Toronto salsa dancers. A favourite of CBC and campus radio stations, Caché may be the most in-demand salsa outfit in the country. I may be there trying out my floor moves too.
Speaking of dance, on May 14 at 1pm, Café Con Pan will be holding a free Mexican fandango workshop for families. Accompanied by the son jarocho music of Southern Veracruz, you too can learn the basics of zapateado dancing. At 3pm, the all-ages theme continues with Family French World Café hosted by Quebecois singer-songwriter Joanna Moon, with Donné Roberts. Both are LULAWORLD events.
Continuing with the LULAWORLD New Canadian Songbook theme, at 10pm on Saturday, May 14, an all-star band performs salsa works by noted Canadian composers including Luis Mario Ochoa, Hilario Durán, Jesus El Nino and Mario Allende. The musical direction is co-chaired by Luisito Orbegoso and Sean Bellaviti. The following day, join guitarist Luis Mario Ochoa, one of Canada's best known Cuban voices, in "Lula's Sunday Family Salsa Brunch," hosted by CBC Radio's Mary Ito; seatings at 11am and 1:30pm. The brunch includes a beginner salsa lesson and Ochoa's Cuban Quartet. What better way to dance off your eggs benedict?
Sunday evening, May 15, LULAWORLD showcases David Buchbinder's Odessa Havana featuring Hilario Durán and Maryem Tollar. Yes, you guessed it, this Jewish-Cuban mash-up was predated but not predicted by the Jewish-fuelled American mambo craze of the 1950s. This band is comprised of award-winning trumpeter and composer David Buchbinder, JUNO award-winning pianist/composer Hilario Durán and topped up with Canada's top jazz and world musicians.
The young BC fiddler Jaron Freeman-Fox's music dances the line between the soulful and the ridiculous. With his recent album Manic Almanac: Slow Möbius, and a new fiery band, The Opposite of Everything, he displays his own fusion of folk and experimental instrumental music on Tuesday, May 17, at LULAWORLD.
On May 19, singer-songwriter and 2010 Juno award winner, Dominic Mancuso, performs both originals and contemporary treatments of Italian songs and folk melodies joined by celebrated Toronto bassist Roberto Occhipinti. On the second set, Socalled (presented in association with Small World Music) performs his genre-bending collaborations melding funk, Klezmer, hip hop, lounge and classical music. Described as a "klezmer hip-hop maestro," Socalled (aka Josh Dolgin) is a Montreal-based musician, producer, composer, arranger, magician, filmmaker and photographer.
Book-ending the LULAWORLD festival are several local acts. On May 20, Samba Squad makes a welcome appearance with guest vocalist Luanda Jones. Directed by Rick Lazar, Samba Squad gathers diverse global influences and produces raw, drum-heavy original compositions that are certain to rock the Lula! Lazar presents a night of new compositions and Samba Squad originals with a good measure of funked-up covers of traditional Brazilian favourites. Then on May 22, the Brazilian-born singer, percussionist and composer, Aline Morales, launches her solo CD Flores, Tambores e Amores. Accompanied by album producer David Arcus, percussionist Maninho Costa and the Heavyweights Brass Band, Morales provides a contemporary Canadian perspective on those quintessentially Brazilian genres, samba, tropicalia and maracatu.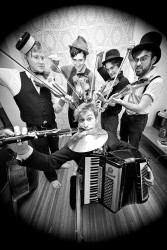 Elsewhere in Toronto, the Toronto Tabla Ensemble performs on May 18 and 19 at the Harbourfront Centre's Enwave Theatre. Featuring North Indian rhythms combined with original loops, samples and sequencing, Ritesh Das directs from the tabla. Guest musicians include Evan Ritchie on drums and percussion, and Ian de Souza on bass.
Further afield, in London, Ontario, the "Year of India in Canada 2011" touches down at the Delta London Armouries on May 1. This year-long, Canada-wide cultural and trade show features dancers and musicians from across India. Represented is Carnatic music from the south, Hindustani music from the north, Rabindra Sangeet (songs of Rabindranath Tagore, Bengali's favorite son), as well as folk and Bollywood songs. Nor have Indian dance fans been neglected: Odissi and kathak dance traditions are well represented too.
Back in Toronto, Quebec's renowned folk trio, Genticorum, plays on May 19 at Hugh's Room. Featuring songs from their new album Nagez Rameurs, the Juno and Felix nominated Genticorum's performances are marked by stirring three-part harmonies, a high-level of musicianship, an engaging sense of stage humour and a joie de vivre, all of which have earned the band a growing international fan base. They impressed me a few years ago at the Cambridge Millrace Folk Festival and then again at the Mariposa Festival in Orillia. Their current show has more interplay than before between traditional songs and original compositions. Original reels are fused to traditional songs and traditional songs are performed to original lyrics. In my humble opinion this is what living folk music should be like.
Andrew Timar is a Toronto musician and music writer. He can be contacted at worldmusic@thewholenote.com.