Our annual, semi-tropical season has finally arrived in Southern Ontario. As well as officially launching the BBQ, road construction and vacation seasons, it also signals a mean average increase in world music concerts. The clement weather affords all of us the opportunity to enjoy music from various corners of the world performed alfresco, as well as making it easier to travel to outdoor festivals across the province.
I'll be taking advantage of both the good weather and travel opportunities to perform out of town. One gig I look forward to is at the Electric Eclectics (EE) festival, now in its sixth year.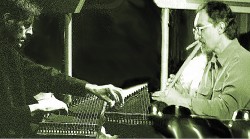 My musical partner, guitar and kacapi (zither) player Bill Parsons, and I (on suling) are collectively known as Sunda Duo. We will be performing at the EE's DJ Tent on Saturday, July 30, 2pm. EE is easily among Ontario's most unusual summer festivals. In addition to having an eclectic programme, its site — a farm overlooking the scenic Beaver Valley, just outside of Meaford, Ontario — is a major draw. While EE focuses on avant-garde and crossover musicians, art installations, DJs and films, this year it is embracing Sunda Duo's world music-meets-Toronto-eclectic fusion. Expect to hear West Javanese (Indonesia) songs combined with our compositions, creating a special Asian-inflected blend of contemporary Canadian music. Given that the majority of the audience camps out on the EE farm, I'm preparing to enjoy that age-old Ontario summer custom too.
The TD Sunfest in London, Ontario, is among our longest running world music-friendly festivals. Running from July 7–July 10 at the relaxed and verdant Victoria Park in the centre of the city, the concert lineup on the evening of July 7 looks particularly international: Tram des Balkans (France); Mamaku Project (New Zealand); Etran Finatawa (Niger); Novalima (Peru); and Dizu Plaatjies and Ibuyambo (South Africa).
On July 10 at 4pm, Hindustani classical music reigns at the Living Arts Centre in Mississauga. Headlining are the vocalist Pandit Ajoy Chakrabarty, and the emerging young master sarod-ist Alam Khan. He is the son of the late, great sarod maestro Ali Akbar Khan.
The Huntsville Festival of the Arts is also venturing into world musical territory. Arvel Bird performs on Native American flute and fiddle on July 2; Luis Mario Ochoa Cuban Quintet appears on July 28; and the Jesse Cook group plays guitar-centric music with global influences on August 18.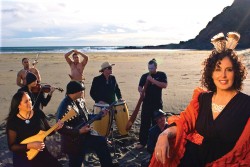 Of course there's no need to get out of town to hear world music this summer. There is plenty of it right in Toronto. Among the granddaddies of summer programming is the Harbourfront Centre's series, this year tilted "Hot Spot Summer." Each weekend's festivities are keyed to a different concept or national theme. During the first weekend, on July 2 at 9:30pm, Systema Solar performs their hot Afro-Caribbean and Colombian music on the Redpath Stage. The next day, on the same stage, at 5pm, Moana & the Tribe redefines inter-island music with an idiosyncratic mix of reggae, funk and Maori music. The cultures of Mexico, Colombia and Iran are featured July 8–10, July 15–17 and July 21–24, respectively. "Island Soul Festival" showcases carnival, pan (steel drums ensemble), poetry and dance July 29–August 1. One of the more intriguingly named three-day festivals is "What is Classical?" running August 5–7. I'm curious how the curators will explore the diverse forms of 'classical' music from the Americas, the Middle East and East Asia. August 19–21, South Asia's turn comes with "Masala! Mendi! Masti!" Harbourfront audiences can explore Taiwan's emergence as a source for both new and old artistic expressions August 26–28.
The annual summer series at the lakeshore Toronto Music Garden is celebrating 12 years of free concerts in its lush urban-themed garden setting. All this time it has been serving up a high level of performances of classical and traditional music from around the world. I've performed there several times. Despite the noisy proximity of the island airport, Front Street traffic and the Gardner, is there a better free, open-air-blanket-on-grass concert experience downtown? All that's missing is the B&B: barbeque and beverages.
This summer I look forward to the visit of several outstanding groups to the Music Garden. Vancouver's Juno-nominated Orchid Ensemble plays repertoire inspired by mountains and rivers on Thursday, August 18, at 7pm. The Shiraz Ensemble on Sunday, August 21 at 4pm, makes an eloquent and elegant case for Persian classical music, exploring the roots of melodic modes and rhythms in its music and sophisticated poetry. Toronto's own muscular taiko (Japanese drum) ensemble Nagata Shachu will undoubtedly raise summer temperatures even higher with its appearance on Thursday, August 25, at 7pm.
Elsewhere in Toronto, Megobrebi: World Vocal Ensemble sings at Music Mondays' 12:15, July 4 concert at the Church of the Holy Trinity. On July 9, the controversial Iranian musician, singer-songwriter Moshen Namjoo and his group, perform Persian music fused with western styles at the George Weston Recital Hall, presented by the Parya Trillium Foundation. Also at the Weston Recital Hall, Toronto lovers of Cantonese opera can get their all too rare fix on July 10 at 2pm, when the Starlight Cantonese Opera performs.
There are other festivals this summer, both grand and intimate, with world music programmes. Intrepid musical explorers may wish to check offerings at the Mill-Race Folk Festival, Collingwood Music Festival, Elora Festival, Savannah Festival of Rhythms, Ottawa Chamberfest and others.
I wish you pleasant musical trails and discoveries.
Andrew Timar is a Toronto musician and music writer. He can be contacted at worldmusic@thewholenote.com.