It has been said that good things come in threes. On the first day of April, three concerts grace GTA stages – no foolin'. The well-traveled Hindustani slide guitar maestro Debashish Bhattacharya performs his raga-based improvisations at Brock University's Centre for the Arts, in St. Catharines. Acclaimed as a musician while still a child, Bhattacharya has in recent years built three distinct forms of the slide guitar, the original Indian introduction of which he traces back to the 20th century Hawaiian guitar virtuoso, Tau Moe.
On the other hand, Canadian Harry Manx forged his own distinctive guitar style studying at the feet of the masters closer to home – in the blues clubs of Toronto. Manx followed his passion for slide guitar to India, spending a rigorous five-year internship with Vishwa Mohan Bhatt. The latter is a noted Hindustani musician, the inventor of the 20-stringed mohan veena, an instrument also developed from the guitar. This is no novelty act, however; Manx's guitar playing is finely tuned and sensitive, influenced by his playing of raga, while his vocals are deeply dipped in the blues. No one else makes music that sounds like this. Manx performs his eclectic repertoire of Indian-infused blues, American roots and Middle Eastern flavoured music on April 1 at Koerner Hall, with Californian multi-instrumentalist David Lindley.
The same day, completing our musical trifecta, the Sarv Ensemble celebrates Persian New Year and the arrival of spring. The concert titled Eidaneh features Iranian classical and folk music at the Beit Zatoun venue in downtown Toronto.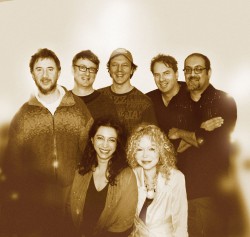 If I were seeking big themes for this month's column, my choice would be to go no further than the Lula Lounge on Thursday, April 7, at a concert titled "Bridges: Yiddish & Arabic Music in Dialogue." The two Toronto-based co-leaders Lenka Lichtenberg (voice/composition) and Roula Said (voice/composition/qanun/percussion) present an inspirational evening searching for common ground between Jewish and Arabic music traditions. With tensions between and within nations being what they are, the notion of music acting as a bridge between people is the high-minded leitmotif chosen by these multi-talented co-leaders.
The Czech born singer-songwriter Lenka Lichtenberg embraced Toronto's world music aesthetic in her exciting fourth solo album Fray (Free, 2010). The Small World Music-presented concert "Bridges" is an extension of that project and includes some of Toronto's finest world musicians: Alan Hetherington (percussion), Chris Gartner (bass), John Gzowski (guitars), Ernie Tollar (sax/flutes/clarinet), Kinneret Sagee (clarinet) and Ravi Naimpally (tabla).
Roula Said, dedicated to Middle Eastern music and dance, has been consistently active on Toronto's world music scene going on two decades. Best known as one of Canada's leading bellydancers, Said is the director of Om Laila Bellydance, and the producer of FunkaBelly and the Bellydance Cabaret. She is also a stylish vocalist, percussionist and quanun player, as evidenced by her performances with the Gypsy/Arabic funk band Nomadica, which she co-leads with trumpeter and composer David Buchbinder.
What will the evening's music be like? Lichtenberg sings expressive Yiddish and English lyrics with an intimate soprano over well-wrought arrangements bridging many musical styles. Roula Said will undoubtedly bring to the stage her well-honed Arabic music and dance skills to the mix. Ultimately, you and I will have to attend to find out.
Small World Music also presents Ghana's Afrobeat pioneer Tony Allen (drums) on April 15 at the Phoenix Concert Theatre. Allen headlines the concert that includes guests Amp Fiddler (keyboard), Prince Enoki's Insect Orchestra, and DJ medicineman.
On Sunday April 17, at the Glenn Gould Studio, the University Settlement's Music and Arts School is celebrating a "Festival of Music and Culture" in honour of 90 years of "music in the making." Designed as a multicultural event to celebrate diversity, this concert headlines the Indian-Canadian fusion group Autorickshaw Trio. Other noted performances include kathak dance by Joanna deSouza, guzheng performances by the Fan Shang-E Zheng Music Association, the University of Toronto Klezmer Band, Iranian Drumming by Manouchehr Chahardooli, Chinese Erhu by Yuan Wang and a special presentation of University Settlement Music and Arts School students. Proceeds from this event will support the many worthy University Settlement programs and services.
Perhaps we downtown denizens need to be reminded every once in while that there is (world) musical life outside of T.O. The Port Hope Friends of Music is a brave presenter in Port Hope, about 100km east of Toronto, which serves its community by bringing top-notch classical musicians to town. On Saturday April 30, however, world music is on the menu in the form of Toronto's Evergreen Club Contemporary Gamelan (ECCG). The ECCG (of which I am a performing member) will perform its mixed program of contemporary Indonesian, Canadian and American works on its glittering bronze, wood and bamboo gamelan degung at the Cameco Capitol Arts Centre.
Closing the month on April 30 at Toronto's Music Gallery, Amir Amiri on santur (Persian hammered dulcimer)) headlines a concert with Ziya Tabassian (percussion) and Araz Salek on tar (Persian lute). The concert, titled "New Ancient Strings," explores the past and future of Persian music. Keeping with the Persian/Iranian theme, on May 7, Orchestras Mississauga/Chamber Music Society of Mississauga present "Tales and Tunes for Toonies: Carpet of Dreams." This performance of Persian fairy tales set to traditional classical Persian chamber music performed by the Toronto-based Shiraz Ensemble is geared to youth audiences. The work will have its long-awaited premiere at the Living Arts Centre, Mississauga.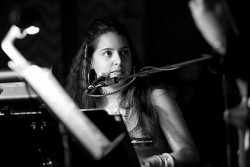 How better to fête International Workers' Day, May 1, than to attend the Echo Women's Choir's concert Celebrating Women at Work at Toronto's Church of the Holy Trinity? Echo is a well-established, vibrant, 80-member choir which regularly sings songs from around the world. In this concert they cover Georgian lullabies, and South African and North American protest songs, all conducted by Becca Whitla and Alan Gasser. Their special guest, Cuban-Canadian pianist Glenda Del Monte Escalante, joins the choir in Cuban numbers that she has arranged, and also leads a jazz set. I've consistently found Echo Choir concerts to be uplifting musical and community spirited affairs. (A personal note: I am proud of my past service in Echo's men's auxiliary.) n
Andrew Timar is a Toronto musician and music writer. He can be reached at worldmusic@thewholenote.com.