It might as well be spring
The WholeNote has been keeping track of the (mostly southern) Ontario choral scene for almost exactly 20 years, and during that time Ontario choirs have followed a predictable winter-to-spring ritual as predictable as swallows to Capistrano. December brings holiday fare, then it's down to serious business. Choirs gear up over the course of the spring for one last big performance for the season, often involving their most ambitious or at least newest repertoire. After which, by early June at the latest, the choral tents get folded, the slightly more dog-eared scores get carefully stored, and it's hugs all round and fond farewells until the fall.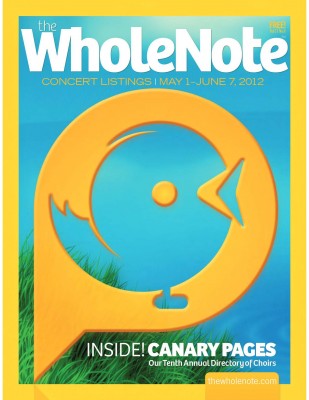 As a small part of that predictable ritual, for over two decades, dozens and dozens of Ontario choirs have signed up for The WholeNote's annual "Canary Pages Directory of Choirs." First published in May 2003 as our "Focus on the Choral Scene," including just over one hundred choirs, it became an annual feature of our May print edition, eventually expanding to include year-round updates on our website. Almost immediately, choirs started using it to describe themselves to prospective choristers: the repertoire they like, where and and how often they rehearse; audition requirements if any, and how often they perform. It became like an annual snapshot of the choral community gathered together – a reminder of how the choral community is more than the sum of its parts.
A reliable spring ritual: that is, until COVID struck, and choral music was the first casualty, going from the euphoria of drawing collective breath and turning it into music into bewildered masked isolation when the air breathed to sing together became lethal.
Granted, many choirs and their members took a deep dive into virtual congregating – re-inventing not just how they could reach their audiences but in how they could continue to gather to rehearse. But for many individual choir members, the virtual work-arounds, once the novelty wore off, only served to emphasize what had been lost.
The first to be silenced, so too choirs have been the last to return to something approximating the normal, because feeling safe to return is something every individual choir member has had to make for themselves. But there are encouraging signs that it's turning round – even if not necessarily into the same predictable patterns as before.
Look at the ads and listings in this issue and you will see signs of this turnaround. If one includes opera and music theatre productions that include ensemble singing and full-sized choruses, I count at least 18 choral concerts listed, which is 18 more than this time last year!
The choices choirs are making in regard to audience capacity and safety protocols are interesting. Some choirs are gratefully selling every ticket the new protocols will allow them to. Some are offering combinations of full-capacity and reduced capacity events. Several are sticking to offering only reduced capacity performances, some are sticking to saying that, no matter what the province allows, their audiences are still "requested to be fully vaccinated and masked"; some are, notably, offering free tickets for vaccinated children accompanied by an adult. The list goes on.
But whatever decisions they are making, most have one thing in common: they are consulting with their choristers, volunteers and audiences about what they think. And if that's the "new normal," bring it on!
Meanwhile on our website (thewholenote.com/canary) the choirs are coming home to roost! Which for us is as hopeful as it gets.
PODIUM in town after 20 years
Beyond the impact of two lost years on individual choirs, another fundamental pillar of collective choral strength was undermined by two lost years – the opportunity for individual choristers and whole choirs from all over to gather together, to share and compare, and to celebrate the range and diversity in this most elemental and accessible of the musical arts.
Perhaps the hardest hit of these gatherings, in a Canadian context, was PODIUM – a bilingual, conference and festival of choral music that has, in one form or another, been held, uninterruptedly, since 1982 in Kingston; since then, moving across the country from town to town. Well, almost uninterruptedly. The May 2020 PODIUM, scheduled for Montréal for the first time in the event's history, heartbreakingly had to be cancelled – too early in the pandemic for virtual and hybrid conferencing formats to have taken hold.)
Two years on, the welcome news is that not only is PODIUM back, May 19 to 23, but back in Toronto, for the first time in 20 years, with Choirs Ontario as the co-host. Once again, the 40-year-strong gathering will, as the PODIUM website describes it, "bring together choral practitioners, researchers, administrators, students, representatives from the music industry, choristers, composers and other members of the choral community from across the country and beyond for professional development, the sharing and proliferation of ideas and research in choral music, performance, networking, and to celebrate Canada's choral communities."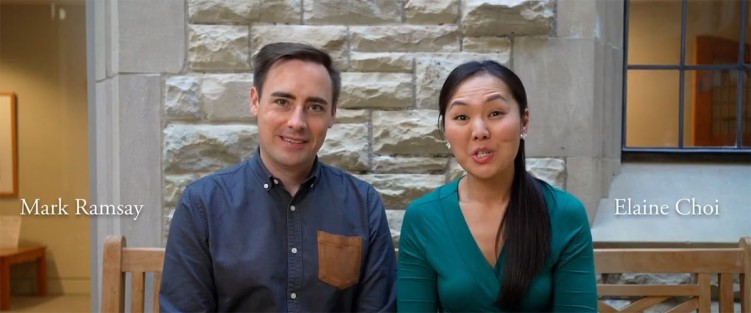 "Reimagine, Rebuild, Reconnect" is this year's conference theme and it's hard to imagine a more succinct summary of the task at hand in post-pandemic times. But it's a conference and festival, and it's the festival aspect of the event where the proof of the pudding will be. The festival invites delegates and local audiences to meet and mingle, with choral concerts across downtown Toronto, featuring choirs and other singing groups from across the country and beyond. Among them will be a number of groups that would have sung at the ill-fated 2020 Montréal event – a small but significant way to acknowledge the broken link in the 40-year Podium chain.
The virtual and digital tools the choral community has learned to use during the past two years of isolation will also come into play. Podium 2022 will be a hybrid event, carrying its message of determination far beyond the host city.
David Perlman can be reached at publisher@thewholenote.com.