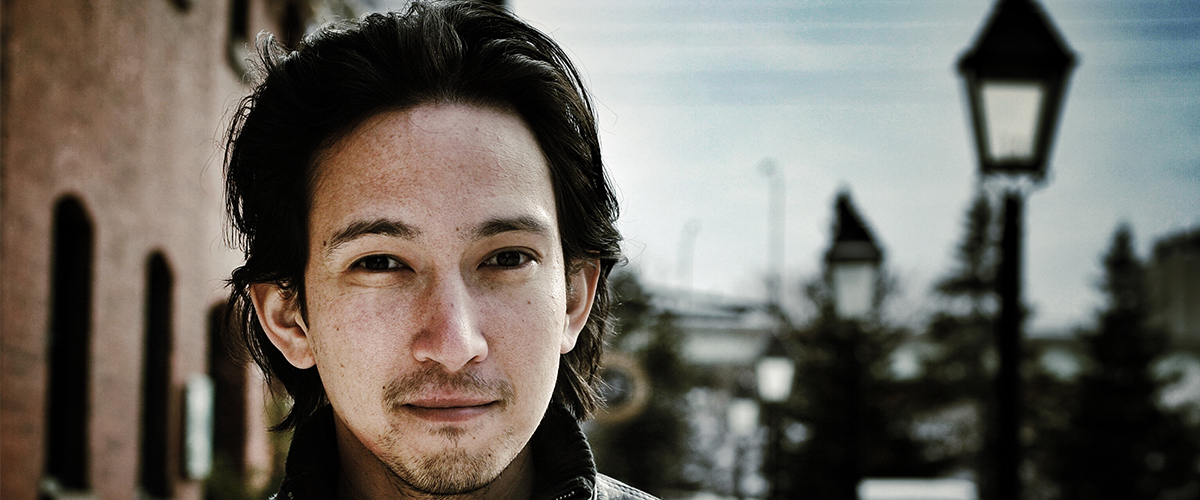 An unusual consensus is emerging in British media large and small, dailies and blogs, around the Scottish Opera and Music Theatre Wales co-produced opera The Devil Inside that premiered in January in Glasgow and that Tapestry Opera is bringing to Toronto this month thanks to the Scottish Government's International Touring Fund. The Guardian and the Telegraph, The Scotsman and the Financial Times, Opera Britannia and the Boulezian Blog alike are heaping praise on the Stuart MacRae and Louise Welsh adaptation of a Faustian bargain story by R.L. Stevenson, The Bottle Imp, set in present day with a cast of four and a 14-member band. Said bottle central to the plot will grant any wish to its owner, but if it remains in his possession at the time of death, his soul will spend eternity in hell. The bottle changes hands and makes many a wish true, but the fever of greed grows and, with it, complications.
Michael Mori, artistic director of Tapestry Opera, has no doubt the work will resonate equally well with Toronto audiences. "The offer of making it rich, retiring at 30, living the high life without earning a cent–basically the temptations of the pseudo-American dream–are at the heart of this story, and a compelling examination of the fantasies we still hold dear today," he explains. The adaptation is both loose and very faithful: the librettist Louise Welsh, one of Scotland's greatest crime novelists, "has a great hand for animating characters that are both classic and clearly defined in the present," he says.
Mori, a self-avowed fan of short stories with a touch of the supernatural by the likes of Edgar Allan Poe, Ray Bradbury, Isaac Asimov and R.L. Stevenson himself, first heard of The Bottle Imp while collaborating on an Edinburgh Fringe Festival pitch with Scottish Opera. "We were working with Scottish Opera to pitch what was to become The Devil Inside, along with our own M'dea Undone, as a double bill for the Edinburgh Fringe Festival. The arrangement fell through, but the Scottish Opera team of MacRae/Welsh continued working on it independently. In the meantime I read up on the story and really fell in love with its dark magic…a little bit of Faust, and a little bit of Poe. The plot is intensely driven by human dynamics, not only of love but also of the struggle against greed and temptation."
By all accounts, the director Matthew Richardson managed to create a visually rich production with fairly pared-down means. Michael Rafferty will conduct the 14 instrumentalists of the Scottish Opera Orchestra in the score by a composer Torontonians haven't had a chance to hear before. Stuart MacRae works in the tradition of European modernism, so don't expect the familiar, the well-travelled, the tonal or the melodic, but his music blends in with the drama and is genuinely operatic. Mori describes it as "energized and driven, managing to hold a shimmering tension while capturing vocal lyricism in each of his characters." Nothing will stand out or distract: "During the show, you may not even think about the music. MacRae allows the listener to be completely lost in the story."
The Devil Inside will be Tapestry Opera's first time presenting an international company. "I hope to do more of this at Tapestry, and also look forward to bringing our great Canadian artists to Scotland and the world. The boldness and the immediacy of chamber opera provide a powerful incentive to find and create more works of this size."
The Devil Inside plays at Harbourfront Centre Theatre March 10 and 13.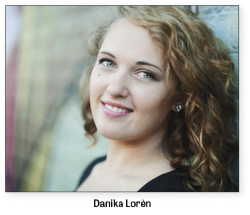 Opera Atelier is bringing Mozart's early work Lucio Silla home to Toronto (April 7 to 16, Elgin Theatre), after notable Salzburg and La Scala runs with one of the best- known period orchestras in the world, Les Musiciens du Louvre, under one of today's best-known practitioners of HIP (historically informed performance), conductor Marc Minkowski. And with this, some good news: the company has secured a recurring engagement with the Royal Opera of Versailles, which will host an Opera Atelier production every second year. Marshall Pynkoski directs and Jeanette Lajeunesse-Zingg is in charge of choreography, with a new set and costumes by resident OA designer, Gerard Gauci. (The production seen in Salzburg and La Scala was designed by Antoine Fontaine, French designer of baroque opera with a series of notable credits like Ivan Alexandre's recent Hyppolite et Aricie at the Paris Opera and Sofia Coppola's Marie Antoinette among many other films.)
International collaborations of this kind can only be good for a company which is rather conservative in its instincts–faithful to its dance-focused "baroque gesture" aesthetics for 30 years now, whether it's staging Lully or von Weber or anything in between, and faithful to a core group of returning artists (in Toronto, for example, the company's performances with Tafelmusik are only ever conducted by David Fallis). Baroque operas are being staged around the world in all kinds of ways today, from those in modern clothes (Wieler's and Morabito's Alcina, for example) to spare and abstract (Pierre Audi's Castor et Pollux, Robert Carsen's Les Boréades) to fantastic reinvention (Laurent Pelly's Platée, Jonathan Kent's Hippolyte et Aricie) to, more rarely, those indeed in Antoine Fontaine-like stylized reconstruction aesthetics (Michel Fau, Ivan Alexandre). But Opera Atelier remains true to its 30-year-old blueprint.
And continues to divide baroque lovers in Toronto: there are its core fans and donors who like what it does and come back for exactly the familiar, and then there are those who, like myself, are wishing it would be bolder and stray from where it's most comfortable – beautiful costumes, muscular dancers, stock gestures. One of the most memorable operas I've seen was a Charpentier's Médée at the Frankfurt Opera set in present day, in a wealthy businessman's penthouse that hosts Medea's refugee family. Charpentier and the period band under Andrea Marcon went along just fine with a very modern interpretation by the director David Hermann. Why can't I see productions like this at home, I wondered then. And I still do.
How much of the OA rulebook will be honoured in Lucio Silla, and whether the production will surprise us, remains to be seen in – there are a few clips from the La Scala performance on YouTube to whet the appetite. Krešimir Spicer (Lucio) and Inga Kalna (Cinna) of the original cast join Mireille Asselin (Celia), Peggy Kriha Dye (Cecillio) and Meghan Lindsay (Giunia). Trouser role lovers, rejoice: there are two in this production, Cecilio and Lucio Cinna. Tafelmusik Baroque Orchestra under David Fallis will be in the pit.
Trouser roles: Speaking of gender-bending trouser roles, there will be two more on offer in Handel's Alcina, the Glenn Gould School Opera's spring performance at Koerner Hall, March 16 and 18. The romantic lead Ruggiero is a trouser role usually sung by a mezzo, and the small role of the boy Oberto often goes to a young light soprano. The opera also has one en travesti role in Bradamante, who is disguised as a man for most of the proceedings. Although arguably Handel's best and most popular opera–okay, together with Giulio Cesare and a couple others–Alcina is all too rarely performed in Toronto. The long-time chorus master of Tafelmusik Choir, Ivars Taurins, will conduct the Royal Conservatory Orchestra on modern instruments, while as usual a selection of GGS students is cast in lead roles. Soprano Meghan Jamieson will be Alcina, while coloratura soprano Irina Medvedeva as her sister Morgana gets to sing what is probably the best known aria of the opera, Tornami a vagheggiar. Bradamante and Ruggiero will be interpreted by the mezzos Lillian Brooks and Christina Campsall respectively. The semi-staged Alcina will be directed by Leon Major, the artistic director of The Maryland Opera Studio for the University of Maryland, College Park.
Bunyan: Over at the Toronto's other opera school, Sandra Horst will conduct the Britten-Auden operetta Paul Bunyan as part of the University of Toronto Faculty of Music Opera Series, March 10 to 13 in the MacMillan Theatre. The cast is large and varies between performances, but some names will already be known to opera-going Torontonians: mezzos Megan Quick and Emily D'Angelo and soprano Danika Lorèn, for example, who have joined the Canadian Opera Company's Ensemble Studio this year. The greater pleasure of attending student performances is of course discovering unknown talent, and the complete cast list can be found on the U of T Opera's Paul Bunyan web page (uoftopera.ca/paul-bunyan). This fully staged production will be directed by Michael Patrick Albano and designed by Lisa Magill and Fred Perruzza.
Quick Picks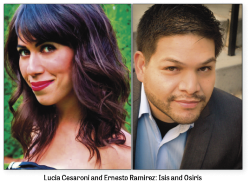 Megan Quick can also be heard in Mahler's Das Lied von der Erde in the Schoenberg-Riehn arrangement for chamber orchestra on Mar 21 in Walter Hall, with the University of Toronto Faculty of Music Artist Ensemble, and Andrew Haji singing the tenor part. The mezzo will also sing Die Waldtaube from Schoenberg's Gurre-Lieder, another piece rarely performed in Toronto.
Collectif Toronto is a new addition to the alternative operatic scene in the city, an ensemble formed by the singers Danika Lorèn, Whitney O'Hearn and Jennifer Krabbe. On Mar 20 at 7:30pm in Haliconian Hall, the three singers and Tom King on piano will perform As a Stranger, a dramatized and adapted but complete Winterreise, Schubert's sombre song cycle. Concept by Whitney O'Hearn, direction and videography by Danika Lorèn.
Canadian Opera Company's midday Vocal Series is getting interactive on Mar 15, in a concert of operatic arias and sing-along choruses featuring young artists of the COC Ensemble Studio and Kyra Millan, soprano and opera educator. Love the tenor voice? There's a COC Vocal Series performance for that. In the "Four Tenors" concert on Mar 29 Jean-Philippe Fortier-Lazure, Aaron Sheppard, Andrew Haji and Charles Sy join forces in a program of tenor arias and ensembles.
Soprano Teiya Kasahara will collaborate with the drumming ensemble Raging Asian Women Taiko Drummers and percussionist/flutist Heidi Chan on a program titled "Crooked Lines: Stories in Between," Mar 11 to 13. Kasahara is a 2010 COC Ensemble Studio graduate whose career is expanding to Germany: in May of this year, she returns to Aalto-Musiktheater Essen to resume the role of Fata Morgana in Prokofiev's Love of Three Oranges.
And a new Canadian work to conclude with: Isis and Osiris: Gods of Egypt (music by Peter Anthony Togni, libretto by Sharon Singer) will premiere in concert at the St. Lawrence Centre for the Arts. Soprano Lucia Cesaroni and tenor Ernesto Ramirez sing the title roles, with mezzo Julie Nesrallah as Nephtis and baritone Michael Nyby as Seth, Stuart Graham as The Grand Vizier, Christopher Wattam as Imhotep and Leigh-Ann Allen as Sennefer. The soloists, the chorus and the 11-piece orchestra will be conducted by Robert Cooper on Apr 1 and 3.
Lydia Perović is an arts journalist in Toronto. Her new book of fiction–a novella All That Sang–is coming out in April with Véhicule Press.