The 2018/19 season has started off with a bang with an exciting mix of risk-taking experimental music theatre alongside the traditional musicals continuing on many stages large and small. Over the course of just one week in September I saw three world premieres in a row that were entirely different from each other; unique in atmosphere and style, yet alike in a desire to explore and push the boundaries of what music theatre is capable of.
Opera Briefs: The first of these, Tapestry Opera's Opera Briefs: Tasting Shorts is always one of my favourite fall shows, the chance to see a smorgasbord of bite-sized brand new operas created in Tapestry's annual summer composer librettist laboratory, the Liblab. This year's edition of sophisticated operatic speed-dating was no exception, with 11 mini-operas on a variety of themes. One of the necessities of successful bare-bones staging is good direction - this time by artistic director Michael Mori assisted by Jessica Derventzis. Another is having a company of singers who are equally good as actors, able to intuitively convey complexities of character and story as well as to master new and widely varied music scores very quickly. Anchored by the veteran brilliance of tenor Keith Klassen and baritone Peter McGillivray (who were joined by newcomers soprano Teiya Kasahara and mezzo Stephanie Tritchew) this company shone throughout the evening with each "brief" a tiny complete world of its own, set apart by story and music style. Jennifer Tung's music direction and playing was also subtle and effective throughout. As always there were strong "real life" musical stories most notably the funny but heartbreaking The Farewell Poo by Rene Orth and Daniel Solon, and the more stylized and politically apposite Bring Me the Head of Our President by August Murphy-King and Colleen Murphy. Taking the program even beyond this usual excellence was a new experiment: writing for Virtual Reality settings. Of the Sea created the VR experience of meeting African slaves thrown overboard on their way to the new world who have made new lives below the ocean, and was surprisingly powerful although fantastical. Even more experimental was sci-fi thriller Hydrophis Expedition designed as a purely aural experience. Eerie and fascinating, as we listened with our eyes closed, the sung music as well as the underwater soundscape made it easier to succumb to the experience and believe in the underwater world and its lurking dangers.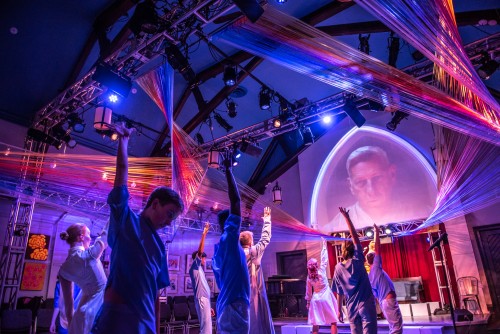 Dr. Silver: In contrast to the multiple worlds of Tapestry's Briefs, the latest creation of the uber-talented Stratford-born and raised sisters Anika and Britta Johnson: Dr. Silver: A Celebration of Life is a fully realized, intensely cohesive, almost claustrophobic, single immersive world.
At Toronto's historic Heliconian Hall in the heart of Yorkville the audience arrives at the door to be greeted by young members of the "congregation" welcoming us to the funeral of Dr. Silver who – we find out quite soon – was the leader of a cult. As the congregation we sit around three sides of the room with an altar and multimedia screen at one end, and with space in the middle for the cult's youth chorus (the incredibly polished Edge of the Sky Young Company) to sing and perform.
Once the show begins we are completely immersed in the funeral and music, and then the history of the family at the centre of the cult. It is this mix of family history and the formal dynamics of the funeral ritual that gives interest and depth to what might otherwise be just a clever concept. As idiosyncratic moments occur (as at any real funeral) they sometimes trigger flashbacks and we get to know the various members of the family (mother, two daughters, estranged son, and son's friend/devoted acolyte): suffice it to say, all is not as perfect as one might think from surface appearances.
The excellent cast (Donna Garner, Bruce Dow, Kira Guloien, Rielle Braid, Peter Deiwick) sing and act so well and truthfully that we don't just watch, we come to really care about them and what is going to happen. The sung-through nature of most of the show seems natural, particularly because the cult worships music as divine (a clever concept). The direction by Mitchell Cushman is seamless and the choreography by Barbara Johnston for the young chorus is dramatic and effective. The use of character quirks and comedic moments in the writing lightens the tension and darker side of the material and the electro-pop music works for all the characters (though I found myself wishing for a bit more musical variety). Currently a co-production between Outside the March and The Musical Stage Company this show will likely continue to develop and be seen again. Please see my upcoming interview with the Johnson sisters on our online blog at thewholenote.com for a much more in-depth look at the show and its creation.
I Call myself Princess: Now, from the multiple individual worlds of Tapestry's Briefs and the immersive single world of Dr. Silver, to Jani Lauzon's I Call myself Princess where two worlds 100 years apart not only exist side by side but intersect and influence each other. Excitingly ambitious in scope Lauzon's "play with opera" is rich in rediscovered historical fact and imaginative in how it combines this history with present-day reality. From the beginning, the two worlds seem to be overlapping, with Indigenous singing like a magical chant opening the doors between the two. Music interweaves the 2018 world of young gay Métis opera student Will with the world, 100 years earlier; which gave rise to the classically oriented "Indianist" music of Charles Wakefield Cadman. Cadman was a composer of many songs but also of the first opera with an Indigenous story to be performed at the Metropolitan Opera: Tsanewis or The Robin Woman. When Will is given an aria from this opera to learn he becomes obsessed with learning more about its creation. As he does, the walls between the worlds become increasingly thin, allowing him to meet and even interact with the woman who inspired Tsanewis – Tsianina Redfeather, a classically trained Creek Cherokee singer who, as Will eventually realizes, is experiencing many of the same trials that he himself is facing as a lone Indigenous artist trying to navigate a primarily non-Indigenous world. The power of the play comes from this intersection and interaction, as both characters find comfort and strength in the other's understanding and through a sharing of the music. While the acting and singing of some of the company are not as smoothly integrated as they could be, I found myself caught up in both stories and fascinated by the reality of the proto-feminist ground-breaking opera of 100 years ago
I Call myself Princess continues at the Aki Studio until October 6 and Dr. Silver: A Celebration of Life at Heliconian Hall until October 14.
Upcoming: October 17 and 18, another risk-taking musical, and a longtime cult favourite of musical theatre fans, Stephen Sondheim's Merrily We Roll Along is being revisited in a semi-staged concert format by Toronto Musical Concerts at the Al Green Theatre.
Based on Moss Hart and George S. Kaufman's 1934 play of the same name, which begins at the end of the story and goes back in time to the beginning, Merrily We Roll Along has had a problematic production history beginning with its less-than-fully-successful premiere in 1981, but as TMC's Artistic producer Christopher Wilson says "Yet it is one of Sondheim's finest, most complex, and diverse scores, and the thematic material of choosing success over artistry is age-old and one worth exploring through a contemporary lens." In fact, as time goes by, audiences and critics seem to have found a new appreciation for the show, in part, perhaps, because the original production's decision to cast very young adults who would have to play "forty-somethings" at the beginning before reverting to their own ages, was flipped to having performers roughly the right age at the beginning, who would then play younger selves as the play went on – a concept that Wilson has followed for this version. The wonderful 2016 documentary about the original production, The Best Worst Thing That Could Have Happened, has certainly whetted a lot of appetites to see and hear this musical live once again,
Speaking of revivals, on the second last day of October, the Stratford Festival is presenting, for one day only, Tom Jones and Harvey Schmidt's beloved chamber musical, The Fantasticks, in concert at the Avon Theatre starring Eric McCormack. Yes, Eric McCormack from TV's Will and Grace. McCormack's ties to Stratford go back 30 years to when he was a young actor in the company appearing, for example, in Measure for Measure, Murder in the Cathedral and A Midsummer Night's Dream; last year he was awarded the Festival's Legacy Award. It is also a homecoming in another sense, McCormack being Toronto-born, raised, and trained (Ryerson Theatre School) and having cut his early professional teeth in outdoor park performances at Skylight Theatre in North York's Earl Bales Park. He also has musical theatre credentials having made his Broadway debut as Harold Hill in The Music Man in 2001. In The Fantasticks he is aptly cast in the wonderfully swashbuckling role of the "kidnapper" El Gallo. Richard Ouzounian will direct, and Franklin Brasz, is in charge of the music.
This should be a fun revisiting of an old favourite musical and also raises the tantalizing question of whether we might see a longer run of The Fantasticks, or McCormack himself, in a full Stratford Festival season in the near future.
MUSIC THEATRE QUICK PICKS
OCT 2 TO 20: Oraltorio, A Theatrical Mixtape, Young Centre for the Performing Arts. Soulpepper joins with Obsidian for the first time to present this intriguing coming-of-age story through movement and music described as "part poetry slam, part house party."
OCT 18 TO 21: Xenos, Bluma Appel Theatre. Canadian Stage presents Akram Khan's highly acclaimed last solo dance creation (with a book by Jordan Tannahill) exploring and commemorating Indian soldiers' experience in World War I. Khan's fiercely dramatic Until the Lions was a highlight of the 2017 Luminato Festival.
OCT 24 TO 28, 7pm: Dancyn Productions present Billy Bishop Goes to War at RCAC Oshawa. A fun chance to see John Gray's Canadian classic musical about Canada's great pilot in an appropriate military setting.
Toronto-based "lifelong theatre person" Jennifer (Jenny) Parr works as a director, fight director, stage manager and coach, and is equally crazy about movies and musicals.