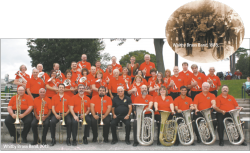 According to my calendar summer is almost over. However, in my experience, it tried to start and then gave up some weeks ago. On the band scene my experience is quite similar. I had hoped to hear from quite a number of bands telling of their activities over the summer months when TheWholeNote was taking a breather. With a couple of notable exceptions, there was a deafening silence from the bands regarding their summer programming. If you are a member of a band, tell us about your activities. Whether they are highlights of recent events or announcements of ones coming up, we and other readers are interested. Having said that, we really prefer a simple release in the form of an MS Word document attached to an email. Trying to dig for gems of information in a multi-layered, colourful website, no matter how attractive, frequently yields little or no useful information.
We do know that there were many series of regular concerts at Victoria Park in Milton, at the Unionville Millennium Bandstand, the Orillia Aqua Theatre and other locations. Unfortunately, we have no anecdotes to report.
In past issues of this column the topic of programming, and specifically theme programming, has received some attention. In one case a band director admitted to settling for second rate music in order to adhere slavishly to a selected theme. This year it is a pleasure to report on a themed program, with a difference, which really worked. The Uxbridge Community Concert Band's director Steffan Brunette produced a well-researched themed program this year which set a new standard. The program was simply titled "The Elements."
In recent years modern science revealed to us how all matter on earth was composed of combinations of elements. In our elementary science classes we learned about the periodic table of elements and how they are combined to form all of the physical materials which we encounter in our daily lives. However in ancient times the perception was very different. The belief was that everything known in the world was made up of only four elements: earth, wind, water and fire. These concepts were inspired by natural observation of the phases of matter. Almost since the earliest forms of written music, composers have written works to convey emotions induced by human encounters with those four elements.
This concert took the audience on a musical journey through time with a broad range of musical impressions from those of George Frideric Handel in the 1600s to works of composers in the 21st century. In addition to Handel's Water Music and his Music from the Royal Fireworks, there was Manuel de Falla's Ritual Fire Dance, excerpts from Stravinsky's Firebird Suite and several works written within the past ten years. There was an interesting adaptation of the traditional African-American spiritual, Wade In The Water, by none other than Professor Adolphus Cunningham Hailstork III. There was even a musical impression of the volcanic eruption of Mazama in the state of Oregon that occurred over 7,000 years ago. It was a program that was musically varied, tasteful and kept the audience interested. Full marks go to Steffan Brunette.
One of the oldest brass bands in Canada, the Whitby Brass Band, is celebrating its 150th anniversary this year. The official celebration event will take place in Whitby, Friday September 27. That will be followed by a special anniversary concert on Saturday, September 28. Some months ago, as a part of their anniversary celebrations, the band sponsored a competition for young musicians to compose a concert march to commemorate this anniversary. First place went to Abundance by Marcus Venables of Toronto, second place toAlumnus by Gerry Murphy Jr. of Oshawa, third place toLegacy by Kristie Hunter of Uxbridge and fourth place to Heydenshore March by Sean Breen of Markham.
In Cobourg there is celebration and there is grief. Once again this year, the Concert Band of Cobourg will be travelling to Plattsburgh, New York, in their role as the Band of Her Majesty's Royal Marine Association. However, this year, their longtime drum major, Tom MacMillan, will not be heading the parade. Tom succumbed to cancer in mid-August. Tom MacMillan joined the Concert Band of Cobourg over 30 years ago as its drum major and led the band in every significant parade since then. In the words of Paul Storms, director of music: "He was a big huge part, and he was the centrepiece of the band in everything we did over the last 30 years. He put the band on the map with his looks and his proud walk. Every time we did tattoos or parades, once he called the band to attention you could see him in his glory and how proud he was to lead us, and how proud we were to have him lead us."
MacMillan retired from the Ontario Provincial Police in 1993, but it was his involvement with the citizens of Cobourg that made him shine. Over the years he won many awards from community service clubs, the town of Cobourg and the province of Ontario. From his blue town crier uniform complete with tiny rimmed glasses, to the white beard he wore when playing the role of Santa, or carrying the mace for the band, MacMillan was the definition of community involvement.
So, after a busy summer of weekly concerts, the band's principal activity will be, as mentioned, their annual participation in the commemoration of the Battle of Plattsburgh on September 14. The theme of the weekend is the "Canadian Connection" which will feature them along with the Cobourg Legion Pipes and Drums of Branch 133. The bands will be featured in a parade, beat retreat ceremony and evening concert. In the concert the band will have the honour of opening the newly renovated Strand Theatre in Plattsburgh.
On another down note, I recently attended a benefit event at the Frenchman's Bay Yacht Club to honour trumpeter Carlo Vanini. Well known in Toronto band circles and a regular for many years in the Bob Cary Orchestra at what was formerly the Chick 'n' Deli, Carlo has been seriously ill. Hundreds of friends and family members were there to express their support. We hope to see him back soon.
Definition Department
This month's lesser known musical term is An-Dante: a tempo that's infernally slow. We invite submissions from readers. Let's hear your daffynitions. 
Jack MacQuarrie plays several brass instruments and has performed in many community ensembles. He can be contacted at bandstand@thewholenote.com.