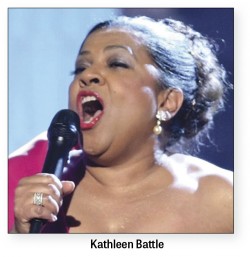 The Toronto Consort performs Monteverdi's Vespers: there is a strong case to be made that Monteverdi's Vespers and Bach's B-Minor Mass constitute the finest baroque choral and liturgical works. They are, of course, very different, but one thing they have in common is that we know next to nothing about their early performance history.
Bach's work dates from the end of his life and it seems unlikely that he himself ever heard it in its entirety. Monteverdi's Vespers was published in 1610, at a time when he was still employed at the ducal court in Mantua. Dismissed two years later, in 1613 he received an appointment as conductor at St. Mark's Basilica in Venice, so there have been attempts to link the Vespers either with Mantua or with Venice. One musicologist has even proposed that there was an earlier version of the Vespers, written for Mantua and dedicated not to the Virgin Mary, but to St. Barbara. This remains unproven, as are attempts to link the work with St. Mark's in Venice, although John Eliot Gardiner recorded a visually spectacular performance there.
This is not the first time the Toronto Consort has performed the work; for these performances, May 6 to 8, the tenor Charles Daniels will direct, while there is also a guest performance by another tenor, Kevin Skelton. Instrumental accompaniment will be provided by the Montreal cornetto and sackbut ensemble, La Rose des Vents. With its intricate interweaving of sections for choir and soloists (six, eight and ten-voice choir, solo tenor, tenor duet, tenor plus two three-voice choirs, etc) it is a work of remarkable interest for lovers of vocal music.
Louis de Nil and César Aguilar: I first became aware of Louis de Nil when he performed the leading male role in The Nutcracker for the Pia Bouman Dance Studio. I also heard him play the oboe. After that he went to study at McGill and he has just completed an M.A. program at the University of Western Ontario. Accomplishments as a dancer and an oboist notwithstanding, he is now primarily a tenor. His recitals over the last two years include a performance of Schubert's Winterreise, no less, in April 2015. May 1 he will sing in a joint recital with the countertenor, César Aguilar, who grew up in Mexico, came to Canada in 2006, largely to improve his English, and later became a music student at the University of Lethbridge. The program for their Gallery 345 recital includes arias from Handel's Tamerlano, Canticle II (Abraham and Isaac) by Britten and songs by Vuillemin, Rachmaninoff and Schubert. The pianist is Helen Becqué.
The Talisker Players present "Cross'd by the Stars," May 3 and 4, in which readings from letters, diaries and memoirs are coupled with performances of works by Purcell (When I Am Laid in Earth), Gluck (Che farò senz' Euridice), Mahler (Lieder eines fahrenden Gesellen), Burry (The Highwayman) and Bernstein (West Side Story). The singers are Krisztina Szabó, mezzo, and Aaron Durand, baritone.
Lunchtime recitals at the Four Seasons Centre: There are several vocal recitals in the Richard Bradshaw Auditorium this month. On May 3, the mezzo, Anita Rachvelishvili, will sing Rachmaninoff, Falla, Ravel, Fauré and Taktakishvili. On May 10, Aviva Fortunata will sing Strauss' Four Last Songs and the bass-baritone, Ian MacNeil, will perform the Songs of Travel by Vaughan Williams. On May 17, Karine Boucher, soprano, sings Shéhérazade by Ravel and Andrew Haji, tenor, performs Britten's Serenade for Tenor, Horn and Strings.
Toronto Bach Festival: Oboist John Abberger is the artistic director of First Annual Toronto Bach Festival which will present its inaugural concert May 27. The focus will be on Bach's Weimar cantatas and the program will include the cantatas Weinen, Klagen, Sorgen, Zagen BWV 12 and Herz und Mund und Tat und Leben BWV 147a. The soloists are Ellen McAteer, soprano, Daniel Taylor, alto, and Lawrence Wiliford, tenor.
Toronto Masque Theatre presents Purcell's Fairy Queen: Henry Purcell wrote only one opera, Dido and Aeneas, but several so-called semi-operas combining spoken texts with songs. One could indulge in regret that none of these became fully operatic works but it seems better to accept them as they are. One of them, The Fairy Queen, is based on Shakespeare's A Midsummer Night's Dream, with Shakespeare's text replaced by that of an anonymous versifier. Toronto Masque Theatre gives us a new production of the work, May 27 to 29, in which the singers are Juliet Beckwith, Vania Chan, Charlotte Knight and Janelle Lapalme, sopranos, Simon Honeyman, alto, Cory Knight and Jonathan MacArthur, tenors, and Alexander Dobson and Graham Robinson, baritones.
Underground Railroad: A Spiritual Journey: soprano Kathleen Battle returns to Toronto after a long absence for a concert of Negro spirituals backed up by the Nathaniel Dett Chorale. The concert, at Roy Thomson Hall, May 29, will also include readings of major Abolitionist writers like Harriet Tubman and Frederick Douglass.
Mamele: The Mother's Eyes: Show One presents Tamara Gverdtsiteli, with the soloists of the Moscow Male Jewish Cappella and symphony orchestra, performing Yiddish, Georgian, Russian, French and Italian songs at Roy Thomson Hall, June 3.
Aradia performs Handel and Peter Maxwell Davies: The centre of the repertoire of period orchestras tends to be the baroque era but ensembles have begun to juxtapose earlier works with contemporary material. Such is the case with the Aradia Baroque Ensemble, which in its next concert, June 4, will give us arias by Handel but also Peter Maxwell Davies' 1969 monodrama Songs for a Mad King. Stacie Dunlop, soprano, and Vincent Ranallo, baritone, will sing.
QUICK PICKS
May 7: Charlene Pauls, soprano, Christina Stelmacovich, mezzo, Chris Fischer, tenor, and Daniel Hambly, bass will be the soloists in Mendelssohn's Elijah, with the Univox Choir.
May 10: Jennifer Taverner, soprano, Lyndsay Promane, mezzo, and Daevyd Pepper, tenor, are the soloists in a concert of English and Italian art songs at Islington United Church.
May 13: Emma Hannan, soprano, Emily D'Angelo, mezzo, Cian Horrobin, tenor, and Nicholas Borg, bass are the soloists in Mozart's Requiem, with the North Toronto Choral Ensemble and the North Toronto Symphony Orchestra at North Toronto Collegiate Institute.
May 13: Hawksley Workman will present songs by Bruce Cockburn, with the Art of Time Ensemble.
May 13 and 15: The Toronto Symphony Orchestra concerts on May 13 and 15 will include Shostakovich's Symphony No. 13 "Babi Yar" with the Russian bass Petr Migunov as soloist.
May 15: A performance of Mozart's Requiem at the Westben Arts Festival will feature soloists Virginia Hatfield, soprano, Kimberly Dafoe, mezzo, Tom Sharpe, tenor, and Joel Allison, baritone.
May 19: Janet Obermeyer, soprano, will perform a free noontime concert at Metropolitan United Church.
May 20: Jenni Cook, soprano, will perform a free noontime recital at St. Andrew's Church.
And beyond the GTA: The soprano Shannon Mercer will sing Seven Romances on Poems by Alexander Blok by Shostakovich at the First Unitarian Church of Hamilton, May 21.
Hans de Groot is a concertgoer and active listener who also sings and plays the recorder. He can be contacted at artofsong@thewholenote.com.