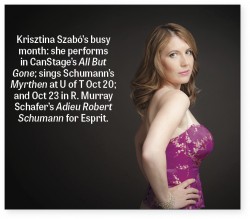 Mooredale Concerts was founded in 1988 by the cellist Kristine Bogyo. After Bogyo's death the organization was led by her husband, the well-known pianist Anton Kuerti. The present artistic director is Adrian Fung, like Bogyo a cellist. From the beginning the organization had two aims, one of which is educational. Mooredale Concerts presents us with three string orchestras. But they also give us a series of concerts, generally in pairs. The first installment is a scaled down children's concert called Music and Truffles in the early afternoon; later in the afternoon the full-length concert is performed. Most of their concerts consist of instrumental chamber music.
This season's second Mooredale offering, at 3:15pm on November 6, foregoes Music and Truffles and offers up something different in the way of repertoire. Taking as its subject the words and music of one of the most important, and one of the most appealing, songwriters of the 20th century – Noel Coward – the program will include such favourites as I'll See You Again, I'll Follow My Secret Heart, Some Day I'll Find You, If Love Were All and Why Do the Wrong People Travel? The guiding spirit behind the concert is the pianist, composer and arranger John Greer. The singers are Monica Whicher, soprano, Norine Burgess, mezzo, Benjamin Butterfield, tenor, and Alexander Dobson, baritone. (Those who like the songs may also be interested in seeing a performance of Coward's play Cavalcade by students of George Brown College at the Young Centre for the Performing Arts; November 9 to 19.)
Beckett at CanStage: In recent years there have been a number of Samuel Beckett's late minimalist plays presented including three at the Berkeley Street Theatre last season directed by the gifted Jennifer Tarver. Beginning October 11, Canadian Stage presents All But Gone, a new work juxtaposing Beckett's short plays with the operatic voices of Shannon Mercer, soprano, and Krisztina Szabó, mezzo. At the Berkeley Street Theatre, it runs until November 6. Jennifer Tarver is again the director; musical direction by Dáirine Ní Mheadhra.
Core Contemporary: In recent years there have perhaps been more opportunities to hear contemporary music in the classical mainstream than used to be the case, with such works being programmed more vigorously by the Toronto Symphony Orchestra, the U of T Faculty of Music and others. But there have also been, for decades, organizations entirely devoted to core presentation of contemporary music, including vocal works (New Music Concerts, Soundstreams and the Esprit Orchestra, to name a notable few).
The first concert of the Esprit Orchestra this season at Koerner Hall, October 23, is a tribute to the eminent Canadian composer R. Murray Schafer. It includes Schafer's Adieu Robert Schumann for mezzo, orchestra and electronic instruments, which was commissioned by John Roberts and the CBC for the contralto Maureen Forrester in 1976 (it was revised in 1980). The work uses passages from the diaries of Clara Schumann as she witnesses her husband's descent into madness. The work also includes allusions to some of Robert Schumann's compositions. The singer is Krisztina Szabó, who is having an especially busy month.
COC Ensemble Gala: The annual Ensemble Studio Competition is always an important event for the Canadian Opera Company, both in terms of an early opportunity to glimpse potential operatic stars of the future, and as an important fundraiser for the Ensemble itself. In recent years that competition has brought forward such outstanding young singers as the bass-baritone Gordon Bintner, the soprano Karine Boucher and, most recently, the mezzo Emily D'Angelo. Hosted by Ben Heppner, the 2016 competition will be held on November 3 at the Four Seasons Centre.
Mazzoleni Songmasters consists of a series of three recitals jointly curated by Rachel Andrist and Monica Whicher. Its first concert this season – "Welcome and Adieu" – will be on October 23. The sopranos Nathalie Paulin and Monica Whicher will sing English and French duets.
QUICK PICKS
Oct 1: The baritone Adam Harris sings six songs from Butterworth's A Shropshire Lad with the U of T Symphony at the MacMillan Theatre.
Oct 1: Marc B. Young is the singer in a concert which will combine songs by Rachmaninoff with the poems he set; at the Chapel, Trinity-St. Paul's Centre.
Oct 4 and 5: The Ensemble Rajaton presents the music of ABBA, with the Toronto Symphony Orchestra at Roy Thomson Hall.
Oct 6: The tenor Benjamin Stein, former choral columnist in The WholeNote, sings and plays the lute and the theorbo in a free noon-hour concert at Metropolitan United Church.
Oct 6: The Women's Musical Club of Toronto's opening concert of the season at Walter Hall presents tenor Issachah Savage singing music by Beethoven, Schumann, Strauss and Quilter as well as spirituals.
Oct 14: Allison Arends is the soprano soloist in a concert that includes English and Canadian folk songs arranged by Britten and Vaughan Williams as well as the song cycle Cuatro madrigales amatorios by Rodrigo; at the Heliconian Club.
Oct 14 and 15: Mirvish Productions presents Kacee Clanton in An Evening with Janis Joplin at the Princess of Wales Theatre.
Oct 16: The Amici Chamber Ensemble performs the work of Johann and Richard Strauss at Mazzoleni Concert Hall with Russell Braun.
Oct 19: There will be a singalong tribute to the songs of the 1960s at Free Times Café, featuring If I Had a Hammer, Walk Right In, Turn! Turn! Turn!, Tom Dooley and others. The singers are Sue and Dwight Peters and Michelle Rumball.
Oct 20: U of T Faculty of Music presents a selection from Schumann's Myrthen performed by Nathalie Paulin, soprano, and Krisztina Szabó, mezzo at Walter Hall; free.
Oct 21: York University department of Music presents a vocal masterclass with the tenor Lawrence Wiliford. Young singers from the studios of Catherine Robbin, Stephanie Bogle, Norma Burrowes, Michael Donovan and Karen Rymal will perform at Tribute Communities Recital Hall, Accolade East Building; free.
Oct 23: The mezzo Maria Soulis will be the soloist in Elgar's Sea Pictures with Orchestra Toronto at George Weston Recital Hall. The program will also include Vaughan Williams' Fifth Symphony.
Oct 25: Another free midday recital by students at York University will be given at Tribute Communities Hall.
Oct 25: The Talisker Players give us readings and performances of poems and songs in "Songs of Enchantment: Tales of Wonder, Spells and Transformation." The concert includes work by Schafer, Purcell, Arnold, Morlock and Louie. The singers are Miriam Khalil, soprano, and Lauren Segal, mezzo; at Trinity-St. Paul's Centre.
Oct 30: Songs from Georgia will be performed by Diana and Madona Iremashvili and Bachi Makharashvili at the Heliconian Club.
Oct 31: "Manhattan: Midtown – 42nd Street and Broadway," the second installment of Soulpepper's exploration of 20th-century American music, opens on October 31 and runs to November 5. At the Young Centre for the Performing Arts.
Nov 1, 2, 3: Music by Queen and David Bowie will be performed by the Acting Up Stage Company at Koerner Hall.
Nov 3: The U of T Faculty of Music presents a free lunchtime concert of music inspired by Hamlet and Macbeth. The singers are Monica Whicher, soprano, and Laura Tucker, mezzo.
Nov 5: The Toronto Mendelssohn Choir will perform Mendelssohn's Elijah. The title part will be sung by the bass-baritone David Pittsinger and other parts will be performed by Leslie Bouza, soprano, Christina Stelmacovich, mezzo, and Michael Schade, tenor, at Koerner Hall.
Nov. 5 and 6: The Bicycle Opera Project are the guests in Pax Christi Chorale's performance of Mendelssohn's Elijah at Grace Church on-the-Hill.
And beyond the GTA:
Nov 5: Another performance of Elijah, this one featuring Chorus Niagara, takes place in St. Catharines at FirstOntario Performing Arts Centre. Russell Braun (as Elijah), Leslie Ann Bradley, Anita Krause and Adam Luther join Chorus Niagara.
Nov 5: Haydn's Lord Nelson Mass will be performed by the Stratford Concert Choir in St. James Anglican Church, Stratford. The soloists are Catherine Sadler, soprano, Anna Tamm Relyea, alto, Mathias Memmel, tenor, and Gary Relyea, bass.
Hans de Groot is a concertgoer and active listener who also sings and plays the recorder. He can be contacted at artofsong@thewholenote.com