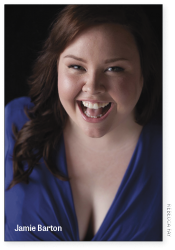 By the beginning of June most regular concert series have ended and will not resume until September, their place taken by a number of summer festivals. First and foremost, there is Toronto Summer Music (TSM). This year's theme is London Calling: Music in Great Britain and the programs include not only music composed in Britain but also recreations of musical events that have taken place in Britain in the past. There is one vocal recital: the mezzo Jamie Barton, winner of the Cardiff Singer of the World Competition, will give a recital on July 25. The program will include songs by Turina, Chausson, Schubert and Dvořák and will conclude with three spirituals. The pianist is Bradley Moore.
Also of interest is the opening concert on July 14 which features Nicholas Phan, tenor, and Neil Deland, French horn, who will perform Britten's Serenade for Tenor, Horn and Strings. On August 4, TSM is presenting a homage to The Last Night of the Proms. The vocal soloist is the mezzo Allyson McHardy (all three concerts are in Koerner Hall). An important part of TSM has always been to present and to help develop newly emerging talent. The fruits of this can be sampled in "Art of Song reGENERATION," two separate concerts on July 22 in Walter Hall. The coaches are the soprano Anne Schwanewilms and the collaborative pianist Malcolm Martineau. Since 2010 the administrator of Toronto Summer Music has been Douglas McNabney. TSM has now announced that 2016 will be McNabney's last season. He is a violist as well as an administrator and, while he never stopped playing the viola, the move may mean that he will have more playing time. That is good news, for him and for his audiences. He will be succeeded by Jonathan Crow, well-known to Toronto audiences as the concertmaster of the Toronto Symphony Orchestra and the co-leader of the New Orford String Quartet.
Luminato, now in its tenth year, will present a performance of Stravinsky's L'Histoire du soldat, directed by Jonathan Crow, in which Derek Boyes will be the narrator at the Side Room of the Hearn Generating Station, June 18; there will be another performance of the Stravinsky at the AGO Walker Court, June 12 at 2pm. Rufus does Judy is a recreation of Judy Garland's 1961 concert at Carnegie Hall, performed by Rufus Wainwright at the Hearn Generating Station, June 23 and 24.
Tafelmusik presents several free concerts as part of their Baroque Summer Festival. Among these is one featuring the Tafelmusik Baroque Orchestra and Chamber Choir directed by Jeanne Lamon and Ivars Taurins, with soloits Ann Monoyios, soprano, and Peter Harvey, baritone, on June 6 at Trinity-St. Paul's Centre.
Other Festivals
The Kincardine Summer Music Festival presents a concert which aims at bringing together the sounds of Broadway, the improvisations of jazz and the sensibility of pop. The performers are Heather Bambrick, Diane Leah and Julie Michels at Knox Presbyterian Church, June 17.
Among the offerings at this year's Westben Arts Festival is a concert of Schubert's music, both songs and instrumental chamber music. The singers are the sopranos Donna Bennett and Kathryn Shuman at Westben Concert Barn, Campbellford, July 17.
The Leith Summer Music Festival presents a concert of songs taken from The American Songbook with special emphasis on the work of Leonard Cohen. The singer is the soprano Patricia O'Callaghan, accompanied by Robert Kortgaard, piano, and Andrew Downing, bass, at Leith Church, August 27. O'Callaghan performs "Hallelujah," songs of Leonard Cohen and others at Stratford Summer Music, July 23 at Revival House.
The Elora Festival will be presenting four concerts of interest, all in St. John's Church, Elora. Tenor Russell Braun teams up with his wife and accompanist, Carolyn Maule, and the Elora Festival Singers for an afternoon concert of works by Vaughan Williams and others, July 9. Soprano Marie-Josée Lord joins the Elora Festival Singers in a performance of selections from her JUNO Award-winning CD, Amazing Grace, as well as music by Gounod, Gershwin and others, July 14. Acclaimed early music specialist, soprano Suzie LeBlanc, joins with harpsichordist Alexander Weimann, July 16, in a celebration of Shakespeare on the 400th anniversary of his death. Star countertenor, Daniel Taylor, Elora Festival Singers soprano, Rebecca Genge, and pianist, Steven Philcox perform "Songs of Love," July 23.
Elsewhere, Leslie Fagan, soprano, and Peter Longworth, piano. perform Schumann's Frauenliebe und leben, Op. 42 as part of the Festival of the Sound, July 21. And I am looking forward to the return of Capella Intima, who will present a concert of canzonettas, arias and motets from 17th century Northern Italy. The music will be complemented by contemporary travellers' accounts. The performers are Bud Roach, tenor and director, Sheila Dietrich, soprano, Jennifer Enns Modolo, alto, and David Roth, baritone, at Trinity-St. Paul's Centre, June 22; donation requested. The program will be repeated at St. John the Evangelist in Hamilton on June 26.
QUICK PICKS
June 1: Bach's cantata, Die Himmel erzählen die Ehre Gottes BWV76 will be performed by soloists from St. James Cathedral and the organist Ian Sadler.
June 2: Christina Stelmacovich, mezzo, will sing a free concert at Metropolitan United Church.
June 3: Show One Productions presents Tamara Gverdtsiteli singing Yiddish songs, with the Moscow Male Jewish Cappella at Roy Thomson Hall.
June 4: Ermanno Mauro, tenor, will sing popular opera arias along with emerging singers coached by him at Columbus Centre.
June 4: The Aradia Baroque Ensemble presents arias by Handel to be followed by Peter Maxwell Davies' Eight Songs for a Mad King at The Music Gallery.
June 4: The Etobicoke Centennial Choir presents opera arias and choruses by Mozart, Verdi and Offenbach. The soloists are Andrea Naccarato, soprano, Erin Ronniger, alto, Lance Kaizer, tenor, and Lawrence Shirkie, baritone, at Humber Valley United Church.
June 5: Maeve Palmer, soprano, sings Five Poems by Tyler Versluis at Gallery 345.
June 6: Melanie Conly, soprano, and Kathryn Tremills, piano, perform Mozart's Exsultate Jubilate as well as songs by Case, Holby, Gershwin, Gounod, Porter and Purcell at the Church of the Redeemer.
June 7: The Toronto Concert Orchestra presents highlights from Rigoletto, La traviata, La bohème and other operas. The singers are Sara Papini, soprano, Eugenia Dermentzis, mezzo, Romulo Delgado and Riccardo Iannello, tenor, and Bradley Christensen, baritone at Casa Loma.
June 8 and 9: Michael Donovan, baritone, will sing his own new songs at Gallery 345.
June 12: Schubert's Mass in G will be sung in a free concert with soloists Jennifer Krabbe, soprano, and Dennis Zimmer, bass at Humbercrest United Church.
June 16: Charlotte Knight, soprano, is the singer in "It Shoulda Been Me: A Cabaret," a program of songs by Sondheim, Billy Joel, Joe Iconis and others at Gallery 345. The show is also being performed in St. Catharines, June 10 and Guelph, June 18.
June 17: Rachel Fenlon sings and plays the piano in a Schubert concert at Gallery 345.
June 24: Inga Filippova, soprano, Stanislav Vitort, tenor, and Andrey Andreychik, baritone, sing opera at Lawrence Park Community Church.
And beyond the GTA, June 1: Maryem Tollar, Brenna MacCrimmon, Jayne Brown and Sophia Grigoriadis, who comprise the group Turkwaz, perform "Sounds of the Eastern Mediterranean" at the Kitchener-Waterloo Chamber Music Society Music Room.
Hans de Groot is a concertgoer and active listener who also sings and plays the recorder. He can be contacted at artofsong@thewholenote.com.