Often described by performers and critics as "deliriously sensuous," Messiaen's Harawi is the veritable black pearl of song cycles. Is it really thematically a variation on Tristan und Isolde? How much Peruvian and Andean folklore is there in it, really? Are Messiaen's invented words employed purely for sonorous effect? How many narrators are there in the text, how many persons, if any? Was Messiaen looking closely at the suffering of his spouse who was beginning to struggle with mental health problems at the time of its composition? Is this a rare Messiaenic creation that's completely devoid of Catholicism? Or should we, as pianist Vanessa Wagner suggests, abandon any attempt at intellectual analysis of Harawi and meet its raw emotions with raw emotions of our own?
These are the questions which mezzo Simone McIntosh and pianist Rachel Kerr are already trying to grapple with in rehearsal for their own Harawi, to be presented on October 25 at the Canadian Opera Company's noon-hour concert series in the Richard Bradshaw Amphitheatre. While the piece will not be staged or even semi-staged, Harawi is not exactly amenable to a typical self-contained song recital either.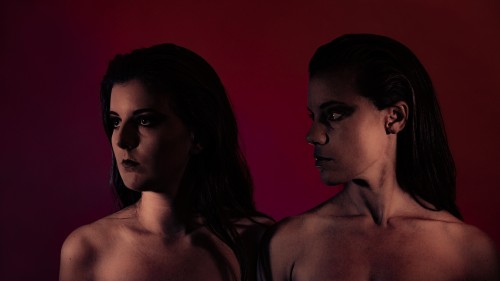 "When I started thinking how I want to interpret this piece," says McIntosh when we meet in a café one bright late-summer evening, "I realized there's no way for me to do it without there being some sort of breaking of boundaries when it comes to art song. When you're studying art song as a singer, it's important to understand that the beauty is to be found within the music and to portray something in art song means to portray it in a subtle, non-bodily way. I feel though that this piece lends itself to being explored in a bodily way."
Her first encounter with Harawi was Against the Grain Theatre's 2015 mashup of the Messiaen song cycle with Schubert's Die Schöne Müllerin, which Joel Ivany staged in a Parkdale gallery and Christopher Mokrzewski conducted from the piano. Krisztina Szabó gave voice to the Harawi woman, who is in a troubled relationship with baritone Stephen Hegedus's Müllerin narrator. This marriage of two very different pieces worked extremely well. And made McIntosh determined to sing it ASAP: "I saw the AtG's Harawi, and Krisztina Szabó doing it so brilliantly, and said to myself: I want to do this so bad. Since that night, it's been on my wish list. When I got into the COC Ensemble, Liz Upchurch asked me what I'd like to sing while I'm here and I immediately said Harawi."
It's hard to describe Harawi to somebody who's never heard it. McIntosh gives it a try: "I'd describe it as an eclectic piece that explores the musicality of both folk and contemporary music, and joins the tonality with the atonality. It's a piece with an amazing range of emotion and musical expression." Is she going to try to make sense of the words? "The poetry of it is so bizarre and surrealist and abstract. At first I thought, Hmm, what am I going to do with this? But I found some really wonderful sources that preserve Messiaen's thoughts when he was writing the piece so I'll be definitely incorporating what he had in mind while composing … I'll be making sure that there's a through storyline that makes sense to me, but also respects what he wanted."
Does Messiaen's ailing wife comes into the equation? "That's an interesting aspect, and one of the ideas that I'm toying with as I'm rehearsing the piece. But the main aspect is – it's a story of two lovers that are separated by death and at the end united in death." It's a decidedly non-Christian view of death, however. "Messiaen presents death as this chaotic nebula that is full of stars … It's kind of atypical for him."
Do we ever know who is narrating, and if it's one specific person? "In one of the songs, there is the young woman narrator, and then the narration clearly switches to the young man. None of the other songs have that. Whenever the words are addressing Piroutcha, you could argue that I'm performing the young man. All in all, I think I'm playing two, if not three characters – as there's an outside narrator. Maybe even four: where Messiaen used syllabic mutterings, a witch may speaking. Or a character with witchy features that's based on Goya paintings."
McIntosh has been passionate about 20th century and contemporary music since early university. She went to school alongside a group of composers and has been able to sing a lot of new works from the get-go. If there's a red thread running through her undergraduate years at UBC, the years of working on a master's at McGill, the Merola program in San Francisco and now the COC Ensemble Studio, it would probably be new music. "My goal is to be a voice for contemporary music, specifically Canadian composers. It's really important to encourage young Canadian composers to write for the voice – and to advocate for those pieces. A lot of the time some amazing new music is not recognized because of the lack of performing opportunities. I hope to be changing that." If she were to be an ambassador for any of the composers from the past? "Definitely Richard Strauss. Berg. I also love singing Schoenberg. Then of course Mozart: I love him and will be doing a lot of Mozart in the near future." Starting with understudying Dorabella in the COC revival of Atom Egoyan's production of Cosi fan tutte next year.
In another unusual project that came her way, McIntosh actually had the opportunity to combine Mozart and new music. Crush, a modern reconstruction of Don Giovanni composed by James Rolfe to a libretto by Anna Chatterton, turns the title character over to a mezzo – McIntosh, that is – in a production that was workshopped and performed at the Banff Centre. Or rather, off-off-Banff Centre, in a night club which doubled as a sex club for the occasion. Donna Giovanna was a "sex addicted sociopath," as McIntosh puts it, chased by lovers of both sexes. "There were dildos on the walls, condoms on the floor…" she laughs. "It was pretty racy." As in Da Ponte's libretto, the protagonist takes advantage of people, but dies by the hand of the character named Lola, who is a modern approximation of Donna Elvira.
Upon finishing the Merola summer training program in San Francisco last month, McIntosh returned to her busy and sometimes unpredictable days as a COC Ensemble Studio member. Ensemble Studio is really good at taking the voices that they want, rather than the voices that they, for practical purposes need, she says. "A lot of similar programs have some kind of equal distribution, and take two sopranos, two mezzos, two tenors etc." The COC Ensemble actually lets itself fall in love with a young voice, and works around that. "They choose the voices that they want, and then program." And sometimes, fortunately, those young voices will insist on tackling the Mount Everests of art song like Messiaen's Harawi.
ART OF SONG QUICK PICKS
OCT 9, 12PM: Canadian Opera Company, Richard Bradshaw Amphitheatre | "The Best of Rossini: Artists of the COC Ensemble Studio." Arias and duos, comedic and dramatic. The dramatic Rossini is heard nowhere near enough in Toronto, so even the slightest chance of a Tancredi aria is worth the wait in that line around the block.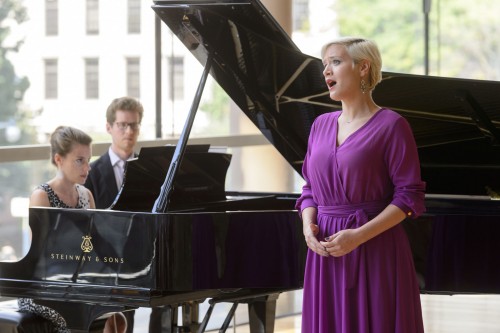 OCT 18, 12PM: Canadian Opera Company, Richard Bradshaw Amphitheatre | "Mélodies et chansons." Graduate of the Curtis Institute of Music, Lauren Eberwein joined the COC's Ensemble Studio as a mezzo, but is now a soprano. How has the voice changed since she won the second prize in the COC Ensemble Competition in 2015 with the trouserissimo "Parto, parto" from Mozart's La Clemenza di Tito? A chance to find out, and meet the soprano Anna-Sophie Neher as well. The two will perform a selection of French art songs.
OCT 21, 3PM: Off Centre Music Salon: Trinity-St. Paul 's Centre. "The Mystery of History: 1889 in Paris and Vienna."An intriguing chamber program indeed, including Brahms and Johann Strauss' very different approaches to Hungarian and Roma/Gypsy cultures, and Massenet and Chausson amidst quite a bit of Debussy. Readings throughout from Arthur Schnitzler by actor William Webster; historical commentary by Stephen Cera. Shannon Mercer, soprano; Krisztina Szabó, mezzo; Inna Perkis and Boris Zarankin, piano; Mark Skazinetsky, violin.
OCT 27, 7:30PM & OCT 28, 3PM: Pax Christi Chorale: Grace Church on the Hill. "Slavic Devotion. "Stravinsky: Symphony of Psalms; Rachmaninoff: All-Night Vigil and Vocalise with Natalya Gennadi, soprano. David Bowser conducts.
NOV 5, 7:30PM: "International Resource Centre for Performing Artists presents Singing Stars: The Next Generation." Zoomer Hall. A program of opera and oratorio arias. Singers to be announced; Rachel Andrist at the piano.
Lydia Perović is an arts journalist in Toronto. Send her your art-of-song news to artofsong@thewholenote.com.