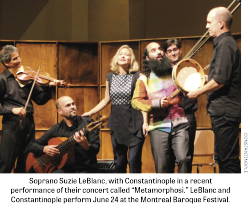 While Toronto's concert scene is winding down for the summer, it's still possible to work out a solid, if lighter and necessarily more travel-filled, art song schedule for the next three months.
June kicks off close to home, with the Music Gallery and Off Centre Music Salon/DÉRANGÉ co-presenting #IMWITHHER, a June 8 concert that puts women composers and soloists centre stage. An evening of electro-pop, modern jazz and contemporary art music is an intriguing enough mix; the contemporary segment with the mezzo Lucy Dhegrae and Lara Dodds-Eden at the piano, which includes so many composers that never get heard in Toronto, makes it a must.
One of Pauline Oliveros' Sonic Meditations, "Heart Meditation," is on the program. Oliveros was a fascinating twentieth-century avant-gardist – she passed away last year at the age of 84 – whose creative life spanned all the way from deep experimental electronics to an almost total withdrawal from performing and to sound creation as personal practice for staying sane and capable of listening in a disintegrating world. She also studied movement, kinetic awareness and the effect of social conditioning on the human body, and gradually merged her kinetic awareness and sonic practices into one. A group of women formed around these musical practices at the same time that the Second Wave of feminism began creating consciousness-raising groups. This new performing ensemble formed and reformed each time it would meet at Oliveros' home. "They had been held down, musically, so long," Oliveros said, explaining the reason behind the women-only group in an interview in late 1970s.
That composing is a whole-body activity, that it can be done by a collective, and that it can effect social and psychological change are notions that will sound foreign to our ears, but that just shows how far back our own era has retreated from the questions on the philosophy and politics of music that the musicians of the avant-garde have left us with.
Since there is no such thing as the definitive edition of Sonic Meditations, and since they tend to be textual (one recommends walking in absolute silence; another teaching oneself how to fly), what Lucy Dhegrae will do in this "Heart Meditation," we can only guess. Actually, we probably can't even guess. But to give you an idea of the Oliveros magic, I would recommend her Sound Patterns and Tropes, recorded on the 25 Years of New York New Music CD set, and her early Four Electronic Pieces 1959-1966 (both recordings are available in the Naxos free online music library via your library card).
Icelandic composer Anna Thorvaldsdottir's song Hvolf, Sky Macklay's Glossolalia and Tonia Ko's Smoke and Distance are also on the program. Each has already been performed and digitally preserved and can easily be found on Vimeo and SoundCloud. The art song section completes with an as-yet untitled world premiere by NYC-based composer Leaha Villarreal. And that is just one third of #IMWITHHER: Toronto-based electro-pop band Bernice will perform a selection of old and new songs (their new EP Puff is out in June) and FOG Brass Band, headed by the trumpeter Rebecca Hennessy, will complete the program. June 8 at 8pm at Heliconian Hall; tickets via Off Centre Music Salon and the Music Gallery websites and at the door.
Later in June, and quite out of town, there's the Montreal Baroque Festival with some promising vocal offerings. On June 23, "Le Cracheur de feu," with soprano Andréanne Brisson-Paquin and the ensemble Pallade Musica, is a program consisting of Purcell, John Eccles, Angelo Berardi, Alessandro Stradella and a world premiere by the young Quebec composer Jonathan Goulet. On June 24, Suzie LeBlanc and the musicians of the ensemble Constantinople will perform "improvisations on Italian masterpieces" (that is all the festival is willing to give away). Equally cryptic is the description of the concert by the ensemble Sonate 1704 with soprano Jacinthe Thibault scheduled for June 25, but we do know that that it will be a battle of sorts between Catholic and Protestant cantatas and sonatas that were written or published in France around the time of the early Reformation.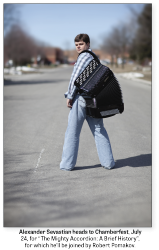 July: My suggested art song trip is to Ottawa for the Chamberfest (July 22 to August 4). July 24 is going to be particularly packed. A free daytime concert at the National Gallery led by accordionist Alexander Sevastian, titled The Mighty Accordion: A Brief History, will include operatic bass Robert Pomakov singing a selection of Russian folk-songs to accompaniment by Sevastian. At 7pm on the same day, the Toronto Consort is reprising the Catherine de Medici concert originally performed last November in Toronto, this time at Ottawa's Dominion-Chalmers United Church. The Consort's Laura Pudwell, Michele DeBoer, Katherine Hill, music director David Fallis, Paul Jenkins and John Pepper sang back in November, and I expect that the lineup of voices will remain similar for Ottawa. Most of the composers on the program, with the exception of Orlande de Lassus, are little known today, though some of the poets will score better (Ariosto and Pierre de Ronsard are still being read today). For those among us who regret having missed The Italian Queen of France in November, this second chance will be travel-worthy.
On that same night at 10pm at La Nouvelle Scène Gilles Desjardins, the Bicycle Opera Project presents a new production of Juliet Palmer and Anna Chatterton's garment workers opera, Sweat. I remember seeing its precursor, Stitch, on the night of its world premiere at the old and decrepit Theatre Centre almost ten years ago, and am curious to see how the musical ideas in that similarly themed opera have evolved into Sweat in the intervening years. Sweat was commissioned by Soundstreams and premiered at National Sawdust in Brooklyn last year. It's still a cappella with five soloists, but with an added chorus, about 15 minutes longer and, in addition to English, includes lyrics in Cantonese, Ukrainian and Hungarian.
Think of August as the month for classical music in unusual venues. Classical Unbound Festival opens on August 18 in Prince Edward County, with a concert in a privately owned restored barn that doubles as a wine-tasting hall: the Grange of Prince Edward Estate Winery, which seats an audience of 80. There are two "libation-intermissions" which can also be used for the consumption of comestibles, given that picnic baskets will be on hand too. Prince Edward wine country meets Glyndebourne? Why not: Canadian land- and mansion-owners, take note, and consider starting your own festival or concert series.
Krisztina Szabó headlines the event, which opens with Haydn's "Sunrise" Quartet Op. 76 No. 4 with Yosuke Kawasaki (violin I), Jessica Linnebach (violin II), Yehonatan Berick (viola) and Racher Mercer (cello). Berick and Mercer will return for John Burge's Pas de deux for violin and cello (2011) and the entire quartet will accompany Szabó in Respighi's Il Tramonto (1914) at the end. In the first two vocal pieces, however, the mezzo will be paired with Joanna G'froerer on flute. Szabó will sing John Corigliano's Three Irish Folk Songs Settings for Voice and Flute (1988) and after the second intermission, Harry Freedman's Toccata for Soprano and Flute (1968).
I asked Szabó how unusual the voice and flute pairing is in art song. "I have performed with flute before – with the Talisker Players, André Caplet's piece Écoute, mon coeur – but I haven't experienced this pairing more than a couple of times prior to this," she emails back. "I think there is a fair amount of repertoire for voice and flute out there, though probably more for soprano." Does the timbre react to the brightness of the flute, I wondered? Brightness is not the first image she associates with flute, Szabó tells me. "Of course, brightness is an aspect of its tone, but what strikes me about the flute is its warmth and roundness of tone, particularly in the middle register. I think that warmth will lend itself well to Corigliano's Songs."
Freedman's vocal piece uses phonemes for their sound rather than meaning and comes with its own set of demands and pleasures. "Because the voice and flute are equal partners and there is interplay and no words, I will be focusing on being more of an 'instrument' in duet with the flute. Freedom from words in art song really frees the singer up, I think, to play with colours more, and this piece has an improvisational, almost jazz-like feel."
Respighi's Il Tramonto Szabó has sung before – in 2010 with Thirteen Strings – and knows it well. What should we be listening for? "It's a beautifully expressive piece and I think audiences will be struck by the intimacy of the sound world created by the voice and ensemble, and the poetry and the drama of the storytelling. The dramatic arc makes the piece almost operatic: there is a real climax and dénouement to the story, a real scena. The music is lush and yet intensely intimate."
Perfect for bringing summer to a close.
Lydia Perović is an arts journalist in Toronto. Send her your art-of-song news to artofsong@thewholenote.com.