Esther Farrell
226-638-3100
executivedirector@theedisonsingers.com
www.theedisonsingers.com

Read Profile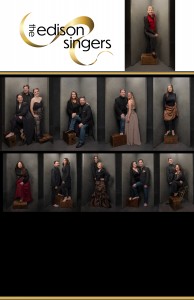 When The Edison Singers, a fully professional chamber choir, started in 2019 we were immediately challenged by all the starts-and-stops that every performing arts group faced during the COVID pandemic.
So this upcoming season is literally our second new beginning.
During the 2022/23 season we will embark on two international recordings and present concerts which include the Fauré and Duruflé Requiems, the Rachmaninoff Vespers (All Night Vigil), a delightful programme of Folksongs & Spirituals, and a luminous Messiah. We will also present our popular concert of Christmas music with many of the carols appearing in our new Christmas CD for Naxos entitled The First Nowell.
We have an outstanding ensemble of singers - their energy, spirit and commitment to The Edison Singers is remarkable and truly inspiring.