Lauren Mayer
416-433-5495
info@etobicokecentennialchoir.ca
www.etobicokecentennialchoir.ca

Read Profile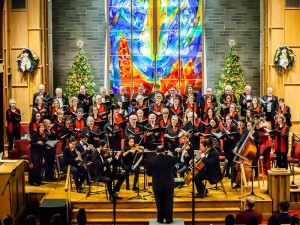 Etobicoke Centennial Choir (ECC) is an auditioned SATB community choir that enriches its choristers and audiences with inspired performances of diverse choral repertoire, from classical masterpieces to contemporary compositions and popular music.
ECC offers a challenging and supportive choral experience, facilitated by our music director, collaborative accompanist and section leads. Rehearsals held Tuesday from 7:30pm to 9:45pm. New singers are always welcome. Some choral experience and the ability to read music is recommended.
Our concert on December 10 features JS Bach's stunning Magnificat with vocal soloists and baroque orchestra. On April 1, 2023 we welcome spring with an eclectic concert of show tunes, spirituals and popular music. On June 3 'Musica Borealis' will showcase beautiful music from northern climes.