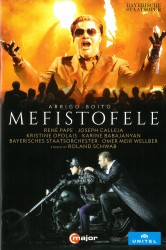 Boito – Mefistofele
Pape; Calleja; Opolais; Babajanyan; Bayerisches Staatsorchester; Omer Meir Wellber
Cmajor 73920
The story of Faust, a misguided scholar who trades his soul to the devil for another chance at youth and love, has inspired countless writers and composers. In the world of opera, it wasn't only Gounod and Berlioz, but also Louis Spohr, Ferruccio Busoni, Sergei Prokofiev, Igor Stravinsky, Alfred Schnittke and of course, Arrigo Boito. Boito's only finished opera, Mefistofele focuses on the devil himself, rather than the hapless professor. It is significant for another reason as well – the opera is considered an important transition piece between the Verdi period in Italian opera and its Puccini successor. But all was not smooth at the Milan premiere in 1868. Accused of "Wagnerism" and "weirdness," Boito witnessed riots and quick cancellation of the production. Striking his own "Faustian bargain," he rewrote and shortened the piece, giving it another premiere seven years later. As they say, the rest was history.
This production, captured here in HD, is opera-as-big-budget entertainment. Opulently staged and phenomenally cast, this is a showcase for Mefistofele, the Harley-riding Rocker and Faust, the deluded Playboy. The sublime Kristine Opolais as Margherita and consistently gorgeous playing of the orchestra under the baton of Meir Wellber add to the incredible aural power of the recording. Equal parts eye candy and feast for the ears, this is grand opera as it should be. No need to shut your eyes or suspend disbelief. Ah, I'd give my left pinkie to have seen it live!