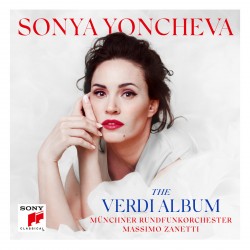 The Verdi Album
Sonya Yoncheva; Münchner Rundfunkorchester; Massimo Zanetti
Sony Classical 88985417982
"A high C that takes no prisoners," muses Presto Classical editor Katherine Cooper wittily about the final note on this disc. And neither does Verdi. In fact, he "murders" sopranos so the legend goes (even though he married one). Bulgarian dramatic soprano Sonya Yoncheva is his latest intended victim. I'm happy to report that she is alive and well after her sensational debut at the Met's Tosca and this, her latest CD issued on February 2, has already won an award. The final high C comes from Abigaille's hair-raising cabaletta in the second act of Nabucco, young Verdi's first breakthrough success.
Verdi is the ultimate challenge for the soprano. Not just for the voice, but a certain quality the great master insisted on: beauty of tone, intelligence and feeling. Right at the outset in Leonora's opening cavatina (Il Trovatore, Act I), Yoncheva's handling of the wonderful soaring tune that culminates in a heartrending fortissimo makes her rich vocal colour and emotional intensity immediately manifest. In the ensuing cabaletta, her voice becomes light as a feather by contrast. Her stunning high register further impresses in Come in quest'ora bruna from Simon Boccanegra: the heroine sings her heart out to a shimmering spring morning in Genoa on the Ligurian Sea, and I shiver in delight whenever I hear it.
But the real test is far more difficult: the tragic, the defiant, the anguished, the women in despair (Odabella in Attila, Luisa Miller, Lina of Stiffelio, Desdemona or Elisabetta in Don Carlo), where Yoncheva's congenital empathy and effortless mid- and low register dominate. And then there are those iconic prayers sung in hushed near silence like Ave Maria from Otello... and more. Massimo Zanetti of Tutto Verdi fame conducts with zest and vigour.
A daring new issue by a singer with a great future.