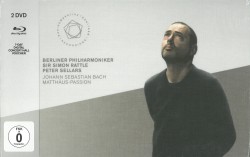 Bach – Matthäus Passion
Berliner Philharmoniker; Sir Simon Rattle; Peter Sellars
Berliner Philharmoniker Recordings BPHR140021
"Everyone knows it's the great piece of music in the Western tradition," affirms Peter Sellars with chorus master Simon Halsey in their 51-minute illuminating discussion of the St. Matthew Passion incorporating Sellars' staging. The two sat on the stage of the Berlin Philharmonie and talked about aspects of the music and this performance. Here are some of Sellars' thoughtful musings:
"It's not theatre, it's a prayer, a meditation, and I invited them to dedicate the opening chorus to someone they care about, to one who is still with them or maybe someone who is not. Someone who's leaving the world now or someone who needs their help or thoughts or some act of kindness and to make the performance itself to be the prayer that reaches that person whether they are here or gone. Bach wrote the music for us to place everything we hope and care about into the vessel of this music… . This music has been the property of the early music movement for the last 20 to 25 years and it has been hands-off. Now the actual sense of discovery of this group of musicians is quite amazing, it's the first time they have held these scores… In this pentagonal, 360-degree hall we could do the St. Matthew Passion in Bach's imaginary spacialization, two choruses face each other, two orchestras face each other in a communal cross where there is no proscenium. We are not standing back and admiring it but opening it and going inside, a communal event. People are not performing out but performing to each other and what you get is a community engaging with itself and working through issues together and talking it out and so equal time is spent playing and singing and listening and being receptive."
The participants in this performance of April 11, 2010, are Mark Padmore (Evangelist) and Christian Gerhaher (Jesus), together with Camilla Tilling (soprano), Magdalena Kožená (contralto), Topi Lehtipuu (tenor) and Thomas Quasthoff (bass) in the recitatives and arias. Peter Sellars is the stage director and the conductor is Sir Simon Rattle, who has said that this is the best thing he has done.
In every way, this is music-making at the very highest level. It is no longer a matter of listening to and watching a group of singers before an orchestra but a depiction of the events behind the words, raising Bach's great work to a new level of appreciation and understanding. We look forward to the Sellars, Rattle, Padmore, BPO St. John Passion that follows.
If you acquire a copy of this set, I most heartily suggest that you first absorb the complete conversation between chorus master Halsey and the charismatic Sellars, a bonus on these discs. Their appreciation of what you are about to see and hear, how it was achieved and so much more, sets up the performance. As I write this I am re-watching this conversation just for the pleasure of doing so.