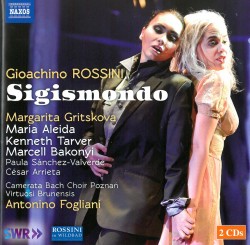 Rossini – Sigismondo
Gritskova; Aleida; Tarver; Bakonyi; Sánchez-Valverde; Arrieta; Camerata Bach Choir Poznan; Virtuosi Brunensis; Antonino Fogliani
Naxos 8.660403-04
By the age of 23 Rossini had written 13 operas, including two masterpieces inspired by and under the spell of his muse/innamorata Maria Marcolini, the greatest mezzo at the time. Not all were successful, but resourceful fellow that he was, he recycled some of the music later and no one knew the difference. As I was listening to Sigismondo I couldn't help but recognize several melodies of the Barber of Seville, one in particular, the famous crescendo of the La calunnia aria first appearing here. Sigismondo was Rossini's last opera for Venice, an opera seria written for Marcolini, who was supposed to be King of Poland. A travesti role, it is here sung by Margarita Gritskova, singing up such a storm with a voice of phenomenal range, power and emotion that one can certainly get an idea what La Marcolini must have been about.
Naxos' latest release in this series of Rossini's complete 39 operas is a winner on many counts: soprano Maria Aleida (as Aldemira, the King's wife whom he expelled from the court but on second thought wants her back badly) gives an extraordinary vocal display that's quite a match for Gritskova. Rossini excelled in writing for female voices; their duets are simply heavenly and rival Bellini. Tenor Kenneth Tarver, familiar to us in this series, is the villain who planned the murder of the Queen and is so severely tested in the high-flying tessitura that I felt Rossini planned to murder him instead. Antonino Fogliani can hardly be bettered in his magisterial handling of the score. Most enjoyable, highly recommended.