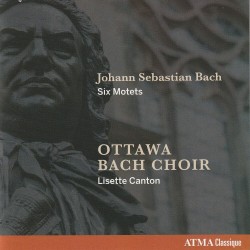 Bach – Six Motets
Ottawa Bach Choir; Lisette Canton
ATMA ACD2 2836 (atmaclassique.com/en)
Founded in 2002 by Dr. Lisette Canton, the Juno Award-winning Ottawa Bach Choir (OBC) is an ensemble which specializes in the performance of early music, with a particular emphasis on the works of Johann Sebastian Bach. Their latest release, titled Six Motets, is a monumental effort featuring Bach's choral motets, noted for their complexity, profundity and breathtaking beauty.
This recording begins with a thrilling rendition of Singet dem Herrn ein neues Lied, BWV225, which launches at breakneck speed through passages of virtuosic counterpoint and driving rhythmic patterns, eases into a luxurious aria and returns with fiery energy for the conclusion. Such focus on rhythm and clarity is a defining feature of this entire disc, which brings Bach's music to life in an illuminative and vital way.
Perhaps the most exceptional excerpt of OBC's Six Motets is the monolithic Jesu, meine Freude BWV227, an 11-movement work for five-part chorus that spans a tremendous range of moods and affects. Here the choir offers a masterclass in precision and execution, but never at the expense of musicality. The opening chorale is well-paced, expertly phrased and subtly expressive, the devilish "Trotz dem alten Drachen" is one of the best this reviewer has encountered, and the lyrical "Gute Nacht, o Wesen" is hauntingly beautiful.
In a market saturated with recordings of Bach's famous motets, it could be challenging to rationalize yet another addition to the catalogue, yet this effort from the OBC holds its own as one of the finest on record. There is not a weak point present and, whether familiar or not with these legendary works, Six Motets is highly recommended listening for all.