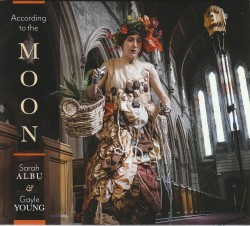 Gayle Young – According to the Moon
Sarah Albu; Gayle Young
farpoint recordings fp088 (farpointrecordings.com)
Southern Ontario musician, composer, experimental instrument maker and author Gayle Young (b.1950) has been continually active since the 1970s, though it feels like recognition of her music has ramped up in the last decade. Last year's release, As Trees Grow featured piano-centred compositions infused with field recordings of natural sounds.
Her latest seven-track album According to the Moon, subtitled "Sarah Albu performs vocal works by Gayle Young, 1978-2021" showcases the human voice in its manifold guises. These range from extended voice techniques, spoken word and sprechstimme to classical singing and everything in between. In some works Young appears to invite Montreal-based Albu to shape her virtuoso performances on the formants and rhythms of spoken language.
In the evocative Ancient Ocean Floor (2021) the voice is supported by a field recording of a waterfall filtered through resonant tubes. The texture is further enriched by Young's nuanced performance on the amaranth, a bowed koto-like instrument with flexible tuning of her own design.
Albu's vocalism in Tea Story (2012) is selectively emphasized by electronic resonance filters and frequency shifters. And in Vio-Voi (1978) Geneviève Liboiron's violin plays an effective counterpoint with Albu's controlled soprano, demonstrating the significant role of instruments in this ostensibly vocal album.
Young's serious maverick/experimental composer street cred is rooted in her teachers' musical family tree which reaches back to Harry Partch, Charles Ives and beyond. The mature, sometimes challenging, works spanning four decades presented on According to the Moon amply underscore the aesthetic consistency and longevity of Young's artistic vision and achievement.