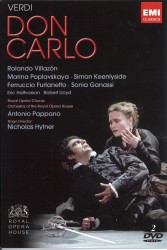 Verdi - Don Carlo
Rolando Villazon; Marina Poplavskaya; Simon Keenlyside; Ferruccio Furlanetto; Sonia Ganassi; Royal Opera House; Antonio Pappano
Royal Opera House/EMI 6 31609 9
Verdi's Don Carlo is an opera of star crossed lovers, forbidden love, marital infidelity and other miseries, one of his greatest masterworks, certainly the most monumental, though flawed. It exists in many versions, French, Italian, five and four acts, some revised several times. Nowadays there is a recording for each and hence there are over 10 versions available on DVD, not to mention CDs. In my opinion the 5 act version, such as this one in Italian is the most satisfying for completeness of the music and the beauty of the language. After all Verdi should rightly be enjoyed in Italian.
Coproduced with the Metropolitan Opera, this production was the highlight of the 2008 season of the Royal Opera House. It heralded the return of Rolando Villazon as its principal tenor. Although his voice has had problems, he seems to have recovered sufficiently to cope with the title role. He looks the part, attractive and passionate, though sometimes he sounds strained. Marina Poplavskaya as the young Queen provides a wonderful portrayal, in excellent soprano voice and sympathetic personality. As the anguished King Philip, certainly one of Verdi's most memorable creations, Ferruccio Furlanetto is a veteran of the role. He sang it under Karajan and follows the great tradition established by the legends, Boris Christoff and Nicolai Ghiarov. The pinnacle of the opera is the 4th act chamber scene where nearly all of the principals come together with intense drama and superb music beautifully integrated in the Quartet, very moving indeed.
The production is traditional, in good taste. The sets are imaginative and architecturally interesting and very well coordinated with the action. Antonio Pappano, a favourite conductor of Italian operas these days, conducts with vigour and great authority, making this set outstanding, probably the best currently available.