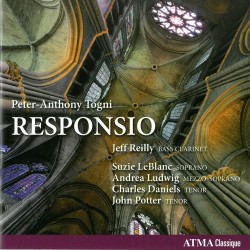 Peter-Anthony Togni – Responsio
Jeff Reilly; Suzie LeBlanc; Andrea Ludwig; Charles Daniels; John Potter
ATMA ACD2 2731
Composer Peter-Anthony Togni has brilliantly created a soundscape spanning the centuries. Togni follows in the compositional footsteps of medieval composers by borrowing, responding and drawing on Guillaume de Machaut's medieval masterpiece Messe de Nostre Dame (circa 1365). The surprising success of Responsio lies in the strength of Togni's writing as he then combines and contrasts this medieval groundwork with musical ideas from the intervening centuries.
The vocal quartet score features beautifully crafted four-part, chant-based writing that transcends stylistic periods, with especially dreamy harmonies and luscious counterpoint in the Machaut-based sections. The written and improvisational bass clarinet part moves the 12-section work through the musical centuries into the modern day in a part full of moving reflective passages and fragments of extended contemporary techniques. The best example is the Gloria where the vocalists swiftly and effortlessly switch stylistic tonalities of the centuries while the bass clarinet either supports the singers or works in musical opposition. The section ends with an unexpected yet gratifying bass clarinet blast!
Suzie LeBlanc (soprano), Andrea Ludwig (mezzo-soprano), Charles Daniels (tenor) and John Potter (tenor) are a cohesive vocal quartet with voices that blend tightly together in ensemble and shine as soloists. Bass clarinetist Jeff Reilly is a master of his instrument and the music, and also acts as the recording's producer.