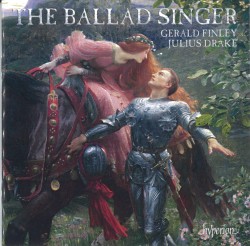 The Ballad Singer
Gerald Finley; Julius Drake
Hyperion CDA67830
Singers crave novel material for their recordings: obscure works, cherished favourites… whatever it takes to create tempting new song packages. Baritone Gerald Finley's recent release samples the Ballad repertoire and offers a wonderfully chosen program ranging from dark gothic musings of 19th century German and English composers to the devilishly clever writing of Cole Porter.
Finley lives up to his reputation for consistent and solid performance meeting the need of each ballad's text with an impressive dramatic acuity that elevates the finest singers above the rest of their colleagues. Most notable is his amazing portrayal of the demon in Schubert's Erlkönig where he assumes a strangely nasal vocal character and deliberately sings the Erlkönig's extended passages just slightly flat to drive home the evil in the text. I've never heard this done before and it's stunningly effective.
Similarly, Hugo Wolf's Der Feuerreiter also offers some character vocal moments that most singers simply never attempt. Perhaps the biggest surprise is Finley's multiple impersonations of narrator, mollusc and socialite in Cole Porter's The Tale of The Oyster. Eating at a seafood restaurant will never be the same.
Long-time accompanist and artistic partner Julius Drake does so much more than just play the notes to back-up the voice. In Mahler's Wo die schönen Trompeten blasen he crafts a remarkable orchestral colour palette from the keyboard. Drake knows how to be pianistically comedic as well as dramatic, romantic as well as impish. His artistic contribution is a significant reason for this disc's success.