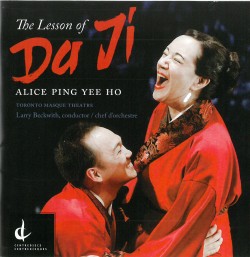 Alice Ping Yee Ho – The Lesson of Da Ji
Toronto Masque Theatre; Larry Beckwith
Centrediscs CMCCD 22115
In her music theatre work The Lesson of Da Ji, Hong Kong-born Toronto composer Alice Ping Yee Ho has struck a fine, if not always easy, cultural balance between features of classical Beijing (Peking) opera and the European masque tradition, as interpreted in 21st-century Canada.
It is no mean feat to present eight Canadian voices supported by the string tonalities of the Chinese zhongruan, erhu, pipa and zheng. It is even more complex when all that is seamlessly meshed with the sonority of the European baroque lute, harpsichord, viola da gamba, violin and recorders, plus a percussion battery. Ho does just that admirably, presenting along the way a bracing new hybrid soundscape to enjoy.
Her skillfully orchestrated score hangs directly on Canadian playwright Marjorie Chan's libretto. It tells the chilling tale of the famous concubine Da Ji of the Shang Dynasty (c.1600 to 1046 BCE), honing in on her illicit love affair with a musician and the bloody revenge enacted by the jealous King Zhou. It's the sort of court drama common to both Chinese and Eurocentric opera traditions.
The composer once noted that "colours and tonality are two attractive resources to me: they form certain mental images that connect to audiences in a very basic way." The Lesson of Da Ji follows that dictum, and her approach works to convey character, place, mood and imagery, even via the audio CD medium. My guess is that a video presentation – or better yet, a live production where the multiple visual and choreographic elements are at work – would make for an even more involving evening of theatre.
Commissioned by the Toronto Masque Theatre in 2012 The Lesson of Da Ji immediately won critical acclaim as well as the 2013 Dora Mavor Moore Award for Outstanding Original Opera. The release of the recording of this hour-long opera in two acts within just a couple of years of its premiere reflects the work's enthusiastic initial reception. It may well also mark the beginning of its acceptance by a wider public in Canada, as well as in the composer's country of birth.