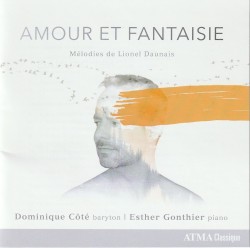 Amour et Fantaisie – Melodies de Lionel Daunais
Dominique Côté; Esther Gonthier
ATMA ACD2 2839 (atmaclassique.com/en)
Canadian baritone Dominique Côté is world renowned for his opera and concert performances. Here Côté demonstrates his talented musicianship by singing his favourite songs by multi-talented Quebecer Lionel Daunais (1901-1982). Côté's illustrious singing is accompanied with passion by Quebec pianist Esther Gonthier.
Daunais' popular, accessible songs are as wide-ranging as his career as a composer, singer/songwriter, performer, author, artistic director and radio host. Daunais sets his own lyrics brilliantly. Highlights include the opening track L'amour de moi with slightly atonal short piano intro, low-range-touching vocals, faster mid-section and "très" dramatic build to piano flourish and held note vocal closing. Four humourous Folklore songs include folksy, happy À Montréal, a city tribute with rhythms, a slower alternating section and entertaining spelling out of the letters Montréal closing. What Montreal food to eat drives Les patates, with operatic rhythmical lyrics mentioning potatoes, chips and even a federal election! Famous La tourtière is about its flavourful wonders, highlighted by back-and-forth answering of Côté's clear lead vocals by Ensemble Vocal Charlevoix, under musical director Julie Desmeules. Daunais' songs with texts by writers including Paul Fort, Paul Eluard and Éloi De Grandmont are equally entertaining.
Côté writes in his liner notes, "his music speaks to me and moves me," which comes across in his Daunais homage, understandable even with my working knowledge of French. He loves these songs, and so should listeners!