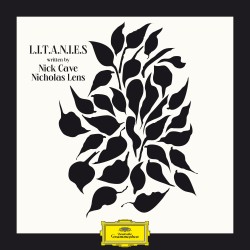 Nick Cave; Nicholas Lens – L.I.T.A.N.I.E.S
Various Artists
Deutsche Grammophon 483 9745 (deutschegrammophon.com/en)
Dark, intimate and beautiful – the music on this album flows like the fragmented pieces of night's shadows in search of belonging to a world that is no more. Featuring four voices and an 11-piece instrumental ensemble, this chamber opera is simply breathtaking. There are no big arias here and no extravagant operatic gestures; instead, the melodies are unpretentious and the music is dreamy, almost trancelike, creating a self-enclosed world of small wonders.
Belgian composer Nicholas Lens and Australian rock icon Nick Cave's second opera collaboration unfolded during the lockdown in 2020. The album was recorded in Lens' home studio where he and his daughter, Clara-Lane Lens (who accidentally found herself in Brussels during the lockdown), stepped into the singing roles, along with fabulous Denzil Delaere and Claron McFadden. The understated voices added a beautiful and real vulnerability to both the music and lyrics. Cave's libretto cuts through the tonal layers like a well-honed knife; his poetry is both haunting and relentless in its chase of divine recognition for humankind. The sparsity of the music proved to be advantageous in this opera – every note, every phrase, every word, has a visible meaning. From the opening Litany of Divine Absence, to the gorgeous violin lines in Litany of the First Encounter and Litany of Godly Love, to the cinematic Litany of Divine Presence, the 12 movements unravel stories of the human condition.