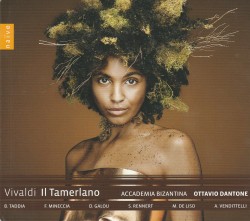 Vivaldi – Il Tamerlano
Soloists; Accademia Bizantina; Ottavio Dantone
naïve Vivaldi Edition OP 7080 (accademiabizantina.it/en/tamerlano)
Vivaldi Edition, an inspiring and noble project dedicated to the recording of nearly 450 works by Vivaldi (as found in the collection at the Biblioteca Nazionale in Turin) has introduced many previously unknown vocal and operatic works by this prolific composer, including Il Tamerlano. Based on the popular libretto by Agostino Piovene, and including several arias by other prominent composers of that time, Il Tamerlano (Il Bajazet) is full of vitality and lyricism and, of course, drama.
Accademia Bizantina is simply superb. Under the dynamic leadership of Ottavio Dantone, the ensemble grabs the listener's attention at the very beginning of the gorgeous three-movement instrumental Sinfonia and never lets go. Their nuanced phrasing and marvellous sound underscore every single aria on this album. The recording features a talented cast of singers who bring in the passion, the struggle and the vulnerability of their characters, often in the same breath. Sophie Rennert is delightful in the role of Irene; and Bruno Taddia, in the lead role of Bajazet, showcases both the vigour and the mastery of an artist who is in his prime.
Enthralling music, theatrical story, stellar ensemble and cast, sophisticated performance – this recording pulls out all the stops. You will love this album for the touch of elegance and class it brings into the world of today.