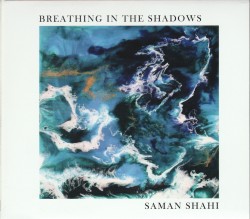 Saman Shahi – Breathing in the Shadows
Maureen Batt; Fabián Arciniegas; Tiffany Hanus; Various Instrumentalists
Leaf Music LM237 (samanshahimusic.com)
The debut album by Iranian-Canadian composer and pianist Saman Shahi, Breathing in the Shadows, feels like a gentle journey through the kaleidoscope of meaningful images, each captured in a subjective and probing way. The three song cycles included on this album are worlds unto their own – powerful and empowering, existential blocks of unique and diverse musical language combining minimalism, dodecaphony, hints of Iranian traditional music and rock. The poetry is beautiful and impactful, but it is the music that propels it beyond its scope. Shahi's music lets the poetic images breathe and blossom and underlines the themes of inner and outer struggles, yearnings, rebelliousness and death (symbolic and physical). The rhythmic drive and atonal segments create an immediacy that is enlivening.
The titular song cycle, Breathing in the Shadows, is based on poems by five poetesses from around the world and features a wonderfully talented duo – soprano Maureen Batt and pianist Tara Scott. Each song is a statement of independence and defiance in the face of oppression, longing or, simply, love.
The second cycle, Orbit, builds on sharp imagery conceived by Serbian-Canadian singer-songwriter Jelena Ćirić. The waves of colours Shahi creates in the piano lines are just gorgeous and tenor Fabián Arciniegas' phrasing underscores the words with subtle urgency.
The concluding cycle, Song of a Wandering Soul, merges several musical forms that Shahi considers a part of his musical identity. Written for a larger ensemble, using improvisation and electronics to create varied textures and riding on the perfectly suited timbre of Tiffany Hanus' voice, this cycle is pure rock 'n roll in a classical setting.