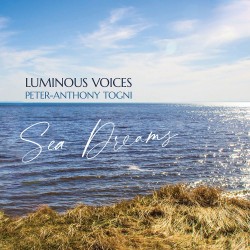 Peter-Anthony Togni – Sea Dreams
Luminous Voices Chamber Choir
Leaf Music LM236 (leaf-music.ca)
Sea Dreams showcases eight works by Dartmouth-based composer, Peter-Anthony Togni, performed by the Calgary professional chamber choir, Luminous Voices, under artistic director Timothy Shantz, with special guest instrumentalists.
The three-movement title track, Sea Dreams (2018), for choir and two flutes (Sara Hahn-Scinocco and Sarah MacDonald) reflects on Togni's relationship with the ocean/sea/water and journey of faith. The first movement, Pray for those who are in Ships, draws on texts from T.S. Eliot's Four Quartets. The choir is cast as the sailing ship, singing diverse dynamics, held notes and harmonies, highlighted by soprano Katie Partridge's warm high-pitched solo. The flutes are the water, playing atonal lines, puffs and breaths. Alma Redemptoris uses a Marian hymn text in its calmer mood and floating vocal swells. More Eliot texts, choir held notes, whispers, a tenor solo by Oliver Munar and flute wavelike runs adorn Perpetual Angelus.
Sparse instrumentation in Earth Voices (2014) as hand drummer Tova Olson and percussionist Victor Cheng play contrasting builds to a more atonal vocal section, and bell rings with choral whispers. Bass clarinetist Jeff Reilly plays with nuance, low pitches and extended technique touches, especially during tenor Timothy Shantz's colourful solo in Responsio introit, and the dramatic clarinet/choir duets in Silentio. The five a cappella compositions include the earlier work Psaume 98 (1997) with its more traditional counterpoint and repeated bass/tenor rhythms.
Togni's choral composition evolution is perfectly recorded by Luminous Voices. An amazing artistic accomplishment by all!