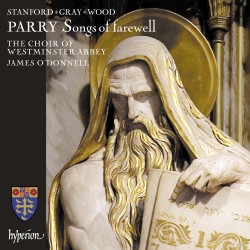 Parry – Songs of farewell
Westminster Abbey Choir; James O'Donnell
Hyperion CDA68301 (hyperion-records.co.uk/tw.asp?w=W47)
For lovers of choral music, the British label Hyperion has championed the genre ever since its founding in 1980. This latest offering, featuring works by Parry, Stanford and Gray performed by the Westminster Abbey choir under the direction of James O'Donnell, is a splendid addition.
The disc opens with Stanford's three Latin Motets Op.38, one of the composer's few settings of church music using Latin texts. Completed in 1892 and published 13 years later, they have long been regarded as among his finest choral compositions. The Westminster choir approaches the music with a satisfying conviction, with the second, Caelos ascendit hodie, sung with particular buoyancy.
Alan Gray was Stanford's successor as organist at Trinity College. His Magnificat and Nunc dimittis for double choir from 1912 make use of attractive counterpoint and antiphony, while Stanford's Magnificat in B-flat was written as a "truce" to his friend Hubert Parry with whom he had had a brief falling out. Completed in 1918, the piece draws from Renaissance and early Baroque mannerisms, and at times contains a hint of the great Magnificat by J.S. Bach.
The bulk of the recording is devoted to Parry's six Songs of farewell, written between 1914 and 1915 using texts spanning a 200-year period. The choir's wonderful control of phrasing and dynamics, in addition to the superb acoustics of the All Hallows Church in London, make this a memorable performance.
The final song, Lord let me know mine end based on Psalm 39, is not only the lengthiest of the set, but also the most moving and personal. It contains a range of varying tempos but ends quietly, thus bringing the set – and the disc – to a satisfying conclusion.