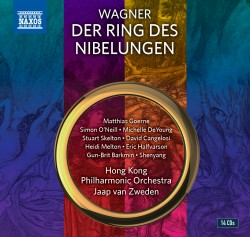 Wagner – Der Ring des Nibelungen
Soloists; Hong Kong Philharmonic Orchestra; Jaap van Zweden
Naxos 8.501403 (14 CDs + USB card; naxos.com/catalogue/item.asp?item_code=8.501403)
The conductor of this new audio recording, Jaap van Zweden, has now taken over the New York Philharmonic after being the music director of the Dallas Symphony since 2009. TV audiences recently saw him conducting the New Year's Eve concert with the Philharmonic featuring Renée Fleming. He is also active in Europe and Asia, including Hong Kong where he has been their Philharmonic's conductor since 2012.
This new Ring Cycle was recorded in concert performances in the Hong Kong Cultural Centre each January from 2015 to 2018. In Das Rheingold from 2015 we hear Matthias Goerne's Wotan, Michelle DeYoung's Fricka and Kim Begley as Loge. The 2016 Die Walküre adds Stuart Skelton as Siegmund, Heidi Melton is Sieglinde and Falk Struckmann is Hunding. The Brünnhilde is Petra Lang. Siegfried in 2017 has Simon O'Neill as Siegfried and David Cangelosi as Mime. Heidi Melton is now Brünnhilde and Falk Struckmann is Fafner and the Forest Bird is sung by Valentina Farcas. Götterdämmerung, from 2018, adds choruses of the Bamberg Symphony, the Latvian State and the HK Philharmonic with Brünnhilde now sung by Gun-Brit Barkmin, Siegfried is Daniel Brenna, Michelle DeYoung is Waltraute, Gunther is Shenyang and Hagen, who gets the very last words, is Eric Halfvarson.
For these performances, Van Zweden maintains very steady tempi and does not bury the usually unheard pulse in the music. This strengthens the continuity of events and goes far in holding our attention to the unfolding epic involving the foibles of the driven principals. The recording engineers have achieved a superb job with a wide dynamic range, no spotlighting of any instruments and maintaining a firm bass line, seating us in the concert hall for these live concert performances. The casting couldn't be better, with impeccable, secure soloists before the Hong Kong Philharmonic that, by Götterdämmerung, has become a first class Wagner orchestra. Not quite the Vienna Philharmonic but they have only been professional since 1974.
There are many spellbinding occasions on these performances that come readily to mind. Here are just a few: The last scene of Die Walküre from Wotan's heartbreaking farewell to Brünnhilde and then his calling upon Loge to surround his sleeping daughter in an impassable ring of fire, the ethereal Magic Fire Music; in Siegfried, the Forest Bird telling Siegfried about a beautiful sleeping woman surrounded by a circle of flames and then leading him to her; the conversation between the sleeping Hagen and his dead father, Alberich in the second act of Götterdämmerung; the Immolation scene and the redeeming, all-is-well, short epilogue that follows a momentary pause. Altogether a brilliant achievement.
The four operas are available separately but the boxed set contains the four plus a USB stick with the complete librettos in German alongside English translations, together with talks about the project with photos and interviews.
This is the second Ring Cycle from Naxos, the first consisting of live performances of New York's Metropolitan Opera productions from 1936 to 1941 (8.501106, 11 CDs). Luminaries of the era include Schorr, Varnay, Traubel, Melchior, Flagstad and Marjorie Lawrence who rides off on Grane on January 11, 1936. A collector's collection. Noisy.