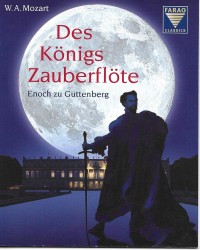 Mozart – Des Königs Zauberflöte
Enoch Zu Guttenberg
Farao Classics A108095 (farao-classics.de)
It was not an uncommon practice in the 19th century for aristocratic families to mount extravagant amateur performances of classic theatre, including opera. Such productions demonstrated their education and sophistication and Ludwig II of Bavaria was no exception. In the late summer of 1884 at Herrenchiemsee in his "New Versailles" at the foot of the Bavarian Alps, Ludwig staged evenings of music and lights, outdoing the opulence of Louis XIV's Versailles by employing new technology and an elaborate system of electric lights.
For his gala Zauberflöte, Ludwig enlisted members of the political elite to perform name roles: he himself played Sarastro; Emperor Franz Joseph was Tamino; his mother Sophie was Queen of the Night and Empress Elizabeth was Pamina. This re-enactment of that event was first performed at the Herrenchiemsee Festival in 2010 under the direction of Enoch zu Guttenberg, a recognized and respected Mozartean. It is he who directs this exuberant performance recorded live in the Prinzregenten Theatre, Munich in November, 2013.
Each member of the outstanding professional cast plays a named aristocrat singing their role in the original 1884 cast. The scenario though is fictitious. The whole production is, in effect, a show within a show. Before the actual performance starts we are treated to some amusing exchanges involving the King and various obsequious persons explaining the lighting, etc. One figure stands out and appears throughout the production… an elderly gentleman who just happens to be the original Papageno from long ago. His is a spoken role and he wanders in and out of the action as he tells the singers and others how it was done back then and hence how it should be now. Lots of clever banter and exchanges throughout, performed in German with optional subtitles, but Mozart's music remains brilliantly intact and the audience gets the opera and a show. As do we.
In state-of-the-art video and audio, Mozart lovers and others will get a real kick out of this unique event.