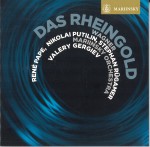 Wagner – Das Rheingold
René Pape; Nikolai Putilin;
Stephan Rugamer; Mariinsky Orchestra; Valery Gergiev
Mariinsky MAR0526
When Valery Gergiev and his Mariinsky Orchestra mounted a new production of Wagner's monumental Ring Cycle in 2003, the event marked the return of Russians performing opera in the original language rather than in the vernacular. The entire project was acclaimed, leading to the company taking their production to Germany, Japan and elsewhere, including the Royal Opera House, Covent Garden and New York's Met.
The critics were not unanimous but, as I seem to recall, the sets contributed to a diversity of opinions. However, in an audio cycle, our sole concern is the performance, not the production.
These new recordings were made in the Mariinsky concert hall in two sessions, two years apart. From the first minutes it is eminently clear that this will be a powerful performance and as the story unfolds Gergiev and his cast let us know that, except for the teasing Rhine Maidens, these characters are a pack of disingenuous narcissists, not models of good behaviour and fine sensibilities. Their métier is deceit and deal-making and deal-breaking. We know that is bad karma as they will find out by the end of the complete cycle when only the Rhine Maidens survive to have the last laugh.
As with any music he conducts, Gergiev is absolutely faithful to the score, a quality that has pros and cons. In Stravinsky, for example, his performances are outstanding but his Mahler symphonies are glaringly unidiomatic, a quality much admired by many. Gergiev's orchestra is easily up to Wagner's demands; accurate, dynamic and secure, together with being finely balanced. The only familiar voice is the German bass René Pape as Wotan; the other soloists are Russians who all bring their characters to life, singing without any discomfort in German, except for a glaring lapse from Alexei Markov (Donner) who repeatedly sings "Donner, de Herr" instead of "Donner, der Herr" as he summons the mists. A miserly observation indeed, one that does not detract from this extraordinarily exciting beginning of this ambitious undertaking to which I now look forward with the highest expectations.
I mentioned the quality of the orchestra which is captured in demonstration quality sound by a Russian team under the supervision of ex-Decca, award-winning producer James Mallinson who also does the same for the London Symphony's and Chicago Symphony's own recordings. The layout from left to right and front to back is the ultimate in realism for orchestra and singers ... a touchable reality.
I have since received a copy of Die Walküre which was issued earlier this year and reviewed by Janos Gardonyi in April. I somehow missed his review at the time but as I read it now I see that he was as enthusiastic as I. Do check it out. A few comments though ... Jonas Kaufmann's Siegmund is far ahead of what we saw from the Met two seasons ago. Although Gergiev displays much empathy with the characters, he keeps everything pertinent and free from any hyperbolic heart-on-the-sleeve moments that divert our attention from the linearity of the plot. Performances such as this demonstrate, to me at least, that not a note of Die Walküre is wasted or superfluous. As in Das Rheingold, the recorded sound is wondrous; a convincing argument that a recorded concert performance is sonically superior to a live opera house recording. There is a world of difference between the sound of an orchestra in the pit from the expansive freedom and air on the stage. We look forward to Siegfried and Götterdämmerung to be released towards the end of 2014.