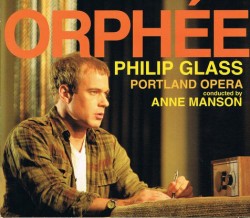 Glass - Orphée
Portland Opera; Anne Manson
Orange Mountain Music OMM 0068 (www.orangemountainmusic.com)
As I was all but indifferent to the music of Philip Glass, I was not eagerly looking forward to a performance of Orphée at the 2007 Glimmerglass Opera Summer Series. That year the theme for the season was the Orpheus legend and the company staged operas by Offenbach, Gluck, Glass, Monteverdi and Haydn. As expected, every performance was outstanding but Orphée was the surprise hit, unexpectedly making a provocative first impression and a lasting wish to hear it again.
For his libretto Glass lifted the script from Jean Cocteau's 1950 film Orphée and moved the setting to a stage-wide, modern studio-apartment. As we might expect from Cocteau's fascination with mirrors, when the characters move back and forth to "The Zone" they simply step through a mirror. It's all true to the love story of mythology but the mise-en-scène brings the action comfortably into the present, or at least to the mid 20th century.
The Portland Opera production, recorded live in November 2009, employs the scenery and costumes created for the 2007 Glimmerglass Opera presentation, has the same conductor, Anne Manson and the Glimmerglass Orphée, Philip Cutlip. The productions also share Lisa Saffer as La Princesse. The Portland Eurydice is Georgia Jarman. The production is well cast and I don't hear a single weak voice.
It is a given that watching an opera in the house or elsewhere is a different experience from only hearing it. Nevertheless on the CD, without the visuals to animate this performance of Orphée, Glass's music impresses with an uncomplicated, attractive, melodic, often hypnotic score... very listener friendly. It is sung in French with enclosed line-by-line English translations.
I would not have acquired this recording had I not attended the Glimmerglass performance. Over the years we have seen many new or rarely performed operas there. This year, from July 2nd to August 23rd, they will mount productions of Carmen, Medea and Annie Get Your Gun (with Deborah Voigt as Annie Oakley). Also a double bill: the premier of A Blizzard at Marblehead Neck by Broadway composer Jeanine Tesori together with Later the Same Evening by John Musto. Glimmerglass is just before Cooperstown in New York State, only six hours from Toronto. Take the New York Thruway (I-90) and hang a right at Herkimer. Go for the weekend, visit the Baseball Museum and luxuriate over the Sunday buffet brunch at the Otesaga Hotel overlooking the lake.