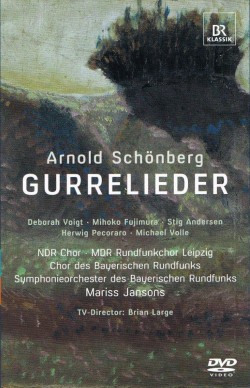 Schoenberg - Gurrelieder
Deborah Voigt; Mihoko Fujimura; Stig Andersen; Herwig Pecoraro; Michael Volle; Bavarian RSO & Choirs; Maris Jansons
BR KLASSIK 900110 1 DVD, 117 minutes.
I read recently that Gurrelieder is Schoenberg's most popular work. I doubt that. The logistics of mounting a performance are daunting and quite beyond what's possible for most orchestras or their boards or their venues. The work is scored for a larger, much larger than large, orchestra including 10 horns, eight flutes, seven clarinets, four harps, an immense array of percussion instruments including three sets of timpani and other species of drums, iron chains (I listen for them in every recording without success... they must be drowned out) and just about everything that must be shaken or struck. The complement of choruses (better: the exultation of choruses) requires three four-part male choirs, an eight-part mixed chorus plus five soloists and finally, a Sprechstimme to tie it all off.
Record companies do not finance recording sessions of Gurrelieder but arrange to bring their equipment to a live event. The first recording was issued by RCA on 28 78rpm sides of a performance on 11 April 1932 with Leopold Stokowski and the Philadelphia Orchestra and distinguished soloists, including Rose Bampton. At the same time RCA recorded Stokowski discussing the piece for the edification of the listener. Since then, every LP and CD documents a live performance.
Schoenberg began Gurrelieder in January 1900 in response to a song writing competition. What started as some songs with piano accompaniment soon got out of hand and he began sketching on specially ordered, 28 stave manuscript paper, a three part oratorio based on poems by Danish poet Peter Jacobsen telling of the doomed, Tristanesque affair between King Waldemar and Tove, a maiden who lived in Gurre. He laid it all out and worked on orchestrating it until 1903 when he abandoned the project. He began again years later, finishing the work in November of 1911. The great triumph of his life was Gurrelieder's first performance on February 23, 1913.
CDs, SACDs or any audio-only medium cannot convey the enormity of the work and at times the lieder-like settings reminiscent of the Old Vienna School. Jansons' soloists do not merely sing their parts, they live them! Heldentenor Stig Andersen is a powerful and sympathetic Waldemar. Deborah Voigt, in superb voice, is perfectly cast as Tove while mezzo Mihoko Fujimura is the Wood Dove who brings the news of the death of Tove... a powerful and moving performance. Herwig Pecoraro is Klaus-Narr, the jester and Michael Volle is the peasant and the speaker, the Sprechstimme, who announces the end of the tragic story and the glory of a new day concluding with the most glorious sunrise in all music. All this is held together by Mariss Jansons who is beyond criticism, who conducts with great authority and a complete understanding of the work.
It would have been a disappointment if this, Gurrelieder's only performance on DVD, live from the Philharmonie am Gasteig in Munich were less than the most exciting, passionate, glorious performance imaginable. Filmed in wide screen high definition video and exemplary five channel audio (with a 2 channel option) and Brian Large's direction for TV, this production is unlikely to be equalled, let alone surpassed. Full texts enclosed, however no subtitles.