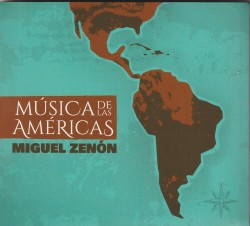 Música de las Américas
Miguel Zenón
miel music (miguelzenon.com)
All of the eight elegantly constructed tracks on this inspired project were composed by noted NYC-based alto saxophonist Miguel Zenón, who cites the American continent's fascinating and complex history as his inúspiration (including the near genocide of untold numbers of indigenous peoples that occurred under the boot European colonialism). Zenón has surrounded himself with a superb ensemble, featuring his long-time quartet of Luis Perdomo on piano, Hans Glawischnig on bass and Henry Cole on drums. Special guests include percussionist Paoli Mejias, Victor Emmanuelli on barril de bomba, congero Daniel Diaz and the renowned Puerto Rican ensemble Los Pleneros de La Cresta.
The first track is Tainos y Caribes where bittersweet, percussive, contrapuntal modalities embody the clashing of the peaceful, agrarian Tainos and the conquest-driven Caribes. Exquisite alto work from Zenón stirs the soul and invigorates the emotions – incorporating future bop modalities with ancient rhythmic forms, while the rhythm section manifests the matrix of creativity. Perdomo shines here with a piano solo par excellence. A clear standout is Navegando (Las Estrellas Nos Guían), which evokes the seafaring culture of the Indigenous Carribean peoples, who travelled incomprehensible distances in open canoes, simply by an advanced knowledge of the stars, and the contribution of Los Pleneros de la Cresta take the listener on a viaje encanto.
The gorgeous closer, Antillano (Indigenous peoples from the Antilles) also features dynamic and visceral congas courtesy of Diaz. This is a CD not to be missed and Zenón is, without question, one of the leading lights of Afro/Latin/jazz fusion. Additionally, this sumptuous project has been dedicated to the memory of the late master musician, and dear friend of Zenón, Héctor "Tito" Matos.