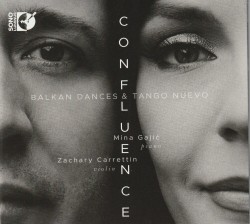 Confluence – Balkan Dances and Tango Neuvo
Zachary Carrettin; Mina Gajić
Sono Luminus DSL-92256 (sonoluminus.com/store/confluence)
Confluence marks the second release for the acclaimed Sono Luminus label by husband-and-wife duo, pianist Mina Gajić and violinist Zachary Carrettin. The pairing of Marko Tajčević's folky Balkan Dances with the contemporary tangos by Ray Granlund may seem risky at first glance but it works very well and is a reflection of the cultural influences that are meaningful to these two performers. Here we have a flowing together, a merging of two different compositional languages, coming from regions that are geographically distanced but complementary with their distinct rhythmicity and melodic flavour.
The selected tangos were written for Carrettin and it is obvious how much he enjoys playing them. The passion and lyricism, mixed together in both the writing and interpretation, are truly engaging. Granlund leaves room for improvisation and plenty of interpretative choices, and Carrettin thrives on the explorative freedom the tangos are providing. His sound is mellow and intense at the same time, as if he is daring us to get up and join him in dance.
Tajčević's Balkan Dances, written for solo piano, are not as exuberant but they have an absolutely relentless rhythmical drive, reminiscent of Bartók, and the melos and sturdiness of Balkan music. Gajić brings the percussiveness to the forefront and she does it with both grace and conviction. TangoNometria, one of the pieces on the album, easily links all the aspects of the music and performances on display here – ever-shifting rhythms, visceral melodies and thrilling interpretations.