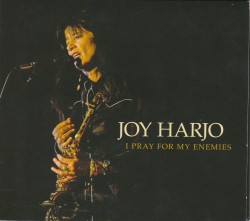 I Pray for My Enemies
Joy Harjo; Various Artists
Sunyata Records JH001 (joyharjo.com)
A curious mixture of spoken word, cutting-edge poetry, funky grooves and a propelling artistic drive, I Pray For My Enemies is one of those albums that cuts straight to the heart and sends a powerful message to the world. There is no hiding from the grittiness of the real world here and no pretense. Joy Harjo, the first Native American U.S. poet laureate and the author of several books of poetry as well as six previous albums, is a force de jour, an artist with strong convictions and a compassionate heart.
Harjo lined up a powerhouse of musicians for this album: Peter Buck (R.E.M) on electric guitar, Mike McCready (Pearl Jam) and Rich Robinson (Black Crowes) pumping out fantastic electric guitar solos, and Krist Novoselic (Nirvana) on acoustic guitar. Barrett Martin is nothing short of amazing in his various roles as a drummer, upright bassist, keyboardist and co-producer. A touch of lyricism and dreaminess provided by Iraqi oud master Rahim Alhaj and trumpeter Dave Carter is cleverly mixed in between and the earthy, rocking solos on sax and flute by Harjo herself add an edge to the rhythmical drive underneath.
I Pray For My Enemies comprises 16 tracks covering the whole of human existence in today's world. From empowering Calling the Spirit Back and Running, to the introspective Remember and the clever Rabbit Invents the Saxophone, this album feels borne out of this moment in time, with vulnerability of truth and the stance of a warrior. You will come back to it again and again.