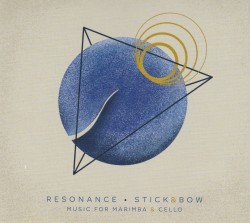 Resonance
Stick & Bow
Leaf Music LM231 (leaf-music.ca)
Adventurous duo Stick & Bow is comprised of Canadian marimba player Krystina Marcoux and Argentinian cellist Juan Sebastian Delgado. With the release of their new recording, the two Montreal-based musicians have been succinctly described as "rediscovering the classics through a continuous musical search…"
The CD includes 13 diverse pieces, including unique, contemporary interpretations of works by familiar and obscure composers, including Bach, Bartók, Piazzolla, Nina Simone, Paco De Lucia and Radiohead. Opening the program are Bach's Adagio and Prelude. This is a luxurious interpretation, filled with exotic flavours and unusual nuances, as well as a seamless segue into a bebop-centric idyll of pizzicato and percussion, defined by razor sharp time and profound dynamics – and yes, a Marimba can be played with dynamics!
Fandango, by Luigi Boccherini, is rendered here with a youthful joy and percussive tango motifs, and Bartók's Romanian Folk Dances are tinged with a lithe, soulful, loving and mystical impression of the ancient Roma people. With Nina Simone's Love Me or Leave Me, the finger-snapping duo lends a cfilm noir quality to this anthem of 1950s relationship dysfunction, and also deconstructs the tune in a totally delightful way that belies the depressing lyric.
A standout of the project is the iconic Astor Piazzolla's Invierno porteňo. The emotions and attack of the two players – moving together as one organism – are both raw and incandescent, and the duo's impassioned interpretation of the late Stéphane Grappelli's Tzigane is nothing short of masterful. The quirky closing track, Paranoid Android (from Radiohead) conjures a stark, staccato cello attack, all supported by Ruth Underwood-like underpinnings – just brilliant.