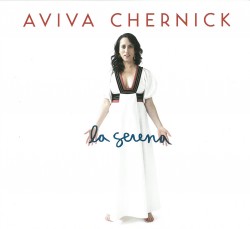 La Serena
Aviva Chernick
Independent AVGC003 (avivachernick.com)
A deep bond with another can lead to unexpected journeys in one's life. Such was the case for singer Aviva Chernick, who began extensive studies of the Balkan Judeo-Spanish repertoire after meeting Flory Jagoda, known as the keeper of the Balkan Ladino tradition. La Serena is, in a way, an homage to Flory, Aviva's beloved mentor and teacher, but also an intimate story of the longing for one's homeland and tradition that is slowly disappearing.
Ten songs, some traditional Sephardic folk melodies and some Jagoda originals, are all arranged by Chernick and her main musical collaborators on this album, guitarist Joel Schwartz and bassist Justin Gray, in a way that brings forward the intimacy and immediacy of each tune. Mostly sung in Ladino (with some additional text in English), the lyrics are captivating and touching. Chernick's vocals are pure in expression and unencumbered of any particular tradition or style.
The album opens with A Ti, Espanya, a simple and bright original tune by Jagoda, which conveys the love for homeland that is no more. Min Hameitzar, written by Chernick and Gray, has a mystical energy and wonderfully galloping percussion elements. La Serena, the central piece on the album, is a stunning heartfelt tune that seduces with its pure vocal expression. Esta Montanya de Enfrente features longing guitar lines emphasizing the beauty of both the melody and poetic lyrics.
A wonderful collection of meaningful tunes that will leave your heart longing for more.