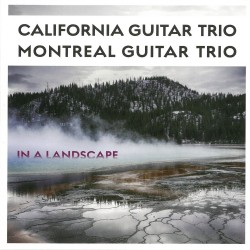 In a Landscape
California Guitar Trio; Montreal Guitar Trio
Independent (mg3.ca)
Among small chamber groups, the combination of two, three or even four guitars is not all that uncommon. So what about six guitars? Surely a guitar sextet is a little out of the ordinary, yet that's what we have here on this disc, titled In a Landscape, featuring the combined forces of the California and Montreal Guitar Trios. While both ensembles have long-established reputations in their own right, the decision to perform together as a single group evolved from a chance meeting at an Oregon music conference ten years ago and since then, they haven't looked back.
Just as the combination of six guitars may be a little unusual, so is the music they present on this recording. Indeed, the musicians have always shared a determination to "push the boundaries" with respect to repertoire, and this philosophy is evident in the all-too-brief 40-minute program.
Opening with the rhythmic New Horizons by MGT member Glenn Lévesque, it's clear that these musicians enjoy playing together – what a warm and satisfying sound they produce! Flashy virtuosity for its own sake is decidedly absent – instead what we hear is sensitive and well-crafted interplay among the performers. Furthermore, the eclectic program is a remarkable study in contrasts. Arrangements of Radiohead's Weird Fishes and David Bowie's Space Oddity with vocals by ensemble members are juxtaposed with the moody and mysterious title track by John Cage (as arranged by Sébastien Dufour) while the mercurial Magneto – composed by Dufour – is an infectious essay in Latino brilliance.
For such a comparatively short program, In a Landscape covers a lot of ground, and does so with solid musicianship – mixed with some good-natured humour – throughout. This CD is an attractive landscape indeed, one that leaves the listener wanting more.