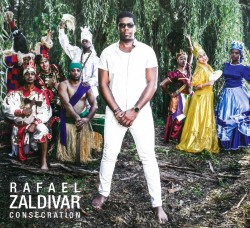 Consecration
Rafael Zaldivar
Effendi Records FND153 (naxosdirect.com)
Since moving from his native Camagüey, Cuba to Montreal in the mid-2000s, pianist Rafael Zaldivar has established himself as one of Canada's top Afro-Cuban musicians. His latest album, Consecration, released on March 15 through Effendi Records, is a celebration of Zaldivar's Yoruba spirituality, as well as a showcase for his multifaceted musicianship: Consecration deftly blends the pianist's Afro-Cuban musical heritage with modern jazz, fusion and classical musics. Zaldivar is joined on Consecration by electric bassist Rémi-Jean LeBlanc, upright bassist David Gagné, vocalist Mireille Boily, percussionist/vocalist Amado Dedeu Jr., conguero Eugenio Osorio and drummer Michel Medrano.
Consecration begins with A Rock con Leche, which effectively sets the pace for the album that follows: after an evocative introduction of chanting and far-off, reverb-soaked whistling, it quickly shifts into a hard-driving groove, with drums and percussion providing a strong pulse under Zaldivar's synth solo. Afro-Cuban Warriors follows a similar trajectory, as an insistent choir of voices introduces the thunderous song and weaves throughout the rest of the piece. When I Think of You and Simple Talking both feature Boily singing wordless melodies, and are amongst Consecration's gentler pieces, as is Rezos, which features Zaldivar alone at the piano.
Consecration is an intriguing, creative album that recalls the work of musicians such as Michel Camilo and Luciana Souza, but it stands uniquely on its own, in no small part due to Zaldivar's unique approach to integrating a multiplicity of voices into his compositions.