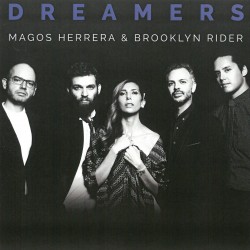 Dreamers
Magos Herrera; Brooklyn Rider
Sony Masterworks 190758907123 (brooklynrider.com)
In a context where the term "dreamers" is being misused to characterize immigrants as being motivated by some kind of imaginary land grab or cultural invasion, celebrating beauty and one-ness becomes a political act. New York City-based Mexican vocalist and composer Magos Herrera and the noted string quartet Brooklyn Rider's debut collaboration is, in their own words, "Celebrating the power of beauty as a political act." This breathtaking Hispano-centric recording includes not only poetry and compositions from Violeta Parra, Gaetano Veloso, Federico García Lorca, João Gilberto, Gilberto Gil and Octavio Paz, but also contains gems from the Ibero-American songbook, arranged with a fresh, new perspective. All of the poets and composers featured on the CD have come from places that have endured brutal national violence and oppression.
Produced by Brooklyn Rider's violinist Johnny Gandelsman, the CD opens with Nina – with lyrics drawn from a poem by Paz and music by Herrera and Felipe Pérez Santiago. Herrera's sonorous and evocative vocal sound is magic itself, and the string arrangement is percussive and urgent. Brooklyn Rider also includes Colin Jacobsen on violin, Nicholas Cords on viola and Michael Nicolas on cello.
On the exquisite Dreams, written by Paz (with English lyrics by Herrera), she clearly sings "We have to sleep with open eyes – and we must dream with our hands." Every song on this CD is a work of art, guaranteed to open every heart. A total delight is Brazilian political activist Veloso's De Manhã (It's Morning), as is the swinging bossa by Gil, Eu vim da Bahía (I come from Bahía).