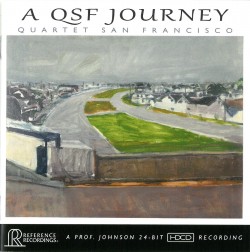 A QSF Journey
Quartet San Francisco
Reference Recordings RR-143 (referencerecordings.com)
The boundaries between music genres are fluid and constantly moving these days, with many musicians experimenting and combining elements of different styles in both new compositions and interpretations of the traditional ones. Classical music seems to be an especially productive foundation for such crossovers, breeding many exciting projects. One of them is the latest release by Grammy- nominated Quartet San Francisco – A QSF Journey. Most of the tracks on the album are written and arranged by Jeremy Cohen (the first violinist of the quartet) and the album contains seven world premieres, making it an adventuresome journey into the chamber music of the 21st century.
While the album features arrangements of traditional folk songs (Chinese, Mongolian and African), many of the tracks are rooted in the tango tradition and, to some extent, American folk. Rhapsody in Bluegrass combines two vastly different works – Gershwin's Rhapsody in Blue and bluegrass tune Orange Blossom Special. The result is a lively, toe-tapping, buoyant tune. Frederico II, written by Italian cellist and composer Giovanni Sollima, is a whirlwind piece with a constantly pushing rhythmical drive and strong medieval roots. I really enjoyed Cohen's tango pieces as well – Al Colón, Francini, La Heroína and the opening Tango Eight – and their passionate, cheeky melodies. QSF members are true crossover stars. Their playing is effortless and entertaining, with just the right amount of classical touch, and with an abundance of beauty.