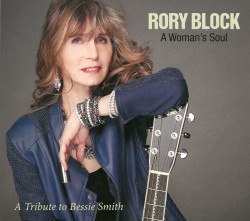 A Woman's Soul – A Tribute to Bessie Smith
Rory Block
Stony Plain Records SPCD1399 (stonyplainrecords.com)
With the release of her fine Bessie Smith-centric recording, five-time Blues Music Award-winning guitarist/vocalist Rory Block is kicking off a series of projects under the umbrella of "Power Women of the Blues." The subsequent CDs will continue to honour a group of brave, feisty women (like Smith) who irrevocably disrupted and transformed the status quo of the musical and gender-biased landscape. Sadly, many of these blues icons have fallen into obscurity – and for some, their recordings have been lost in time altogether. Block first heard the recorded voice of Bessie Smith in 1964, when she was just a slip of a girl, living in New York City. Some years later, as a mature artist, Block is finally able to realize her creative dream and record this historic material with her own soulful, deeply respectful stamp and acoustic musical skill.
Block serves here as producer (along with Rob Davis), arranger, guitarist, vocalist and percussionist. She has devised a brilliant, ten-track program of Smith's more familiar work, interspersed with rarely performed gems. Up first is a sassy take on Do Your Duty, featuring some excellent guitar work by Block, as well as her husky, sexy, powerful pipes. She adopts a lilting, almost Music Hall motif on the naughty, double entendre-laden Kitchen Man and swings her way through a lush and funky version of the Smith classic, Gimme a Pig Foot and a Bottle of Beer.
On every track, the authentic blues feel, the intricate guitar and percussion work (sometimes involving kitchen utensils) and Block's multi-textured and irresistible vocal chops, deliver it all. No doubt, Miss Bessie Smith would be proud!