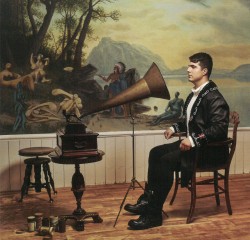 Wolastoqiyik Lintuwakonawa
Jeremy Dutcher
Independent jd003 (jeremydutcher.com)
Jeremy Dutcher is a multi-gifted artist who also expresses his humanity as an activist and musicologist. Dutcher is a member of the Tobique First Nation in New Brunswick, and he began this remarkable project by transcribing Wolastoq songs from vintage 1907 wax cylinders at the Canadian Museum of History in Halifax. The voices and souls of Dutcher's people reached out to him through those cylinders, which were rife with unfamiliar songs and lore.
The 11 deeply moving compositions on this CD are the result of Dutcher's "collaboration" with those ancestral voices, as well as his almost classical piano approach and dynamic vocal instrument. Each track is also enhanced and integrated with Wolastoq spoken word and singing that was preserved on those cylinders. Dutcher has surrounded himself here with a scintillating wall of sound, including himself on piano and vocals, Devon Bate on electronics and an array of strings, brass and percussion – all the voices of a classical orchestra. He has said that he is doing this remarkable work in part because there are only about 100 Wolastoqey speakers left, and "It's crucial for us to make sure that we're using our language and passing it on to the next generation."
In the initial track, Mehcinut/Death Chant, Dutcher's voice soars in power, strength and purity, moving contiguously with the voice from a wax cylinder recording. Other stunning compositions include Ultestakon/Shaker Lullaby, which has a simply gorgeous melody and sonorous percussion that evokes a comforting heartbeat; and also Love Song, which is arranged with angelic and complex vocals that act as sonic waves of uplifting awareness and oneness.